Top 5 La-Z-Boy Nursery Recliners
La-Z-Boy Southeast | March 6, 2023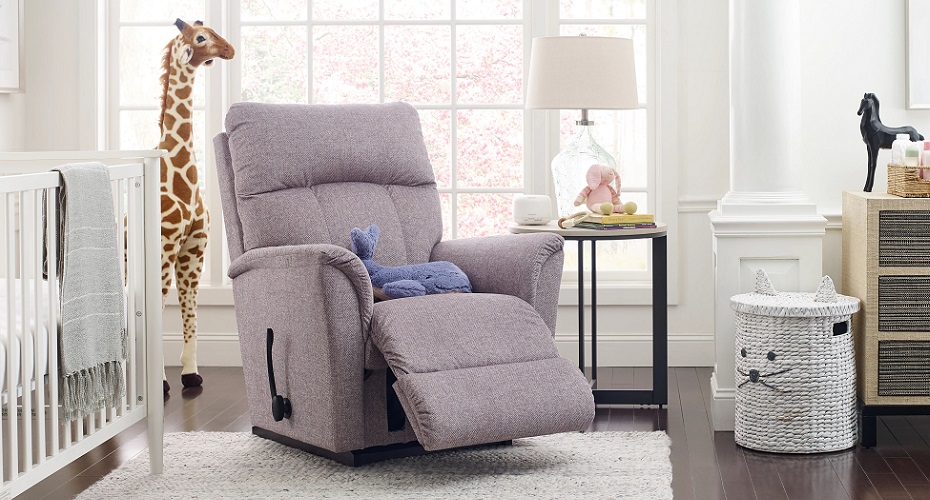 While planning for the arrival of your new little one, you may be considering adding a nursery recliner for spending time with your bundle of joy.
Having a comfortable place to sit, feed your little one, and soothe them is essential. A nursery recliner can be the perfect solution for doing these things.
At La-Z-Boy Home Furnishings and Décor, expecting parents often visit our locations in search of the perfect nursery chair. Our trained consultants work with parents to identify the right options to meet their specific needs.
In this article, we'll review 5 best-selling La-Z-Boy Nursery Recliners. You'll also learn about features & upgrades and what to look for when shopping for your next nursery chair.
Nursery Recliner #1: The La-Z-Boy Rowan Recliner
The Rowan Recliner brings an exquisite combination of style and comfort.
It looks sleek, but the flared arms maximize the seating area.
Simply use the convenient handle on the outside arm to raise the legrest for propping your feet up while cuddling your baby.
When you're not reclining, it's a relaxing rocker with a smooth, graceful motion, perfect for soothing baby to sleep.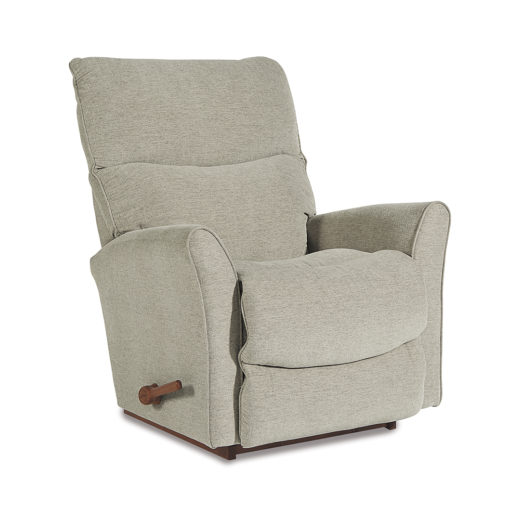 Read our review on the Rowan Recliner
Nursery Recliner #2: The La-Z-Boy Addison Recliner
Designed with babies and parents in mind, the La-Z-Boy Addison rocking recliner is the ultimate nursery recliner.
A tall back and soft, sturdy cushions surround you in comfort as you gently rock – or glide – your little one to sleep.
Perfect for late night feedings, Addison also reclines so both you and baby can relax.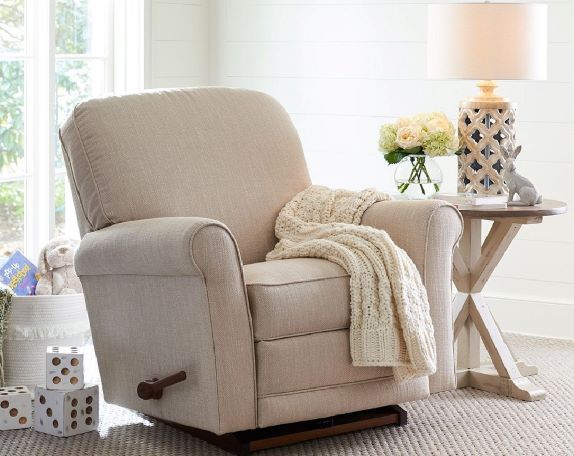 Read our review on the Addison Recliner
Nursery Recliner #3: The La-Z-Boy Finley Recliner
Looking for reclining comfort with contemporary style?
The Finley Recliner fits the bill with modern lines, sleek track arms, and a tall foam back that gives it a neat and structured look.
The ultra-plush chaise seat and legrest cradle your body in a continuous zone of comfort while you cradle your little one.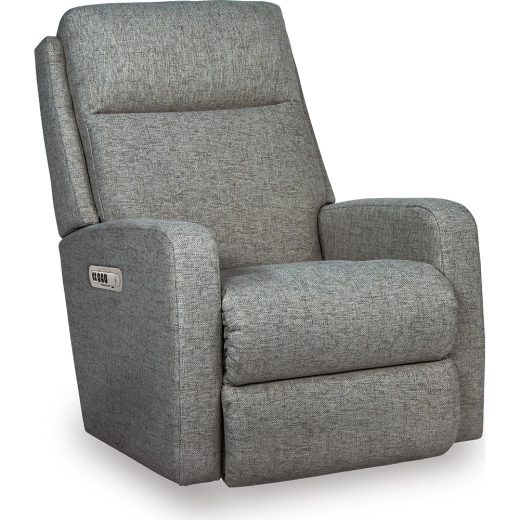 Read our full review on the Finley Recliner
Nursery Recliner #4: The La-Z-Boy Jay Recliner
The La-Z-Boy Jay Recliner is a family favorite with casual style and comfort.
Jay features a distinctive horizontal seam across the back with detailed flange trim making it a modern addition to any nursery.
The La-Z-Boy Jay Recliner has flared arms with a chaise seat and footrest. Plus, it's comfortable for most body types.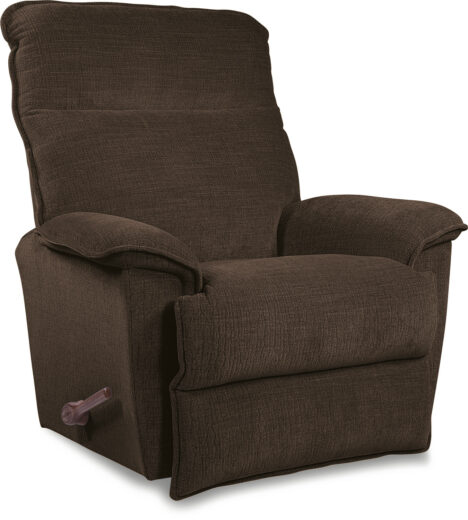 Read our full review on the Jay Recliner
Nursery Recliner #5: The La-Z-Boy Harbortown Recliner
Designed for smaller rooms, the Harbor Town Recliner gives you the comfort of a recliner with a lighter silhouette and a sleek, stylish frame that's truly transitional.
The Harbor Town makes for a great nursery recliner where you're limited on space but still need a comfortable and functional chair.
It features a channel-stitched back, a cushioned headrest, and decorative bentwood arms topped with pillow-like padding.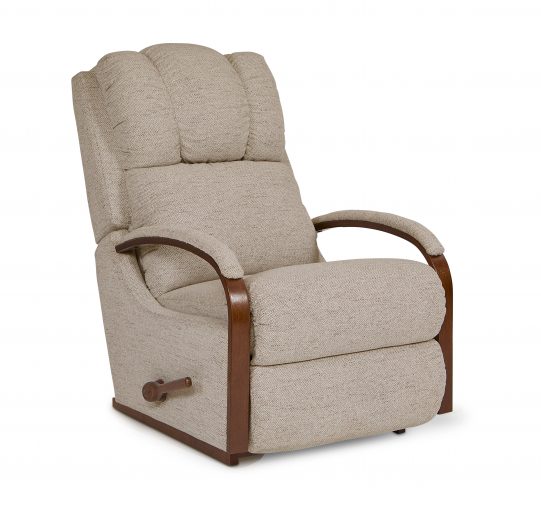 Read our Full Review on the Harbor Town Recliner
La-Z-Boy Recliner Features & Upgrades
La-Z-Boy Recliners are constantly researched and developed to create new features that will make them even more comfortable.
This chair also has seven patented features you'll only find on a La-Z-Boy Recliner:
Lower Back Support
Recline & Rock at The Same Time
Three Locking Footrest Positions
Sixteen Locking Rocker Positions
Four-Sided Frame Construction
Dual Locking Footrest
Contour Cut Foam
La-Z-Boy Recliners come in more than 900 different leathers and fabrics.
Plus, they offer the widest variety of custom upgrades in the recliner market.
Some of the options you can choose from:
Brushed Metal Handle
Swivel Base
Extended Handle
Heat & Massage
Left Side Handle
Hidden Battery Pack
One added feature that many new parents like is the option for a power pull vs. a manual pull. Power recliners have buttons that are higher and require less body motion while you're getting in position with your baby. They also offer a silent option for locking and unlocking the reclining positions. 
How to Choose the Best Nursery Chair
The nursery chair will be where you spend a large amount of time with your baby. Regardless of the style of chair you choose for your nursery, you want it to be comfortable and supportive, but also functional in your space.
When choosing your nursery chair, here are a few important tips to assure you find the perfect fit for you:
Make sure your nursery chair provides comfort and support for your specific needs. To find the perfect nursery chair, you need to identify how it will be utilized and who will be spending the majority of the time in that chair.
Decide on your nursery chair movement and feature preferences. If you prefer a gliding motion over a rocking motion, you may opt for a glider in your nursery.Gliders allow you to gently sway back and forth with your newborn. La-Z-Boy gliding chairs have the feature to swivel, making them a great choice for corners or tighter spaces. Swivel gliders offer a 360 range of motion. This is a handy feature for parents wanting to reach for items needed while remaining seated with the baby. If movement is not a top priority, La-Z-Boy offers many options of other reclining chairs and stationary chairs.
Consider the design of your nursery When choosing the right chair for your nursery, consider the layout and look of your space. Decide where you'll put the chair in your nursery and where it may go as the baby grows.
Read this article for your full guide on how to make sure you're choosing the best nursery chair for your needs.
Complete Your Nursery with Confidence
Preparing the nursery for your new arrival should be an exciting process. With so many options for nursery chairs, it's easy to question if you're making the right choice. By selecting a nursery recliner, you'll have the opportunity to rock, recline, and relax with your newborn.
But before you get overwhelmed with all the different types of chairs you can choose from – take a deep breath.
These are just a few of the best-selling nursery recliners you'll find at La-Z-Boy Home Furnishings and Décor. If you're still shopping around, our consultants are available to give advice and guide you along the way.
You can begin the process of planning your nursery online or we'd be happy to fit you for your perfect nursery chair at any of our locations in NC, SC, and GA