7 Exclusive Features and Benefits of La-Z-Boy Recliners
La-Z-Boy Southeast | May 15, 2017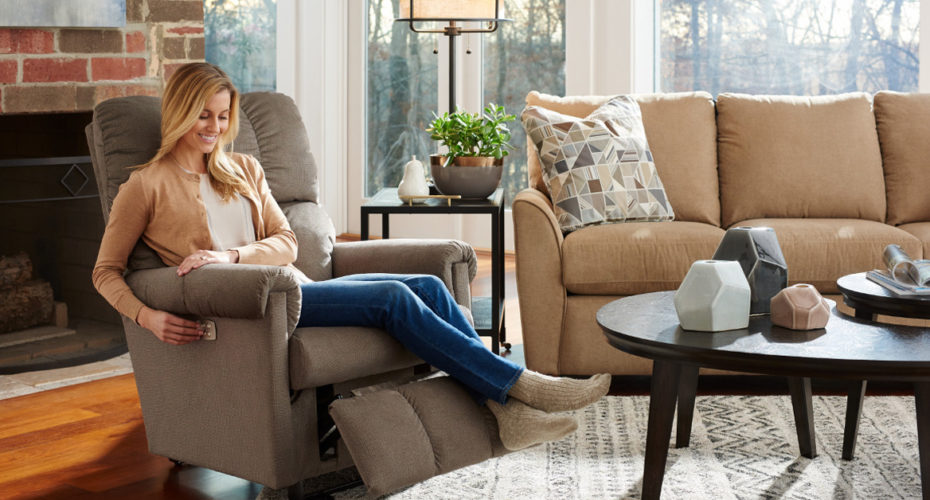 Have you heard about the exclusive features and benefits you'll only find on a La-Z-Boy Recliner?
At La-Z-Boy Home Furnishings & Décor, our recliners are known around the world for their unique design and comfort.
However, most people are unaware of the patented features a La-Z-Boy Recliner has to offer.
In this article and video, we'll take a look at the seven features and benefits you'll only find on a genuine La-Z-Boy Recliner.
Feature 1) Exclusive Lower Back Support
La-Z-Boy invented and patented a reclining system that gives you complete lower back and body support in every position.
When you recline in a La-Z-Boy Recliner, the back and seat move together so your lower back is always supported.
Other chairs will develop a gap between the back and seat when you recline. This leaves your lower back unsupported and strained.
Some people will stuff a towel or pillow underneath their back to make up for the chair's lack of lumbar support.
Reclining with a gap between your lower back and seat can lead to back pain and other health issues.
Why should I care? La-Z-Boy is the only recliner that prevents lower back pain by supporting your lower back in every reclining position.
Feature 2) Recline Your Back & Rock At The Same Time
When you ride in an airplane, the first thing most people do is push the seat back a few inches.
This helps you relax during the flight because your back is at a comfortable angle.
The same idea goes for recliners. La-Z-Boy has a patented mechanism that allows you to recline your back without having to put your feet up.
Other recliners require you to raise your footrest in order to release and recline your back cushion.
Why should I care? Sitting in a La-Z-Boy is much more comfortable because it's the only recliner that can recline your back without having to put your feet up.
Feature 3) Three Locking Footrest Positions
While working on your laptop, you may not want to recline your feet up all the way.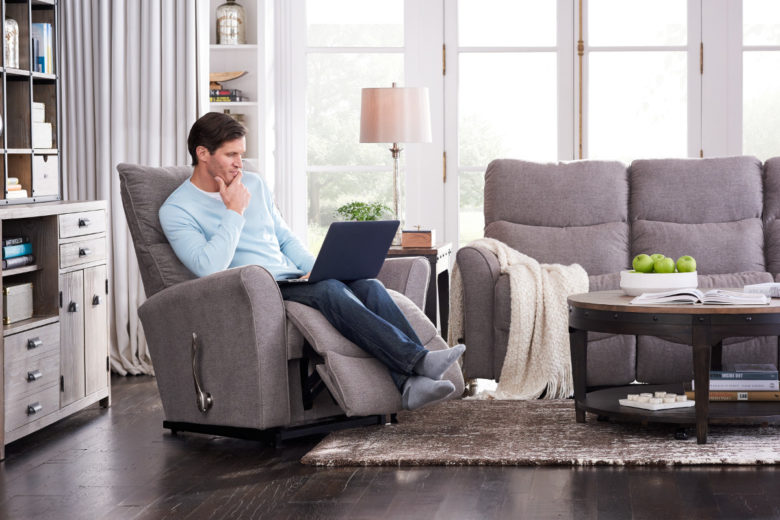 Or you might have company over and don't want to recline completely back while you socialize.
La-Z-Boy's patented locking footrest allows you to angle your feet in three different positions depending on what the situation calls for.
Why should I care? La-Z-Boy is the only recliner that allows you to adjust your footrest position for greater comfort.
Feature 4) Sixteen Locking Rocker Positions
When you recline in a La-Z-Boy, you'll notice a clicking sound as you rock through the different locking positions.
This "sound of comfort" is a patented feature that lets you lock-in the rocker position of your choice.
La-Z-Boy Recliners have 16 different locking positions you can cycle through until you find the position that fits you best.
Rocking back to where your feet are above heart level has many health benefits. This gets blood moving in the opposite direction of gravity, which is important for heart health.
Why should I care? La-Z-Boy gives you the most comfort levels of any recliner on the market.
Feature 5) Uni-body Frame Construction
Most people will push on the arms of their recliner when it's time to get up. This can cause the frame to expand apart on recliners with only two or three sides.
When you turn a La-Z-Boy Recliner upside down, you'll notice the frame is built out of American maple hardwood and oriented strand board (OSB).
OSB has been used in the flooring and roofing of most buildings since 1977. It is also 11% stronger than plywood.
This strong & environmentally friendly material is used to reinforce the frame on all four sides of La-Z-Boy Recliners. This means you'll be able to get in and out of your recliner for many years.
Why should I care? Your La-Z-Boy Recliner will be passed down from generation to generation and become a part of your family.
Feature 6) Dual Locking Footrest
If your children or pets are playing underneath your reclined footrest, you don't want to worry about it suddenly collapsing.
La-Z-Boy footrests are sturdy and built with a patented dual locking mechanism. So the footrest will only go down when you want it to.
Footrests on other recliners aren't built the same. Some can be pushed down with light pressure and have no way to lock in place once they are reclined. Meaning they can fall at any time.
Why should I care? La-Z-Boy's dual locking footrest prevents accidents from happening.
Feature 7) Contour Cut Foam
La-Z-Boy uses a solid block of contour cut foam in all of their recliners. Other recliners are often filled with some form of stuffing.
Contour cut foam:
Doesn't shift away from pressure like stuffing
Keeps its shape longer than stuffing
Looks nicer than stuffing
Using contour cut foam in recliners is another patented feature you will only find at La-Z-Boy.
Why should I care? Your La-Z-Boy will keep its shape longer, look nicer, and be more comfortable than other recliners.
Check Out These Additional Resources
These seven patented features and benefits are the reason La-Z-Boy Recliners continue to outshine our competition.
At La-Z-Boy Home Furnishings & Décor, we test all of our products at two times the industry standard to ensure their quality.
Here are some other online resources you may like to check out:
We'd be happy to show you all of these exclusive features in person at any of our locations in NC, SC, and GA.