How to Choose the Best Nursery Chair
La-Z-Boy Southeast | June 9, 2022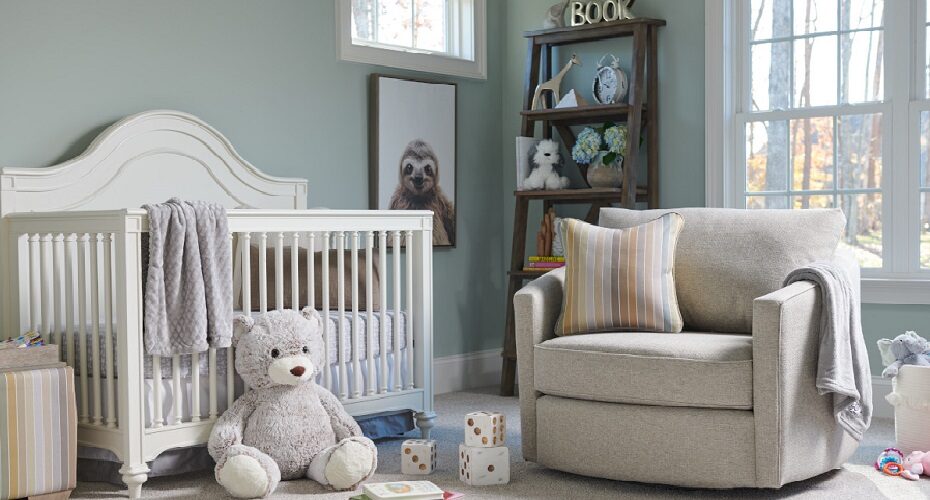 When preparing a nursery, one item you'll see on all lists of baby must-haves is a nursery chair.
As you plan for your new baby, it's easy to get overwhelmed. You want everything to be perfect, safe, and cozy.
The nursery chair will be where you spend a large amount of time with your baby. You want it to be comfortable and supportive, but also functional in your space.
Researching and selecting furniture is just one of the many items on your growing to-do list. With so many styles and options to choose from, how do you select the nursery chair that's right for you?
At La-Z-Boy Home Furnishings and Décor, expecting parents visit in search of the perfect nursery chair but are unsure of where to start. Our consultants are trained to work with parents to identify the right chair for their specific needs.
In this article, we'll break down what you should look for when selecting the perfect nursery chair so that you'll be better prepared to move forward with finalizing your baby's nursery.
Make Sure Your Nursery Chair Provides Comfort and Support for Your Specific Needs
Many parents will attest to the fact that the hours spent feeding and soothing your newborn baby can make the days seem extra long. But, it's also in those quiet hours spent with your baby that you build a bond and create lasting memories. Having a comfortable place to relax with your baby will better suit you for absorbing those priceless moments.
To find the perfect nursery chair, you need to identify how it will be utilized and who will be spending the majority of the time in that chair.
If you plan to use your chair when feeding the baby, consider a chair that allows you to slightly recline without the need to prop your feet up. Many moms find this a desirable position following a nursing session for soothing babies before transitioning them to the crib.
Watch this video for more helpful tips on choosing the best breastfeeding chairs for your nursery.
If parents plan to split their time utilizing the nursery chair, finding an option that fits different body types is important. If you have a major height difference, consider a chair that offers back and neck support for a wider range of body types.
La-Z-Boy Recliners have been a popular choice by parents for a long time. They're loved for their ability to rock or glide because gentle movement is known to calm cranky babies. You may find yourself holding, rocking, and nursing for what seems like hours at a time. It's important to have the right fitting recliner for ideal support. Common choices among parents for their nursery are the Addison Recliner, the Rowan Recliner, or the Finley Recliner, all of which fit a wide majority of body types.
Before you buy, you can get fitted for a recliner that supports your body to prevent unnecessary pain. At La-Z-Boy Home Furnishings and Décor, consultants will work with you to get properly fitted while also discussing the various movements you can prepare for in your new chair, including how you'll sit, recline, and even rise from the chair while holding your baby.
Decide on Your Nursery Chair Movement & Feature Preferences
When expecting parents visit one of our galleries in search of nursery furniture, a common question asked is "what is the difference between a rocker and a glider?"
The simple answer is that it is all in the motion of the chair. Gliders allow you to gently sway back and forth with your newborn. La-Z-Boy gliding chairs have the feature to swivel, making them a great choice for corners or tighter spaces. Swivel gliders offer a 360 range of motion. This is a handy feature for parents wanting to reach for items needed while remaining seated with the baby.
Rocking recliners offer a wide range of benefits and features, including 7 Exclusive Features that are unique to La-Z-Boy recliners. An additional feature that new parents like is the option for a power pull vs. a manual pull. Power recliners have buttons that are higher and require less body motion while you're getting in position with your baby. They also offer a silent option for locking and unlocking the reclining positions.
If movement is not a top priority, La-Z-Boy offers many options of other reclining chairs and stationary chairs. One stationary option that is popular among parents is the Leah Twin Sleep Chair. Some of the benefits of having this chair in your nursery include:
It's wide enough for you to hold your newborn and their sibling. This makes for the perfect storytime chair.
The Pull-out twin bed feature allows for additional sleep space when needed.
Paired with an ottoman, you can still have the feature of propping your feet up.
Consider the Design of Your Nursery
When choosing the right chair for your nursery, consider the layout and look of your space. To determine the right fitting chair, it's important to ask yourself these 3 questions:
Where in the nursery will I place my chair? Knowing the measurements and range of motion will give you a better idea of the size and style you'll choose.
How will I plan to use this chair as the baby grows? Consider where else in your home it will fit as your needs change.
What are my color preferences or nursery theme? This can help you determine whether you want to go with a more neutral look or select a fabric that compliments your nursery theme.
If you're unsure of your style, you can meet with one of our degreed interior designers for free.
Our free design service includes:
Design consultations for any and every stage of your project.
An interior design team dedicated to bringing your unique vision to life.
Personalized 3D room plans tailored to your life, style, and budget.
Complete Your Nursery with Confidence
Preparing the nursery for your new arrival should be an exciting process. With so many options for nursery chairs, it's easy to question if you're making the right choice.
But before you get overwhelmed with the number of fabrics, styles, and options to choose from – take a deep breath.
Use these suggestions to think through how, where, and when your nursery chair will be utilized. You'll feel more confident selecting the perfect nursery chair for relaxing comfortably with your new baby.
At La-Z-Boy Home Furnishings and Décor, our consultants are available to give advice and guide you along the way. You can begin the process of planning your nursery online or we'd be happy to fit you for your perfect nursery chair at any of our locations in NC, SC, and GA
Still not sure which chair is right for you? Read about our Best Breastfeeding Chairs or download our free recliner buying guide.