La-Z-Boy Harbor Town Recliner Review
La-Z-Boy Southeast | July 12, 2022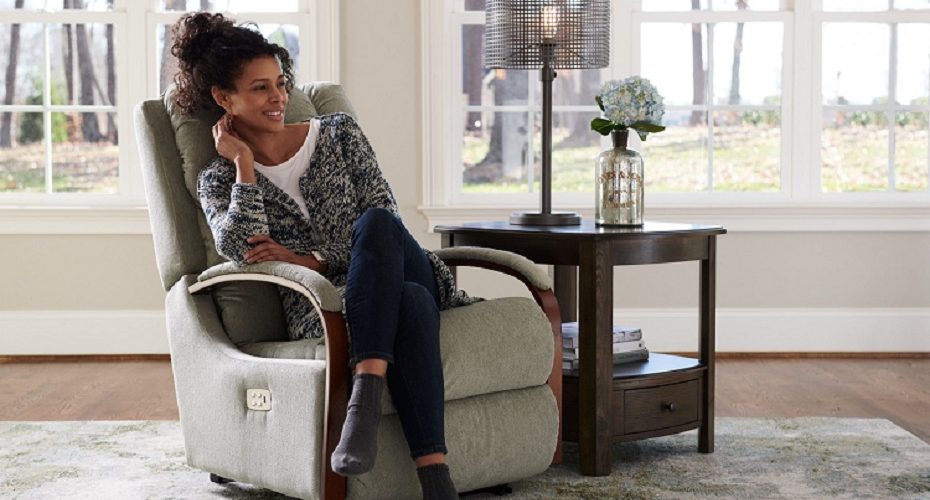 The La-Z-Boy Harbor Town Recliner is a small, transitional recliner with many features and benefits.
You may be considering the La-Z-Boy Harbor Town recliner but you want to know if its features, dimensions, and style are the right fit for you.
As the inventors of the recliner, La-Z-Boy has spent almost a century building a large line-up of unique recliners.
At La-Z-Boy Home Furnishings & Décor, we've helped thousands find the perfect recliner for their body type and unique needs.
In this article, you'll learn all about the details of the Harbor Town recliner and determine whether it's the right style recliner for you.
Features: La-Z-Boy Harbor Town Recliner
Designed for smaller rooms, the Harbor Town Recliner gives you the comfort of a recliner with a lighter silhouette and a sleek, stylish frame that's truly transitional. It features a channel-stitched back, a cushioned headrest, and decorative bentwood arms topped with pillow-like padding. 
Patented La-Z-Boy® technology allows the seat and back to move together or independently for a wide range of reclining positions, with or without raising the legrest.
The Harbor Town is available in a variety of recliner bases including the swivel glider, rocking recliner, wall recliner, and power rocking recliner.  A popular option is the Harbor Town Glider due to its flexibility in movement. When you're not reclining, it swivels 360 degrees and glides with a graceful motion.
This chair also has seven patented features you'll only find on a La-Z-Boy Recliner:
Lower Back Support
Recline & Rock at The Same Time
Three Locking Footrest Positions
Sixteen Locking Rocker Positions
Four-Sided Frame Construction
Dual Locking Footrest
Contour Cut Foam
La-Z-Boy Recliners are constantly researched and developed to create new features that will make them even more comfortable.
Dimensions: La-Z-Boy Harbor Town Recliner
The Harbor Town Recliner is typically a good fit for people between 5'4″ to 5'9″ due to its small scale.
Body Depth: 37″
Body Height: 41″
Body Width: 30″
Seat Depth: 19.5″
Seat Height: 19″
Seat Width: 23″
You can make sure you're picking a recliner that fits your unique body type by visiting one of our locations to get fitted.
Upgrades: La-Z-Boy Harbor Town Recliner
La-Z-Boy Recliners come in hundreds of different leathers and fabrics.
Plus, they offer the widest variety of custom upgrades in the recliner market.
Some of the options you can choose from:
TEMPUR Response Memory Foam Cushioning
Elongated Handle
Arc Handle
Left Side Handle
Swivel Base
USB Charging Port
Upgrading your La-Z-Boy Harbor Town Recliner will make it truly one-of-a-kind.
How Much Does the La-Z-Boy Harbor Town Recliner Cost?
The La-Z-Boy Harbor Town Recliner starts at $1,049 then your final price is determined by the fabric, options, and upgrades you select.
However, you may be able to find a lower starting price depending on the type of sale currently running at your store.
You can receive an exact quote by visiting your nearest location and customizing your chair.
Customer Feedback about the La-Z-Boy Harbor Town Recliner
At La-Z-Boy Home Furnishings & Décor, The Harbor Town is popular for many people looking for a chair that doesn't sacrifice comfort to fit in a smaller space. The Harbor Town is a popular favorite among RV owners and homeowners looking to downsize.
The Harbor Town Recliner is a favorite among people with smaller body frames in search of a chair with prominent lumbar support. One feature that sometimes causes customers to look at other recliner models is the narrow wooden arms. If you're in search of a similar chair but desire a different look and feel in the armrests, you can check out these 7 Top-Selling Recliners for Small Body Types.
The Harbor Town Recliner averages 4.8 out of 5 stars in online reviews. Here are a few recent customer reviews:
Stephanie B: "Comfy, many different positions possible; my husband likes to nap in it while I like to read in it. We both give it two thumbs up!"
Theresa L: "Pure, relaxing comfort! It's the perfect size for my short stature, plush and cozy! I was impressed by the multitude of design choices to select from and found the perfect chair and fabric for me and my living room."
Caryl B: "Loving this new recliner chair. It is high quality and good value. Purchased it mainly for my elderly mother. She has short legs, decreasing mobility, and finds getting in and out of some chairs difficult. She loves it."
Is the Harbor Town Recliner the Right Fit for You?
The La-Z-Boy Harbor Town Recliner has a lot of unique features and benefits. It can be a great option for more petite body frames looking for lumbar support. It's also be a great option to maximize your comfort in a smaller space.
At La-Z-Boy Home Furnishings & Décor, we carry a wide range of recliners including the Harbor Town. It's important to find a recliner that fits your body type so that you do not experience unnecessary discomfort. We encourage you to stop into one of our locations in SC, NC, or GA to try the Harbor Town for yourself.
Our design consultants are experts at finding the perfect chair for you and working with you to customize exactly what you need.
Still want to browse other styles? Check out our thorough reviews on other best-selling La-Z-Boy recliners.