7 Important Questions to Ask Your Furniture Salesperson
La-Z-Boy Southeast | December 10, 2020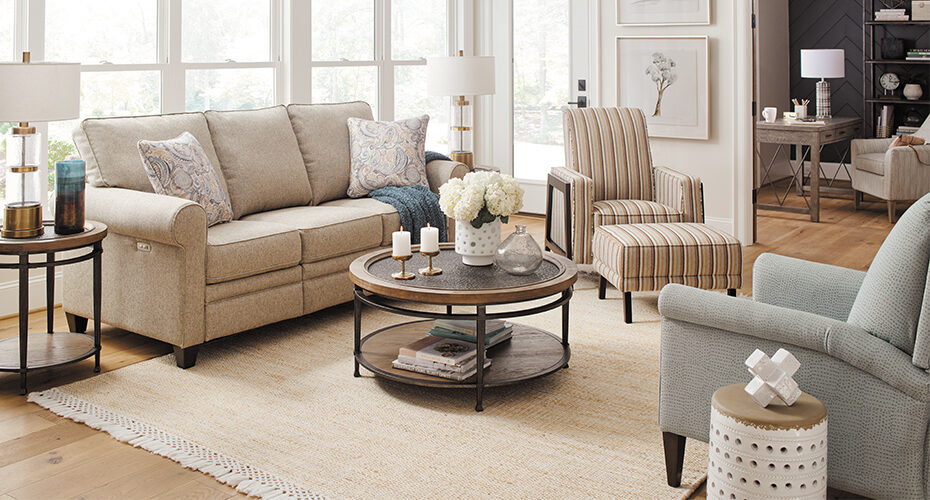 Having a list of questions to ask your furniture salesperson will help you make the best purchase for your home.
At La-Z-Boy Home Furnishings & Décor, we answer hundreds of questions about furniture and interior design each day.
In this article, we will go over seven of the most important questions to ask your furniture salesperson.
Table of Contents
Bonus: 3 Warning Signs to Avoid
1) Do You Offer Free Design Services?
Consulting with an interior designer will make your furniture shopping experience fun and easy.
Some furniture stores offer free design services that give you complimentary access to a degreed interior designer.
Here's how our free design service works when you meet with a La-Z-Boy Interior Designer:
Visit your home virtually or in-person.
Take measurements & consider room flow.
Listen to understand your unique style.
Answer all of your interior design questions.
Present a 3D room design with new furniture in your home.
Always be sure to ask about your interior designer's education to make sure you're not just dealing with another salesperson.
There are many reasons to use a free design service. Especially when you'll only pay for the items you decide to purchase.
2) How and Where Is Your Furniture Made?
Understanding how and where your furniture is made will give you an indication of the quality.
Here are some things to look for:
Products made in North America
Four-sided framing (hardwood or OSB)
High-density foam cushions
Dovetail drawers
If you're purchasing leather furniture, ask if it's genuine (top grain or split hide) or bonded.
Top grain leather is buttery soft, highly durable, and breathable enough to keep your body from getting too hot or cold.
Bonded is made with the tiny bits of leather that fall off during processing. Some people call this type of leather faux, vinyl, or reconstituted.
3) Can I Customize My Furniture?
Customizing your furniture will make it one-of-a-kind and tailored to your exact needs.
At La-Z-Boy Home Furnishings & Décor, we offer the most available options and upgrades in the furniture market.
Here are a few you can choose from:
Manual or Power Recline
Wireless Remote
Gel Seat Cushions
Contrasting Welt
Swivel Base
MemoryFoam Sleeper Mattress
Heat & Massage
Plus, every upholstered item is available in more than 900 leathers and fabrics.
4) Will It Cost Extra to Customize My Furniture?
Upgrading your furniture with custom options will cost extra depending on what you select.
For example, it will cost an additional $109 to upgrade your La-Z-Boy Recliner with a swivel base.
The final price of your furniture will depend on the fabric, options, and upgrades you select.
5) Can You Tell Me About Your Warranty?
Having a warranty will protect your furniture in case anything goes wrong.
Most furniture companies offer a limited lifetime warranty that covers parts and material defects.
However, you may have to pay a fee to have a service technician visit your home and inspect your furniture.
6) Do You Have a Price Match Guarantee?
Asking about the store's price match guarantee will ensure you get the best deal on your new furniture.
Most of these guarantees come with a variety of terms and conditions that are important for you to know.
La-Z-Boy Price Match Guarantee
If within 30 days of purchase you find an identical item in new and good condition for a lower price from any local store (within a 50-mile radius of our store) or factory-authorized website (which delivers within a 50-mile radius of our store) La-Z-Boy Home Furnishings & Décor will match the price and refund the difference. Clearance and Hot Buy items do not apply.
These conditions apply to this policy:
Does not include Clearance and Hot Buy items.
Price match is only valid from stores within a 50-mile radius of the La-Z-Boy location where your purchase was made.
Factory-authorized website price match is only valid from websites that deliver within a 50-mile radius of our store.
Price matched items must be NEW and in GOOD condition.
You can learn more about our lowest price policy by contacting your nearest location.
7) What Are Your Delivery Options?
Once you've found the perfect furniture for your home, it's time to get it delivered.
Be sure to ask about additional delivery charges, if you'll receive a call before the truck shows up, and which day your furniture will arrive.
It's also important to consider manufacturing and production time frames. Custom furniture will take longer to produce than other items.
3 Warning Signs to Avoid at Furniture Stores
If you walk into a furniture store and notice any of the following warning signs, you should probably leave immediately.
Salesperson greets you from afar.
Not helpful or interested in your needs.
Hands you a card and walks away.
Pay close attention to the questions they ask. Do they seem genuinely interested in helping you?
This is the difference between a consultant who wants to solve your problems and an order taker who just wants your money.
Check Out These Additional Resources
Knowing the right questions to ask your furniture salesperson will give you peace-of-mind and prevent costly mistakes.
At La-Z-Boy Home Furnishings & Décor, our goal is to help you make the best furniture purchase for your home.
Here are some additional online resources you may like to check out:
We'd be happy to help you bring your dreams to life at any of our locations in NC, SC, and GA.