Conserve Sustainable Furniture Fabrics at La-Z-Boy
La-Z-Boy Southeast | July 1, 2019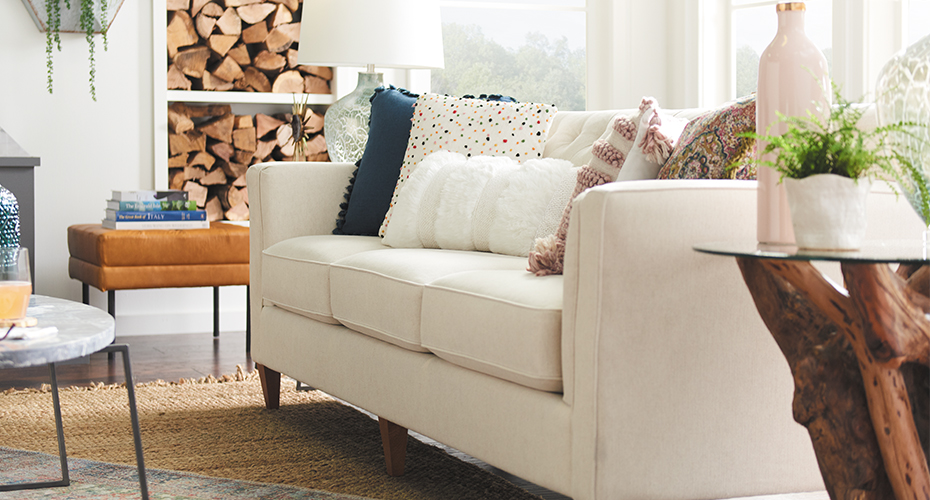 Are you looking for sustainable furniture fabrics made in the USA?
Plastic can take hundreds of years to completely decompose. In fact, every single piece of plastic ever made is still around.
At La-Z-Boy Home Furnishings & Décor, we carry a soft and durable fabric made from recycled water bottles named conserve™.
In this article, we'll take a look at how sustainable furniture fabrics solve a major problem without sacrificing style or comfort.
How Conserve™ Sustainable Furniture Fabrics Are Made
Every year, 13 million tons of plastic end up floating around in our oceans.
But now, we're using recycled water bottles to create a variety of different products.
Recycled water bottles are processed into sustainable furniture fabrics in five steps.
Step 1: Water bottles are recycled at your local recycling facility.
Step 2: Bottles are sorted, washed, and chopped into flake.
Step 3: Flake is blended, melted, and turned into chip.
Step 4: Versatile fiber is extruded from the recycled chip.
Step 5: The fiber is used in conserve sustainable fabric.
Fabrics made with recycled water bottles are as soft, durable, and comfortable as other materials.
How Many Water Bottles Do Sustainable Fabrics Save?
When you upholster your furniture with conserve sustainable fabrics, you're keeping a large number of water bottles out of landfills.
Sofas: 110 Water Bottles
Loveseats: 80 Water Bottles
Chairs: 50 Water Bottles
Recliners: 50 Water Bottles
Sustainable fabrics are available on most La-Z-Boy products. Plus, they're an eco-friendly choice for your everyday comfort.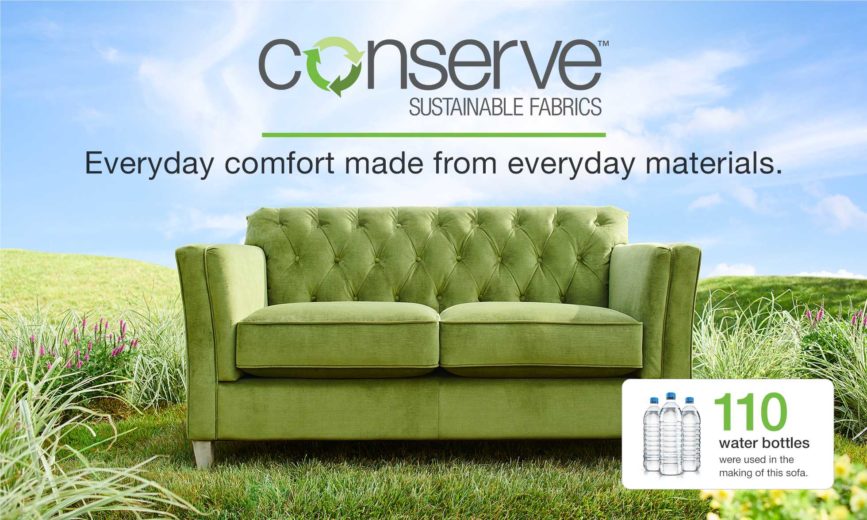 At La-Z-Boy Home Furnishings & Décor, we test all of our fabrics for safety, quality, and durability.
This ensures your furniture will be comfortable and beautiful for many years after delivery.
Conserve Sustainable Fabrics: Colors & Patterns
You'll never have to choose between style and sustainability with our wide selection of colors and patterns to complement your room.







Our sustainable fabrics are held to the same safety, quality, and durability standards as our conventional fabrics.
This ensures your furniture will be beautiful and comfortable for years after delivery.
Plus, we proudly stand behind all of our fabrics with our limited warranty.
Check Out These Additional Resources
Sustainable furniture fabrics bring you everyday comfort made from everyday materials.
At La-Z-Boy Home Furnishings & Décor, you can browse our wide selection of eco-friendly fabrics.
Plus, our degreed interior designers can help you pick the perfect pattern and color for your room.
Here are some additional online resources you may like to check out:
We'd be happy to answer all of your questions about sustainable furniture fabrics at any of our locations in NC, SC, and GA.