Best Furniture for Pets: Leather or Fabric?
La-Z-Boy Southeast | January 5, 2021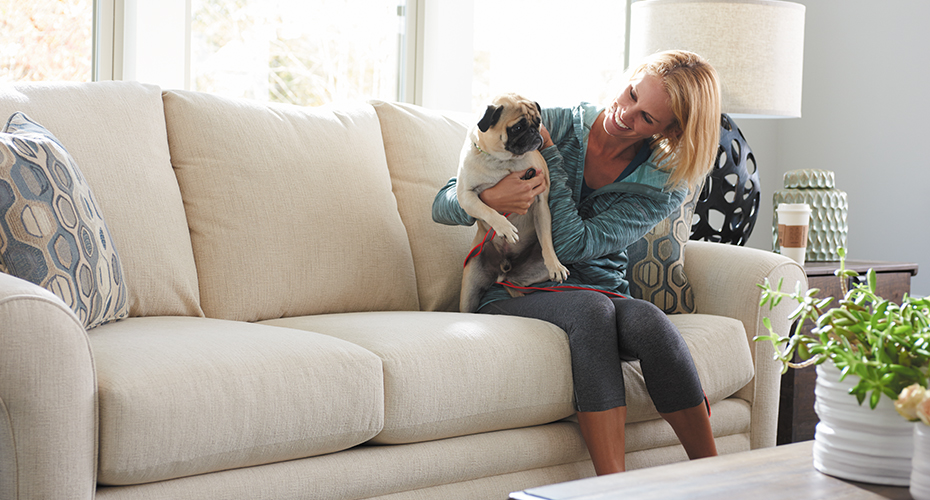 A common question we receive is, "What is the best furniture for pets? Leather or fabric?"
When it comes to our pets, we want them to be as comfortable as we are. But we don't want them tearing up our new furniture.
In this article, we'll take a look at the unique pros and cons of the best furniture for pets.
Leather Furniture Is Best
Leather furniture is durable, easy-to-clean, and the overall best type of furniture for pets.
Most people are afraid their pet's sharp claws will puncture leather furniture.
However, true genuine leather is too thick and tough for an animal's claws to puncture.
Faux or recycled leather is much thinner and more likely to be scratched or punctured.
It's important to make sure your furniture is covered with 100% genuine leather instead of faux or recycled material.
Another reason pet owners like leather furniture is because of how it repels odor.
Dander and smells will not soak into leather like they can with most common fabrics.
Also, most leather furniture has a topcoat sealant that makes it easy to clean.
Leather Furniture for Pets: Pros & Cons
Here's a list of the pros and cons that come with selecting leather furniture for pet-friendly homes.
Leather Furniture Pros:
Resists punctures and is easy to clean.
Extremely odor resistant.
Long-lasting material that ages well.
Comfortable in warm or cool temperatures.
Great investment.
Leather Furniture Cons:
Typically costs more than fabric.
Limited color and pattern options.
Has a different feel than fabric.
These are just a few of the reasons to buy leather furniture instead of fabric upholstery.
When you purchase leather furniture, you're investing in a piece you and your pets will enjoy for a long time.
Microfiber Furniture Is Second Best
Microfiber is the most durable type of fabric (besides leather) currently available in the market.
The ultra-fine microfibers are tightly woven in order to create a powerful layer of protection.
Pet owners typically choose microfiber because it's cheaper than leather, comes in a wide range of colors, and doesn't leave scratches from claws.
There aren't any loops in microfiber fabric, so claws will not get stuck and create scratches.
Plus, it's easy to clean stains and wipe pet hair off microfiber furniture.
Microfiber Furniture for Pets: Pros & Cons
Here is a list of the pros and cons of selecting microfiber for your pets instead of leather.
Mirofiber Furniture Pros:
Typically costs less than leather.
Wide range of colors and patterns.
Does a good job resisting scratches.
Microfiber Furniture Cons:
Fabric is able to absorb stains and odors.
Vulnerable to punctures from claws.
Material has a shorter lifespan than leather.
If you're going to pick any type of fabric over leather, always make sure it's microfiber.
It will last longer than other fabrics and hold up to the many tests your pet will put it through.
Paws & Claws Warranty: How to Make Your Furniture Pet-Friendly
Leather and microfiber are very durable fabrics, but they can still be vulnerable to extremely sharp claws and strong teeth.
Some furniture stores have warranties that will specifically protect new furniture from damage done by your pets.
At La-Z-Boy Home Furnishings & Décor, we offer an additional Paws & Claws Warranty to pet owners who shop with us.
The Paws & Claws Warranty is good for five years and brings peace of mind by covering all damage from:
Animal Waste
Sharp Claws
Teeth Marks
If your furniture experiences pet damage under this warranty, simply send a picture of the damage with your claim.
Once it's approved, your La-Z-Boy Furniture will be fixed or replaced free of charge.
You can learn more about the Paws & Claws Warranty by visiting your local La-Z-Boy Home Furnishings & Décor.
Check Out These Additional Resources
When it comes to the best furniture for pets, genuine leather and microfiber are great choices.
Both materials have their own unique pros and cons along with a variety of styling options.
At La-Z-Boy Home Furnishings & Décor, we carry more than 900 different leathers and fabrics.
Here are some additional online resources you may like to take a look at:
We'd be happy to help you bring your dreams to life at any of our locations in NC, SC, and GA.