When's the Best Time to Buy Living Room Furniture?
La-Z-Boy Southeast | July 17, 2017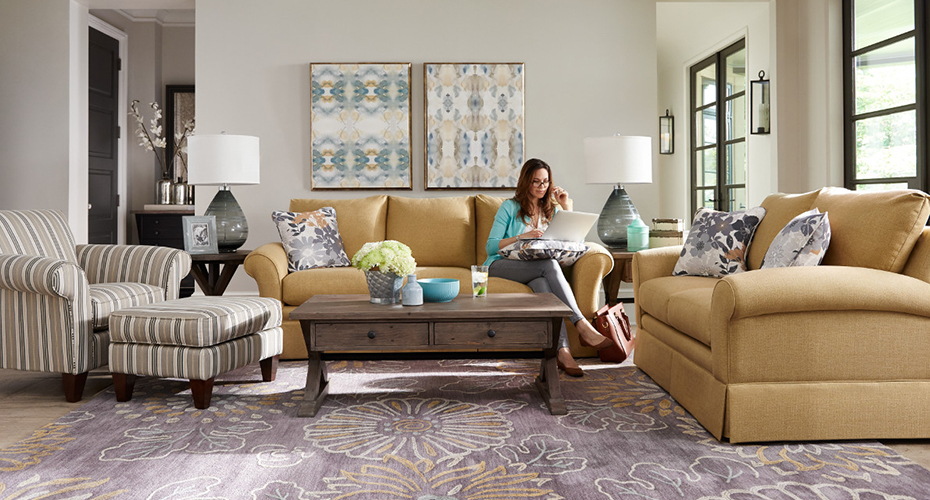 One of the most common questions we receive is, "When is the best time to buy living room furniture?"
At La-Z-Boy Home Furnishings & Décor, we love helping our friends get a great deal on their new furniture.
In this article and video, we'll take a look at when you can get the best deal on living room furniture.
Take Advantage of Promotions Throughout the Year
Whether you're searching for a sofa, recliner, or looking to redo your whole living room – you don't have to break the bank to find what you're looking for.
Most furniture companies run year-round promotions to encourage customers to visit their stores.
This means you can get a great deal on furniture every day of the year by taking advantage of these promotions.
You'll notice most advertisements for promotions are around the holidays. However, many furniture stores will have a promotion running even if it isn't advertised.
If you shop before the big holiday sales, you'll have a better selection of inventory because the store hasn't been picked over yet.
Don't Give Up Your Holiday
Retailers in general are expanding their holiday events to the weeks before and after the actual holiday. This means you don't have to spend time shopping on a holiday to get a good price on living room furniture.
You can shop on the days leading up to and after the holiday to get the same special pricing. Many companies even have a low-price guarantee that ensures holiday pricing.
Here are some other benefits of shopping before the holidays:
Stores are less crowded.
You'll receive better customer service.
Delivery schedules have more availability.
However, if you'd like to shop on these holidays, most stores are open.
How to Get Furniture Discounts & Freebies
During promotions, you'll find prices are discounted from the manufacturer's suggested retail price. Today's furniture companies have "no-haggle pricing" so the price you see is the price you pay.
Store employees are unauthorized to change the price set in the system.
However, they might be able to discount:
Upgrades
Fabric Treatment
Delivery
Feel free to see what your sales associate can offer. It doesn't hurt to ask.
When Is New Furniture Released?
New products are typically announced in October and April during the High Point Furniture Market.
Manufacturers will start building new products then ship them to the store in the months after.
This means new furniture will hit the showroom floor in January and July.
You'll notice most furniture stores have clearance deals offered throughout the year.
However, you'll find more items on clearance in January and July, because stores need to make room for new furniture arrivals.
Shop Early in the Day
Shopping between the hours of 10 am – 12 pm will give you the opportunity to have the store to yourself. This allows you to take your time and see everything in the store.
If the store offers free design services, you might be able to ask them some questions before their appointments that day.
Feel free to ask for help when shopping for furniture so you can make the purchase that's the best fit for your home.
Pay Attention to the Weather
Warm weather months are the most popular times to move furniture because cold, snowy conditions can make it difficult.
Some companies will deliver your furniture and haul off your old furniture at the same time.
This makes the moving process much easier regardless of the weather.
Another good way to get rid of your old furniture is to look for trade-in deals. Some stores will take away your old furniture for free (pending inspection) and donate it to charity. Plus, they will give you a discount on your new furniture.
Search Online Before Going to the Store
The Internet has made shopping easier than ever. You can compare prices, search for special offers, and customize your furniture from the comfort of your own home.
It's always a good idea to read reviews before you make a big purchase.
You can find a large amount of information online to educate yourself before you walk into the store. This will speed up the shopping process and ensure you make a smart decision.
How Long Does It Take to Receive My Furniture?
Make sure your furniture is sitting comfortably in your home before your guests arrive by checking when it will ship.
Some items offer same-day pickup because they're in the showroom and ready to go.
Other items, such as custom furniture, take longer because they have to be built-to-order then shipped from the manufacturer.
Here are the average shipping times for La-Z-Boy furniture:
In-Stock Furniture: Same-day pickup
Custom Bedroom/Dining Room Furniture: Ships in 2-3 weeks
Custom Upholstered Furniture: Ships in 30 days
La-Z-Boy also offers full-service delivery to ensure your furniture is delivered on-time, while you're at home, and placed exactly where you want it.
Check Out These Additional Resources
Furniture shopping should be fun. And we hope you find the furniture that's the best fit for you and your home.
At La-Z-Boy Home Furnishings & Décor, we strive to make everyday a great day to buy furniture.
You may like to take a look at these online resources before you shop:
We'd be happy to guide you through the process of furnishing your home at any of our locations in NC, SC, and GA.