Family Room Furniture Inspiration: 12 Popular La-Z-Boy Picks
La-Z-Boy Southeast | November 18, 2022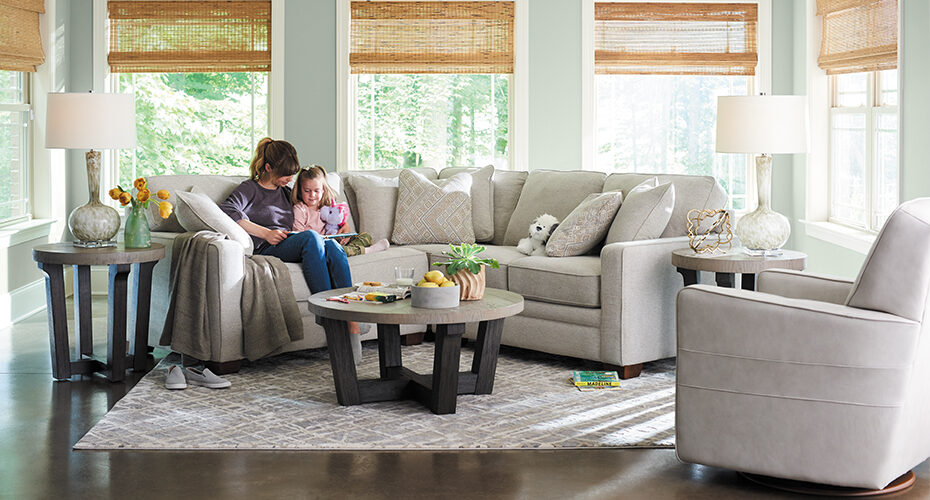 When thinking of family room furniture, you may be torn on exactly what should go into the room. For some, a family room may be the main living room in the home while many designate a bonus room as a less formal family room or kid's playroom.
Regardless of where it is, if you've deemed a room in your home as the "family room," you're looking to use it as an informal space for your family to gather together.
You may find yourself wondering what furniture makes sense to put in your family room.
At La-Z-Boy Home Furnishings & Décor, we work with customers every day to find the right furniture for their needs. As a leading brand in the industry, La-Z-Boy furniture is designed with quality and comfort in mind. Oftentimes, when customers are in search of family room furniture, they are looking for furniture that can be multi-functional and withstand a lot of use.
In this article, you can review 12 La-Z-Boy furniture pieces that are perfect for families and why they make a great addition to any family room. You'll also learn some tips for shopping for family room furniture so that no matter what your next furniture purchase may be, you'll have a better idea of what to shop for.
Popular La-Z-Boy Family Room Furniture
1. La-Z-Boy James Reclining Sectional
The La-Z-Boy James Reclining Sectional is a best-selling sectional at La-Z-Boy Home Furnishings & Décor. And for good reason. It is elegantly cool, comfortable, and laid back. With deep seats that hug you, this sectional has enough space for the whole family to gather together for movie night.
With a variety of modules available, you can configure this sectional to fit any family room. Choose from an array of upgrades such as the power pack console perfect for plugging in electronics. You may just find your family spending too much time in this sectional.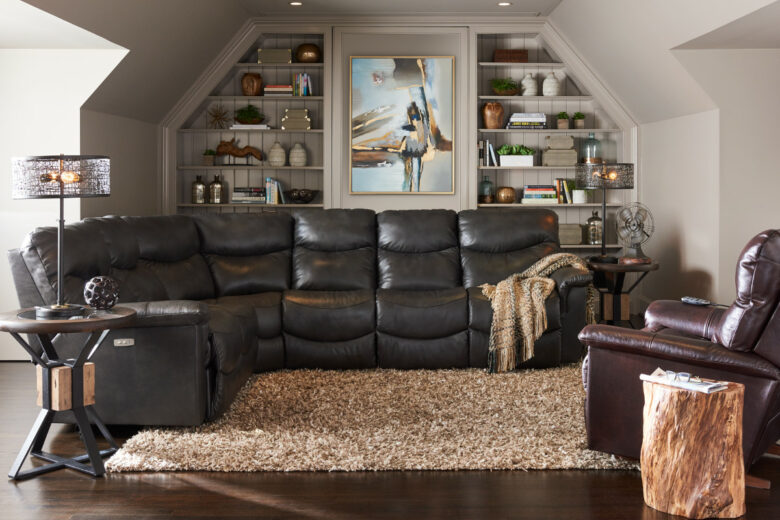 2. La-Z-Boy Kennedy Sectional
The La-Z-Boy Kennedy Sectional has a classic, understated style with clean lines and narrow arms. This best-selling sectional is a popular favorite due to its versatility in look and comfort. It has a more formal, petite scale that can fit both larger or smaller spaces. The Kennedy Sectional is also available as a queen sleeper, giving you additional space for hosting overnight guests.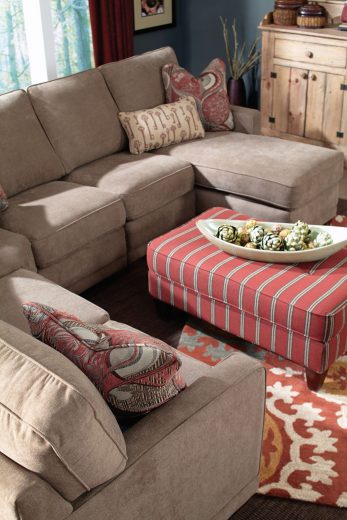 3. La-Z-Boy Collins Sleeper Sofa
The simple lines and tailoring of the La-Z-Boy Collins sofa create a classic style that looks and feels perfect in any room. It features semi-attached pillow backs, rolled arms, and box seat cushions with welted trim.
The Collins is a best-selling La-Z-Boy sofa that looks good and feels even better. This style sofa is also available as a sleeper sofa or sectional as well.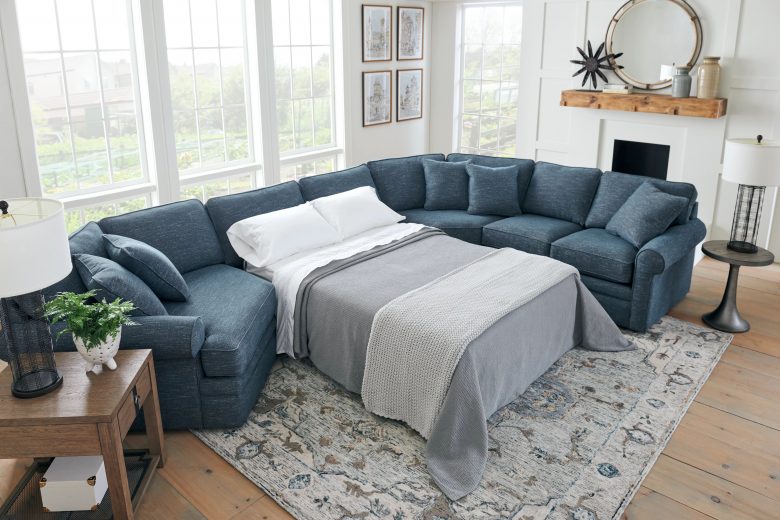 4. La-Z-Boy Piper Sleeper Sofa
The La-Z-Boy Piper Sofa's sleek, streamlined style fits in with just about any décor from ultra-modern to comfortably casual. The Piper sofa has become a family room favorite for its comfortable, yet firm cushions and flat surface are for resting your arms. High-grade foam seat cushions are attached to the back, which can be great for keeping the furniture mess-free from family snacks or toys.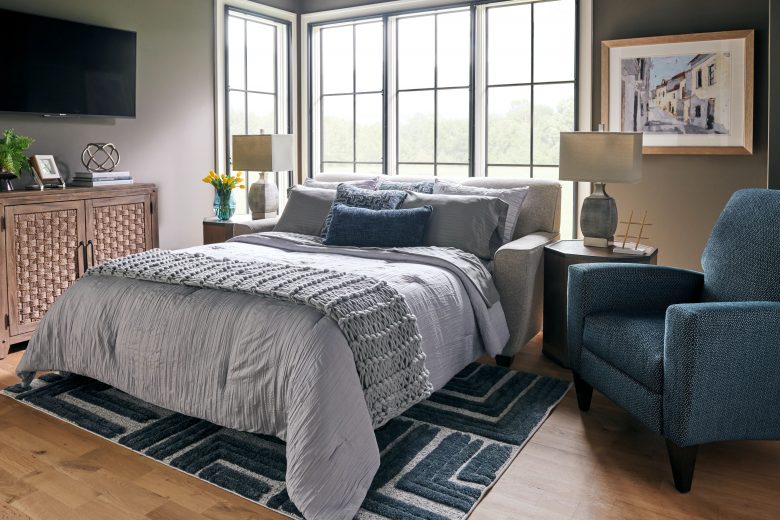 5. La-Z-Boy Leah Twin Sleep Chair
Turn any room into a stylish and functional guest room with the Leah Twin Sleep Chair. Its sleek profile is perfect for smaller spaces, yet it opens up to become a super comfortable twin bed, complete with a Supreme ComfortTM quilted innerspring mattress measuring 5.5" thick. By day, this sleeper is a true beauty too, with curving rolled arms, welt trim, and a patented ComfortCore® cushion that provides optimum support for a long or short sit.
At La-Z-Boy Home Furnishings & Décor, many parents love having this chair and a half as it makes a perfect spot for snuggling with your little one during story time.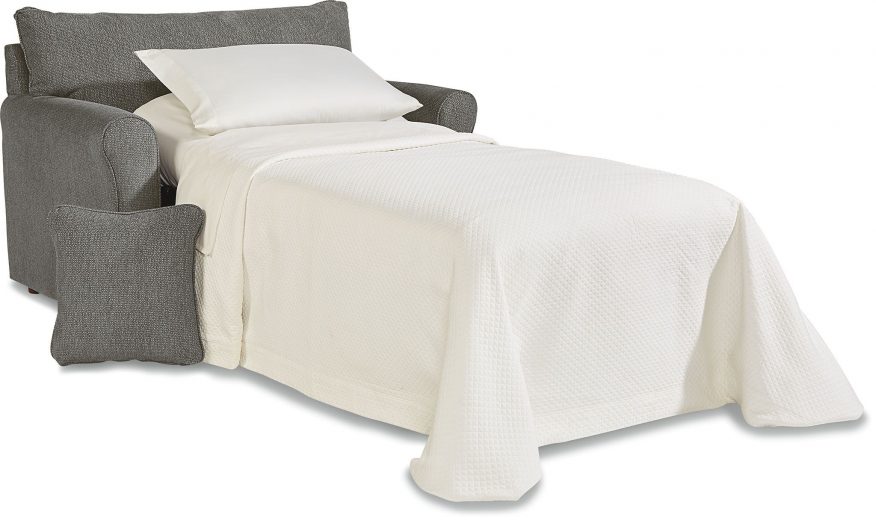 6. La-Z-Boy Cory Ottoman
With a Cory ottoman, functionality never looked so fantastic. It starts with stately proportions that make Cory ideal for extra seating, serving space, or stretching your legs. Plus, there's storage room inside. This ottoman has a sophisticated style outside and four casters for easy mobility.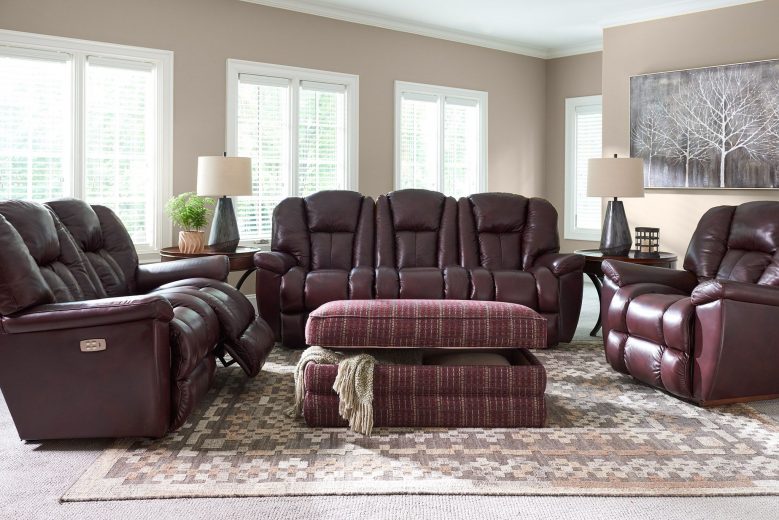 7. La-Z-Boy Leo Storage Ottoman
Looking for comfort, function, and style? This multi-purpose ottoman offers the perfect trifecta for family room furniture. The Leo ottoman has ample storage with a reversible top – one side with tufted fabric provides additional seating, while the other side converts to a wooden cocktail table. With wooden feet or casters, Leo is perfect alone and even better as a four-piece group.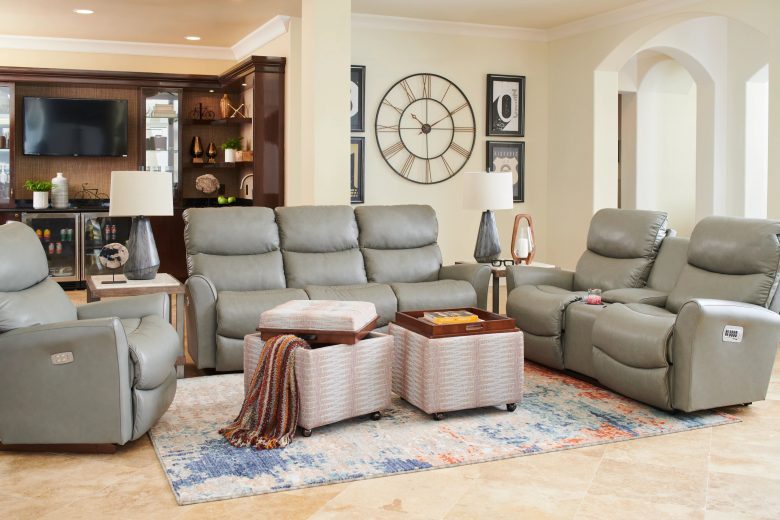 8. Hammary Primo Entertainment Console
Hammary, a La-Z-Boy brand, manufactures more than 60 different wood furniture collections with tables, accent pieces and furnishing. This console is designed in the transitional/casual style, crafted from cathedral oak veneers with bold curved shapes. It brings a soothing presence to any room.
The combination of sturdy hardwood and storage allows you to house everything you need in one space.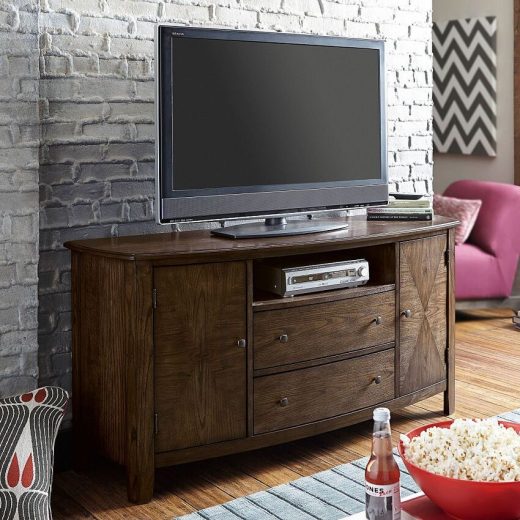 9. Hammary Charging Chairside Table
You'll love the multi-functionality of the Hammary Charging Chairside Table with your family room furniture. The charging chairside has three drawers for storage and a USB power bar.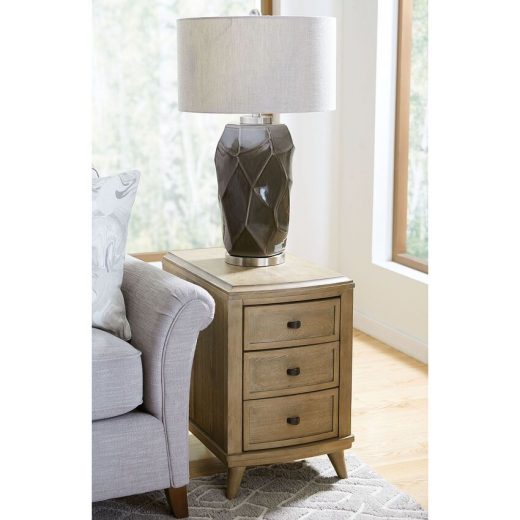 10. Hammary Halsey Lift Top Coffee Table
The Hammary Halsey Lift Top Coffee Table is a popular living room favorite with endless features to love. Choose from storage including two drawers with soft close guides, open shelving, or internal storage. The lift top offers you the ability to enjoy your favorite drinks and snacks while never moving from the comfort of your sofa.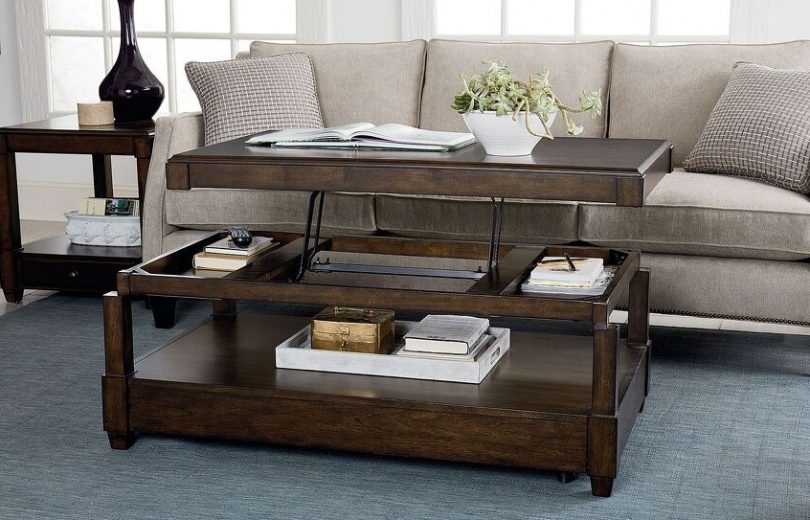 11. American Drew Loggerhead Entertainment Console
American Drew, a division of La-Z-Boy Incorporated, is a well-established, leading manufacturer of bedroom, dining room, and living room furniture. Their Grand Bay Collection offers a fresh take on relaxed living, with an array of textural interest, including the iconic shutter design, faux bamboo turnings, and turned feet with reeded detail.
This entertainment console brings the perfect combination of a sophisticated look with functional storage for all your family room entertainment needs.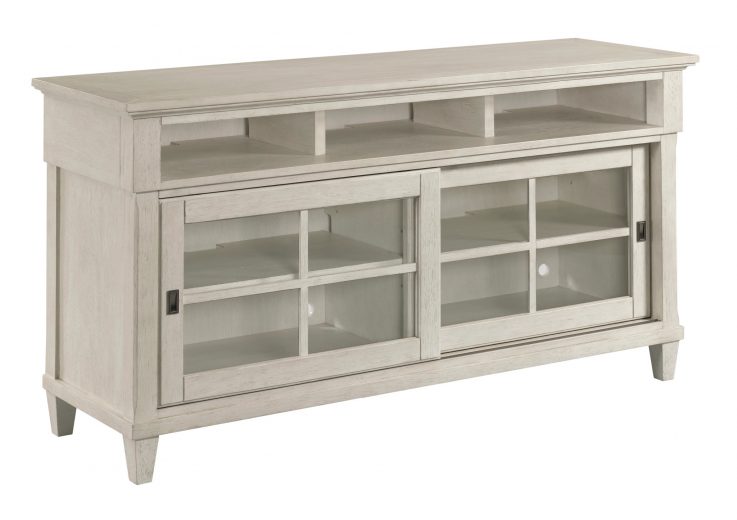 12. Kincaid Symmetry Bookshelves
Kincaid, a La-Z-Boy brand, is America's leading manufacturer of solid wood furniture. The Kincaid Symmetry Collection offers simple lines, tailored to fit the modern home. Symmetry pieces are designed to fit any size room, with customized options to add onto your furniture.
These shelves can be customized as half or full bookshelves, depending on the amount of storage you may need in your family room.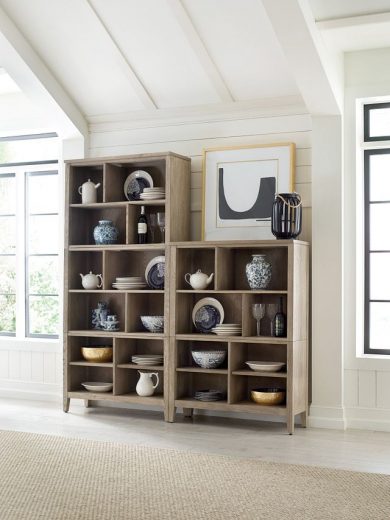 5 Things to Consider Before You Buy Family Room Furniture
When purchasing family room furniture, you want it to be functional and to meet your specific needs.
Before you buy family room furniture, it's important to consider what may impact your furniture choices.
Here is a list of questions to ask yourself before you walk into your local furniture store.
How will you use your furniture?
How long will you keep your furniture?
Are you interested in leather or fabric?
Have you considered your budget?
Keeping these five things in mind before investing in new furniture will help you find the perfect items for your home.
Decide Where to Shop for Family Room Furniture That's Right for You
When shopping for your family room furniture, there's a lot to take into consideration. You'll need furniture built to withstand heavy use. When evaluating the best options for quality, comfort, and functionality, it can be hard to determine what furniture is right for your needs.
At La-Z-Boy Home Furnishings & Décor, we work with customers every day to find comfortable, quality furniture within their budget that meets their needs.
No matter where you choose to shop, you can start your process by downloading our free furniture buying guide.
This guide will teach you:
The best time to buy furniture.
How much furniture costs.
How much an interior designer costs.
Furniture stores with free design services.
How to apply for furniture financing.
Which stores have a price match guarantee.
Why furniture delivery is so expensive.