La-Z-Boy Piper Sofa Review
La-Z-Boy Southeast | October 19, 2022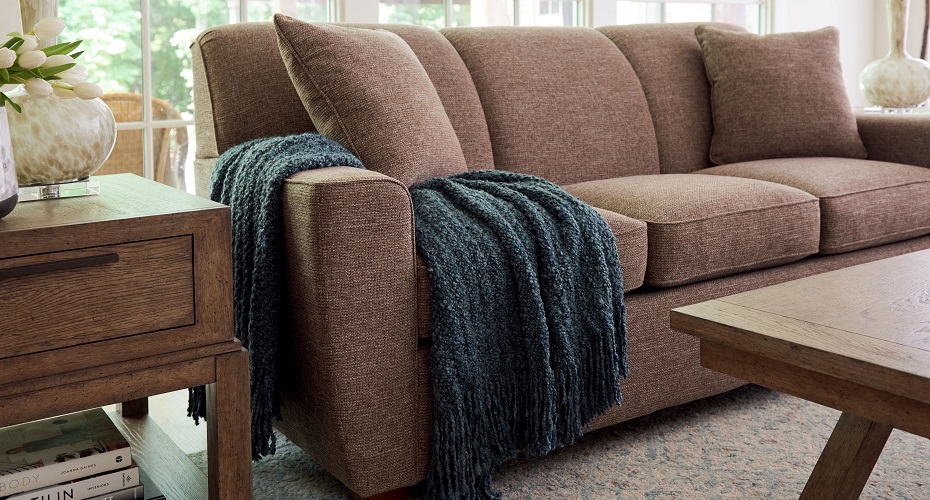 The La-Z-Boy Piper Sofa is a sofa popular for its versatility in style and comfort.
You may be considering the La-Z-Boy Piper Sofa, but you want to know if its features, dimensions, and style are the right fit for you.
For almost a century, La-Z-Boy has been developing and perfecting comfortable furniture to fit every lifestyle.
At La-Z-Boy Home Furnishings & Décor, we've helped thousands of customers find the perfect furniture that fits their comfort and style preferences.
In this article, you'll learn all about the details of the La-Z-Boy Piper Sofa. You can then determine whether or not it's the right style to fit your needs.
La-Z-Boy Piper Sofa Overview
Piper's sleek, streamlined style fits in with just about any decor from ultra-modern to comfortably casual.
Simple, smooth Premier standard seats offer long-lasting comfort and support while the elegant, modern arms and decorative wood legs bring just a touch of an upscale vibe.
In addition to the traditional sofa, the Piper style is also available in a love seat, sleep sofa, and sofa with an ottoman and chaise cushion.
Dimensions & Features: La-Z-Boy Piper Sofa
The Piper Sofa is a great fit for taller scale individuals ranging from 5'10" to 6'2" due to its body height.
Body Dimensions:
Depth: 37″
Height: 37.5″
Width: 82″
Seat Dimensions:
Depth: 22.5″
Height: 21″
Width: 67.5″
Top Features of the Piper Sofa:
Contemporary casual design
Sleek, streamlined arms
Decorative wood legs
Premier standard seats for long-lasting comfort and support
High grade foam seat cushions that maintain their comfort and appearance
You can make sure you're picking furniture that fits your body type and personal needs by visiting one of our locations to get fitted. You can also begin your process by reviewing the La-Z-Boy Sofa Fit Guide.
How Much Does the La-Z-Boy Piper Sofa Cost?
The La-Z-Boy Piper Sofa starts at $1,999 online then your final price is determined by the fabric, options, and upgrades you select.
The Piper Sofa also comes with La-Z-Boy's standard limited lifetime warranty.
However, you may be able to find a lower starting price depending on the type of sale currently running in the store.
You can receive an exact quote by visiting your nearest location and customizing your sofa.
Keep in mind as you determine your budget for new furniture that financing offers are available. You can learn more about whether or not financing is right for you by reading this article.
Customer Feedback about the La-Z-Boy Piper Sofa
At La-Z-Boy Home Furnishings & Décor, the Piper Sofa has become a popular option for individuals looking for a family-friendly, versatile sofa.
The Piper has been described as a "good posture sofa" for its comfortable yet firm cushions and flat surface area for resting your arms.
Another popular option of this sofa style is the Piper Sleeper Sofa. Turn any room into a stylish and functional guest room. Many customers find this appealing for spare dens, family rooms, or kid's playrooms.
High-grade foam seat cushions are attached to the back, which can be great for keeping the furniture mess-free. No worry of toys or other items getting lost behind the cushions or them being removed for a pillow fort.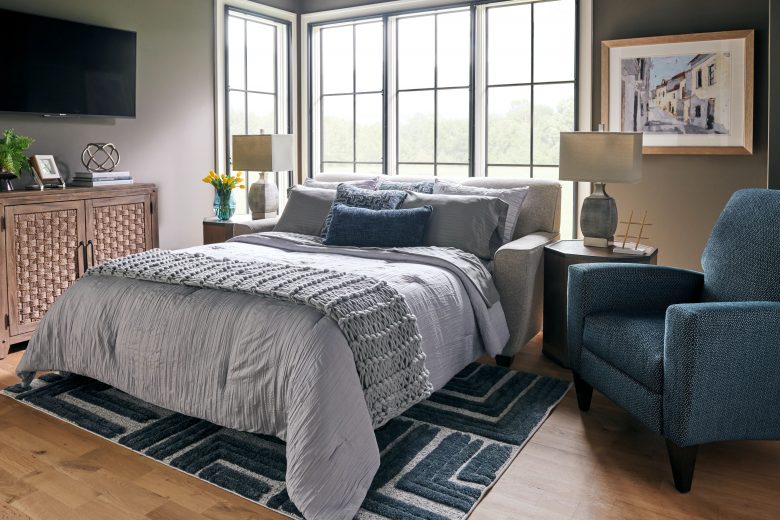 The La-Z-Boy Piper Sofa was quick to receive positive feedback online after its release. As of October 2022, the Piper Sofa has a 4.9/5 Star average ranking online.
Here are a few recent customer reviews:
James M: "We love the new sofa sleeper! Fits perfectly in our living room! Like the color and modern lines."
Cheri W: This is the best sofa I have ever had. It is a sleeper, and we upgraded the cushions and the fabric. The iclean fabric is amazing! We live in the woods and on a lake, so our dogs and kids are always wet and sticky with pitch. I just EASILY removed two spots of pitch with dish soap and a toothbrush and can't even tell where the spots were. I highly recommend the iclean fabric. Wish we added a second chaise to alleviate the arguments over who gets to sit there! I also love that there aren't any back cushions to mess with. Best purchase ever.
Is the Piper Sofa the Right Fit for You?
The La-Z-Boy Piper Sofa can be a great option for your next furniture purchase. It is stylish, yet comfortable and available in a variety of colors, fabrics, and customizations.
At La-Z-Boy Home Furnishings & Décor, we carry a wide range of sofas, including the Piper. Our galleries feature the Piper Sleeper on display so that you not only see it as a sofa but can also see the benefits of having it as a sleeper.
It's important to find a sofa that meets both your comfort and style needs. If you're still deciding on the best-fitting sofa for your everyday needs, there are plenty of styles to browse from with La-Z-Boy. You can start by reading through our thorough reviews on other best-selling La-Z-Boy sofas.
Our design consultants are experts at finding the perfect furniture for you and working with you to customize exactly what you need.
We encourage you to stop into one of our locations in SC, NC, or GA to speak with a consultant or try the Piper Sofa for yourself.