Top 7 La-Z-Boy Recliners for Small Spaces
La-Z-Boy Southeast | July 21, 2022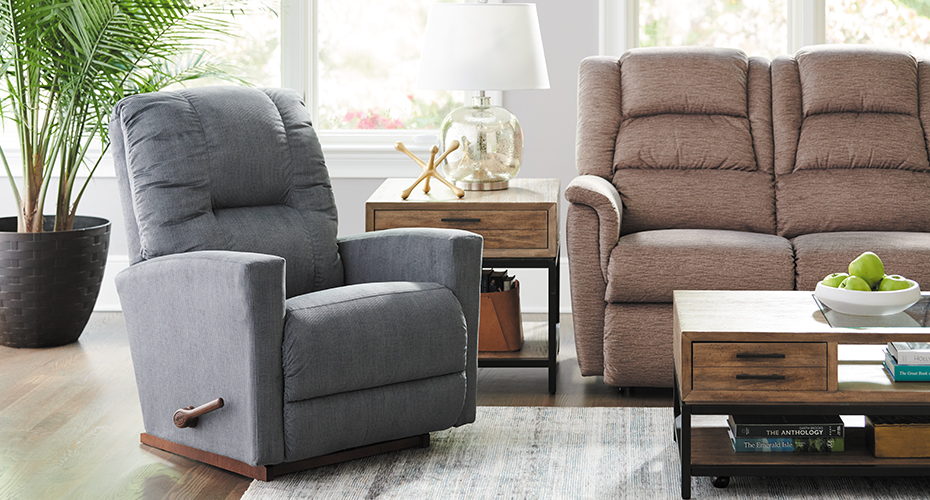 Selecting furniture for a small living space can be tough. Recliners are a great option due to their many benefits. But, with so many to choose from, you may be questioning what styles are the best recliners for small spaces.
With a small space, you need a big imagination. Whether you're moving into an apartment of your own or downsizing for your next stage of life, comfort and functionality will be equally important factors in your furniture purchase.
At La-Z-Boy Home Furnishings and Décor, we work with customers in every stage of life. As the inventors of the recliner, La-Z-Boy has almost a century of developing and perfecting recliners to fit every body type & lifestyle.
In this article, we'll review seven of the top-selling La-Z-Boy recliners for small spaces. And with La-Z-Boy recliners, you'll also learn about the many customizations available that can enhance the functionality of your space. No matter the size and layout of your apartment or home, you can plan to find smaller seating without sacrificing big comfort.
1.) La-Z-Boy Rowan Rocking Recliner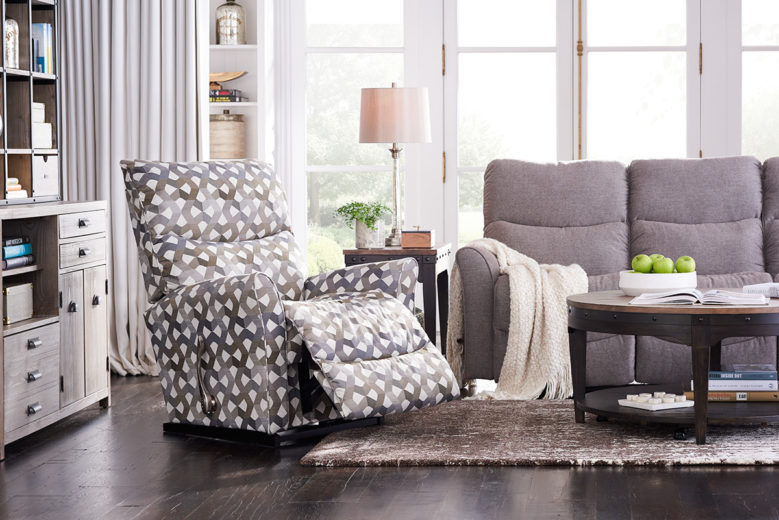 The Rowan Recliner brings an exquisite combination of style and comfort.
It looks sleek, but the flared arms maximize the seating area.
Simply use the convenient handle on the outside arm to raise the legrest for reading, relaxing, or watching TV.
When you're not reclining, it's a relaxing rocker with a smooth, graceful motion.
Read our review on the Rowan Recliner
2.) La-Z-Boy Casey Rocking Recliner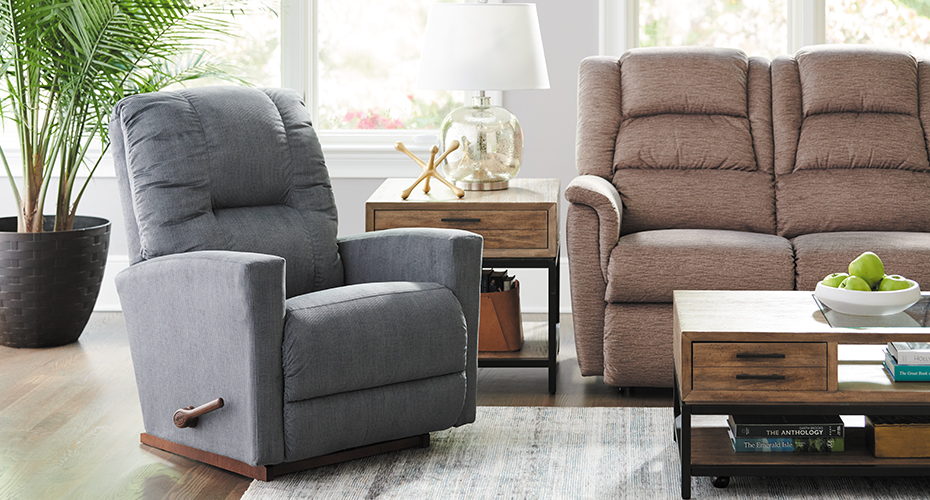 The Casey Recliner combines contemporary style with classic reclining comfort.
It features clean, modern lines, so it's ideal for smaller spaces and contemporary decor.
Casey's chaise seat and legrest, multichambered back, and gently flared and rounded track arms cradle your body in comfort without a big, bulky silhouette.
Read our full review on the Casey Recliner
3.) La-Z-Boy Finley Recliner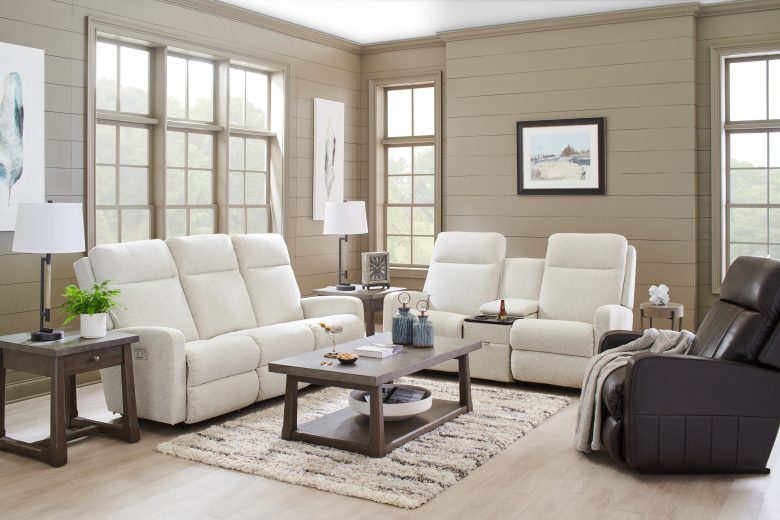 Looking for reclining comfort with contemporary style?
The Finley Recliner fits the bill with modern lines, sleek track arms, and a tall foam back that gives it a neat and structured look.
The ultra-plush chaise seat and legrest cradle the body in a continuous zone of comfort.
Read our full review on the Finley Recliner
4.) La-Z-Boy Pinnacle Recliner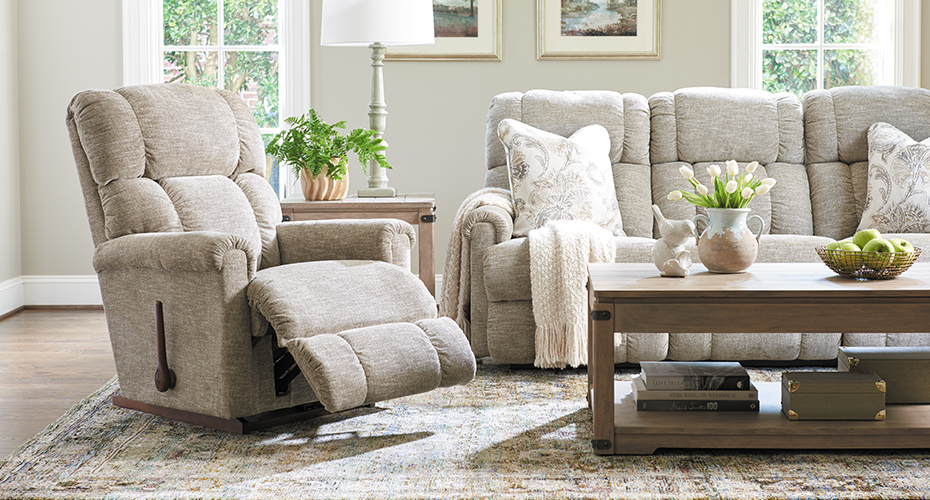 The Pinnacle Rocking Recliner has an easygoing style that's just right for resting and relaxing.
Sink in and enjoy its plush pillowed tall back and padded rolled arms.
The chaise seat and legrest cradle your body in a continuous zone of comfort.
Read our full review on the Pinnacle Recliner
5.) La-Z-Boy Charlotte Reclining Chair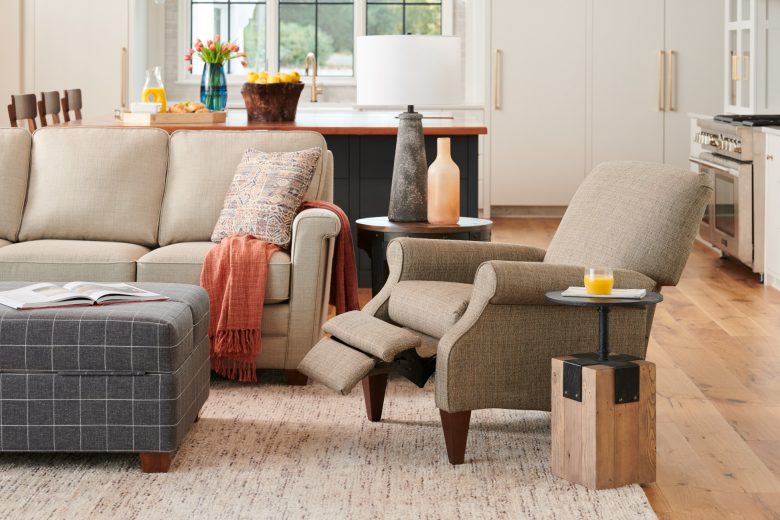 With its classic looks, no one would believe it's a recliner.
Simply push back to enjoy two positions of instant reclining comfort.
The simple design of the Charlotte High Leg Reclining Chair makes it a beautiful complement to any room.
It features elegantly tapered wood legs and sophisticated arms that are both rolled and flared.
A solid foam back gives Charlotte a clean and structured appearance, while providing support for your back.
Read our reviews on Recliners That Don't Look Like Recliners
6.) La-Z-Boy Harbor Town Recliner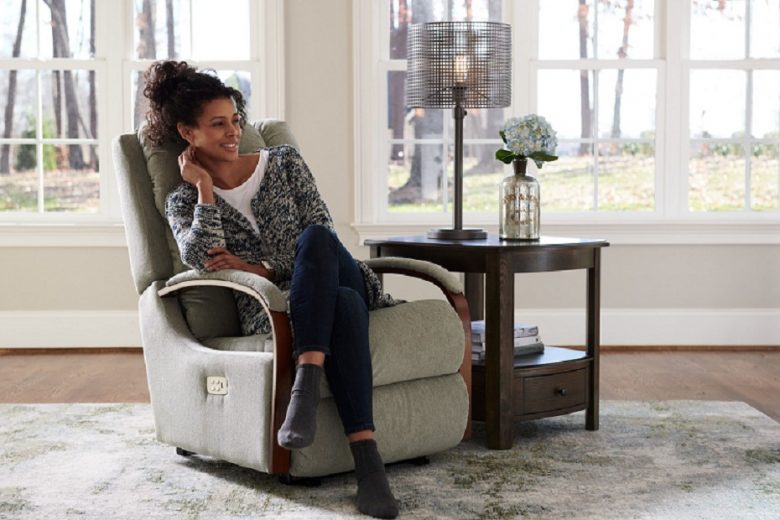 Designed for smaller rooms, the Harbor Town Recliner gives you the comfort of a recliner with a lighter silhouette and a sleek, stylish frame that's truly transitional.
It features a channel-stitched back, a cushioned headrest, and decorative bentwood arms topped with pillow-like padding.
Read our Full Review on the Harbor Town Recliner
7.) La-Z-Boy Collage Recliner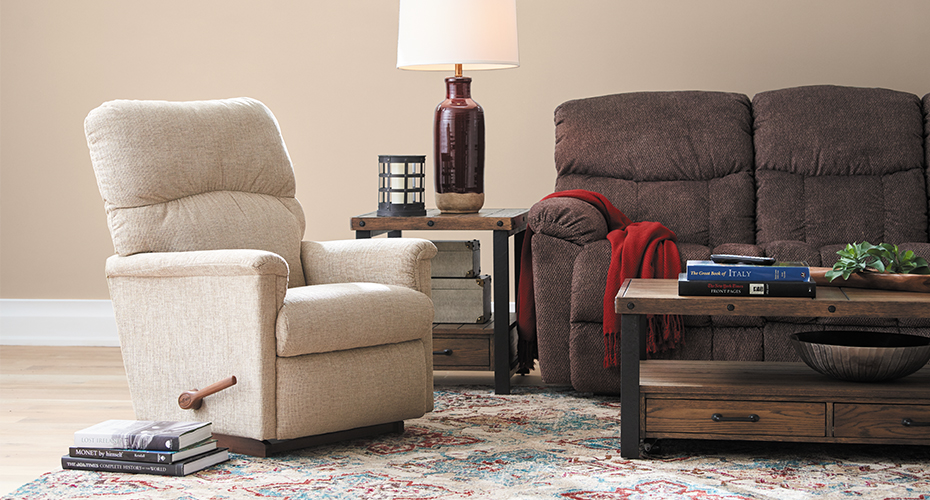 The La-Z-Boy Collage Recliner is a family favorite that's easy to love.
Our Collage Rocking Recliner is a family favorite that's easy to love.
Its petite scale and updated style allow it to blend into just about any room.
Collage features a bullnose (rounded edge) seat, padded flared arms, and a decorative pull in the back cushion.
Read our Full Review on the Collage Recliner
Tips to Consider When Shopping for Recliners for Small Spaces
Measure Your Space
It's important to know precise measurements of the area where your recliner will sit. Not only should you account for the space needed for the chair to fit in an upright position, but you'll also need to know how much space you're working with for the reclining position. Thankfully, La-Z-Boy offers customizations to accommodate your needs. Knowing the space you'll be working with will guide what type of base you should consider. If your recliner will be close to a wall, La-Z-Boy has a line of wall recliners that will still give you the benefits of reclining features without the additional space needed against the wall.
Make Sure the Recliner Fits Your Body
No matter the size of your living space, it's still important to find a recliner that fits your unique body type. Sitting in a recliner that doesn't fit your body can cause unnecessary pain. When you spend a long period in an ill-fitting chair, you may experience:
Neck Pain
Back Pain
Leg/Ankle Pain
This is because the cushions and leg rest don't align with your neck, back, and legs. For example, if the neck cushion pushes your neck forward because you're too small for the recliner – you'll experience neck pain.
Also, your ankles will hurt if they hang off the leg rest while you're reclined.
La-Z-Boy Recliners have seven patented features and benefits. Picking a recliner that fits your body type will help you get the most out of each one.
La-Z-Boy Recliner Features & Upgrades
Not only are recliners versatile in size, but they come in a wide variety of different leathers and fabrics as well as custom upgrades.
La-Z-Boy has over 900 different types of leather and fabrics to match your unique style preferences. You can start your process by requesting free fabric swatches to explore within your space.
La-Z-Boy recliners can be customized in a multitude of ways for you to get a lot of luxury and benefits from your seating.
Here are just some of the options you can choose from:
Reclining Options: Manual. Power.
Handle Options: Standard. Elongated. Silver Arc Handle. Left or Right Side.
Base Options: Standard. Swivel Base.
Cushion Options: Standard. TEMPUR Memory Foam Cushions.
Which La-Z-Boy Recliner is Perfect for Your Small Space?
Recliners can pack big features even in small spaces. But finding the perfect recliner for your living space doesn't have to be an overwhelming task. It's possible to find functional, comfortable, and stylish seating no matter the size of your space.
Purchasing a recliner should leave you feeling assured and excited that you have made the right choice. With La-Z-Boy, you have plenty of comfortable recliners to choose from no matter the size of your space.
Begin your process of finding your perfect recliner by downloading our Free Recliner Buying Guide.
Complete your process by stopping into any of our La-Z-Boy Furniture Galleries in NC, SC, and GA. We're here to help you pick a recliner that best suits your needs.
Still not sure which recliner is right for you?
Browse some of our Most Popular Recliners for Different Body Types: