Understanding Recliner Weight Capacity
La-Z-Boy Southeast | June 22, 2022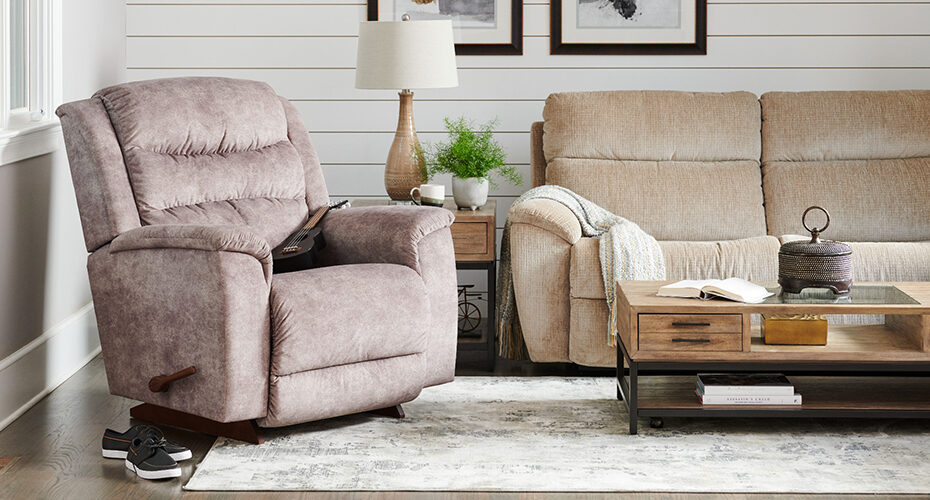 Recliner weight capacity can be a tricky source of information. For what seems like such a simple question, it's not always that clear of an answer. You may be considering investing in a recliner, but you want to know that it will be durable. So, you start by looking at the weight capacity.
Weight capacity listed on name brand recliners can typically range anywhere from 250 to 500 pounds. When you look at the specifications of a recliner, you may be wondering, how strict are the weight capacity numbers? Will a recliner break if you exceed them?
Seeing recliner weight capacity restrictions can frustrate you and leave you asking more questions. But are they even the right questions to ask?
As the inventors of the recliner, La-Z-Boy has been setting the standard with quality-built recliners for almost a century. Recliners are not one size fits all and La-Z-Boy recliners are designed with people in mind. La-Z-Boy recliners have patented technology that is unmatched in the furniture industry with warranties that stand behind their build. If you want a recliner that is comfortable and durable no matter your size, La-Z-Boy makes recliners that are designed for a wide range of body types.
In this article, we'll break down what weight capacity limitations really tell you about your furniture and what matters when shopping for the most durable recliners. You'll have the confidence and knowledge to choose the best recliner without questioning if it will provide you lasting comfort.
What Do Weight Capacity Limitations Tell Us About Furniture?
The coined term "weight is just a number" has been used by wellness experts for years because weight doesn't give you the full story of a body's health. Weight numbers do not represent strength, shape, or height. Weight is also not evenly distributed across your body.
When solely looking at the recliner weight capacity, you don't get the full picture of a recliner's strength or size. When seated in a recliner, you have pressure points. Certain areas of the recliner are going to need to withstand a higher density of weight. Your weight is also going to shift among these pressure points as you move or recline in different positions.
When a weight capacity is specified on furniture, it generally means that's the highest amount of weighted pressure the furniture withstood during testing before the functionality was compromised. The higher the weight, the more pressure that will likely be exerted on the furniture. Heavier pressure for an extended period of time on the same areas can potentially affect the life span of furniture.
Ultimately, you want to know if your recliner will be able to provide lasting comfort without losing its quality. When shopping for a recliner, there are factors other than the recliner weight capacity that will give you a more solid answer on whether it will withstand your needs.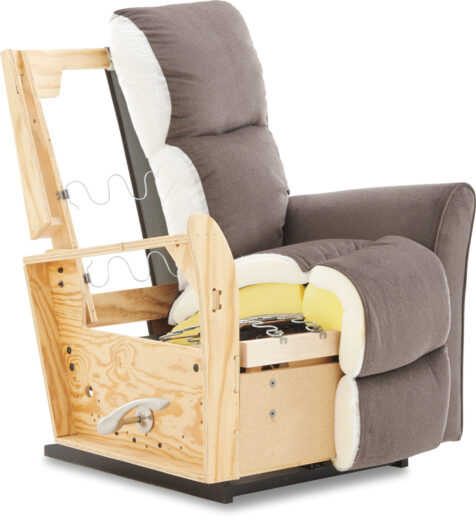 What Factors Matter When Shopping for a Durable Recliner?
1. How is the Recliner Built?
Recliners with a four-sided frame, hardwood base, and mesh layer between the springs and cushion are built well and will be very durable.
Does the frame have four sides? Think about how you rise from a recliner. You're going to push on the arms and leverage the weight of those sides to stand. This can cause two or three-sided frames to warp, expand, and split. Four-sided frames will support your body and last for years.
What's the base made out of? Bases are typically made of hardwood or plastic. Hardwood bases are sturdy, look better, and last longer. Plastic bases are flimsy, look cheap, and wear out easily.
Do you see a mesh layer between the cushion and springs? This layer of mesh will evenly distribute weight and keep the cushion from tearing. Without this layer, your seat cushion would be shredded to pieces by the springs.
2. What are the Pressure Points of this Recliner?
Watch this video to learn about the 5 important pressure points to consider before you buy.
3. Does this Recliner Accommodate My Body Size?
Sitting in a recliner that doesn't fit your body can cause unnecessary pain. La-Z-Boy Recliners are specifically designed with different body types in mind. Read this article to learn more about how to select a recliner that will fit your specific body type.
4. Does the Recliner Come with a Parts Warranty?
When a manufacturer offers a competitive warranty, they are standing behind the quality of their parts. La-Z-Boy Recliners come with a limited lifetime warranty to cover parts, mechanisms, fabric, etc.
Pro Tip: Before you buy, Turn the Recliner Over
To truly see the differences in the quality of construction when shopping for recliners, ask your sales consultant to flip over the recliner and show you the mechanisms and make of the chair.
If they say you can't look underneath, that's an immediate red flag signaling the construction of the chair is more than likely poor.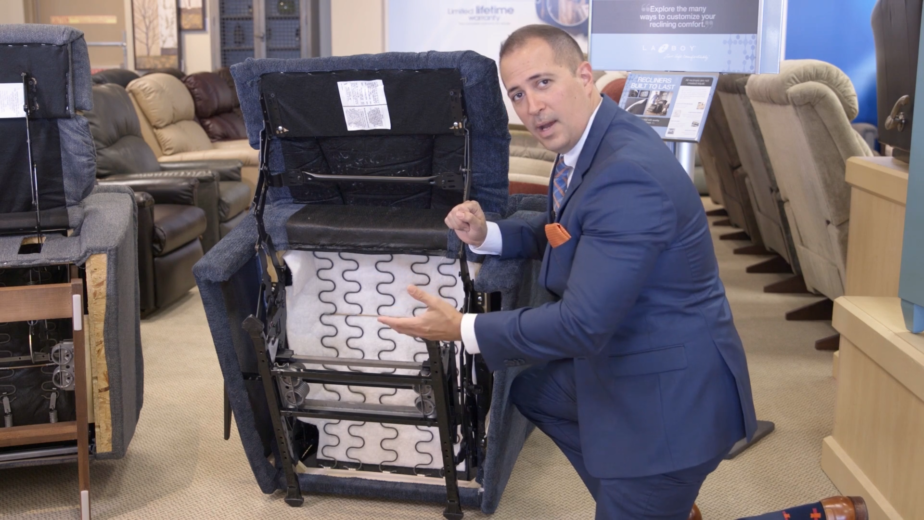 Does La-Z-Boy Specify a Weight Capacity on Recliners?
With normal use, and unless otherwise noted, the majority of La-Z-Boy branded furniture is tested to accommodate up to 300 pounds per seat.
La-Z-Boy stands behind the durability of their recliners. When customizing your selection for a recliner, the process starts with measuring your height, not weight.
Choose Your Perfect Fit Recliner
It's easy to start and stop your research by looking at recliner weight capacity restrictions listed on the chair's description. But those numbers won't prepare you for finding a recliner that fits your needs or body type.
Purchasing a recliner should leave you feeling assured that you have made the right choice. To find the most durable recliner for you, it's important to understand how the recliner is built and if it fits you.
Start your process by downloading our free Recliner Buying Guide:
Check out some of our Most Popular Recliners for Different Body Types:
Come See and Feel the Difference in La-Z-Boy Recliners:
Stop into any of our La-Z-Boy Furniture Galleries in NC, SC, and GA. We're here to help you pick a recliner that best suits you.