How to Remove Pet Hair from Furniture
La-Z-Boy Southeast | June 23, 2021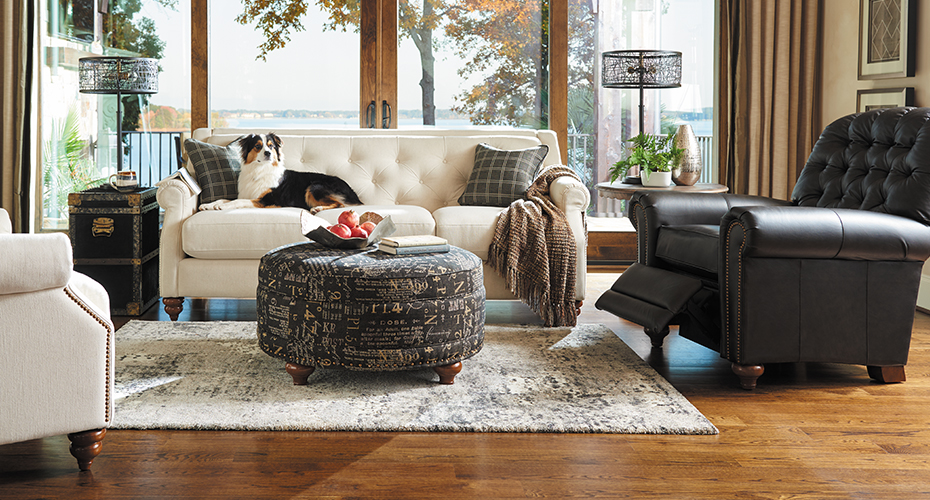 Are you searching for the best way to remove pet hair from furniture?
At La-Z-Boy Home Furnishings & Decor, we love designing rooms your pets can enjoy as much as you do.
In this article, we'll go over the quickest and easiest ways to remove pet hair from furniture.
---
DISCLAIMER: This post contains affiliate links. As an Amazon Affiliate we may earn a small commission from qualifying purchases when you click on the links at no additional cost to you.
---
What Causes Furniture to Attract Pet Hair?
Furniture upholstered with fabric will produce static electricity when clothes, blankets, and pillows rub up against the fibers.
Static electricity paired with the low humidity from air conditioning attracts pet hair and may cause it to stick.
Sofas and chairs upholstered with 100% authentic leather will produce less static electricity and be more durable than fabric.
However, genuine leather is more expensive than most fabrics and it only offers a limited amount of color and pattern options.
Thankfully, you can remove pet hair from furniture fabrics with a variety of cheap and easy-to-use products.
How to Remove Pet Hair From Furniture
A pet hair remover roller is one of the quickest and easiest ways to clean up after your fur babies.
The ChomChom Pet Hair Remover is available on Amazon and has 4.5 stars with more than 3,500 customer reviews.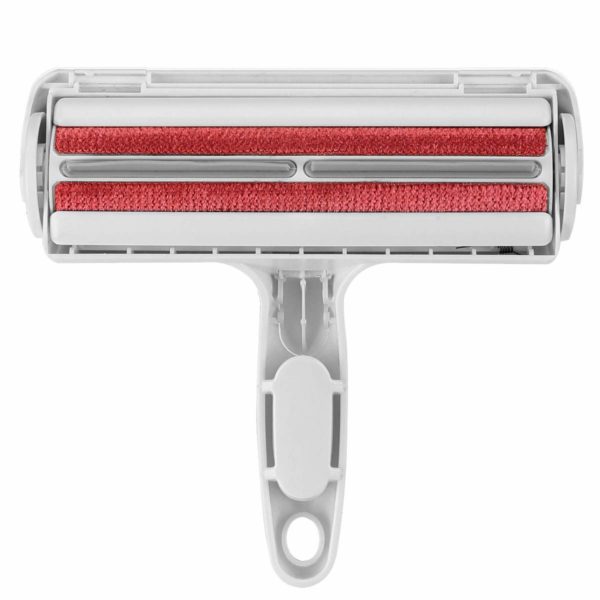 The ChomChom Pet Hair Remover doesn't require batteries and can be used on furniture, clothing, and bedding.
Simply move the roller back and forth to pick up fur then open the lid to wipe the captured pet hair out with a moist cloth.
This pet hair removal tool is 100% reusable and will not leave adhesive or sticky tape residue on your furniture or clothes.
ChomChom Pet Hair Remover: Reviews
In 2017, K. Patao wrote the following review for the ChomChom Pet Hair Remover and attached a few before & after pictures.
About 4 years ago, I adopted Daisy, who I was told was a shorthaired mixed Siamese / alley cat. Little did I know that she would be more medium hair and about the sheddiest animal I've ever owned. My wife and I love her, but because most apartment housing doesn't allow animals because of dander, we were getting to the point that we were going to give her away. I saw a video on YouTube about the ChomChom Roller and I was convinced after seeing a guy remove all of the white pet fur off of a velvet topper. This thing is amazing! It even got hair off of the carpet that our vacuum cleaner couldn't get.
As you read more reviews from other verified purchasers on Amazon, you'll notice the majority of them had similar experiences.
Check Out These Additional Resources
Being able to quickly and easily remove pet hair from furniture will keep your home clean and tidy.
There are a variety of pet hair removal products online. However, we've found the ChomChom Pet Hair Roller to be the best.
Here are some additional online resources you may like to check out:
We'd be happy to help you design a pet-friendly home at any of our locations in NC, SC, and GA.