5 Reasons to Buy Leather Furniture
La-Z-Boy Southeast | August 7, 2020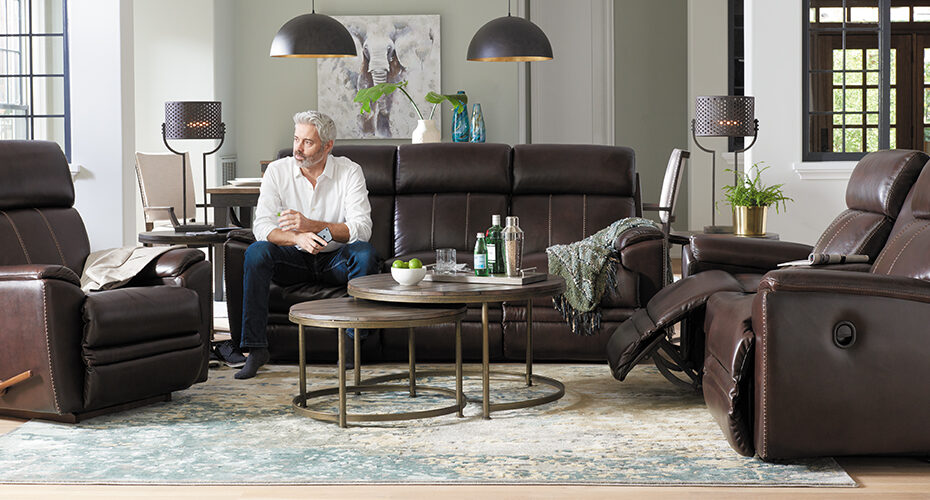 Are you interested in learning all of the many reasons to buy leather furniture?
At La-Z-Boy Home Furnishings & Décor, we love leather furniture because of its outstanding durability and comfort.
In this article, we will take a look at five undeniable reasons to buy leather furniture.
1) Leather Outlasts Fabric
Leather furniture is 50% stronger than fabric and will typically last 15 to 20 years.
Furniture upholstered with fabric will last up to 5 years before it needs to be replaced.
This means the lifetime value of leather furniture is 4 times what you'll receive from fabric.
2) Year Round Comfort
Leather is a breathable fabric, so it will stay cool in the summer and warm in the winter.
Some people think leather gets sticky in the heat because of their experience with leather car seats.
The leather used in car seats is often made with bonded or fake leather that doesn't breathe well.
At La-Z-Boy Home Furnishings and Décor, we use top-grain leather which is 100% authentic.
Genuine leather like top-grain will breathe well and keep you comfortable in all seasons.
3) Extreme Durability
When you buy leather furniture you'll have peace of mind it will stand the test of time.
The natural oils on leather will prevent cracking, peeling, and tearing. Even along the seam lines.
Leather is so durable it's considered the best furniture for pets.
4) Leather Ages Beautifully
Leather not only lasts a long time, it will also age extremely well.
As time marches on, you'll notice your leather furniture will become a little bit softer.
Your softer leather will also retain its original shape, vibrance, and rich color.
5) Leather Is Easy to Care For
It doesn't take a lot of cleaning and maintenance to care for leather furniture.
Leather simply requires a mild dusting or wipe down every once in a while.
However, you may need to vacuum with a bristle brush if crumbs become an issue.
Check Out These Additional Resources
When you buy leather furniture, you're investing in a piece that will look good for a long time.
At La-Z-Boy Home Furnishings & Décor, we carry more than 900 different leathers and fabrics.
Here are some additional online resources you may like to check out:
We'd be happy to help you bring your dreams to life at any of our locations in NC, SC, and GA.