La-Z-Boy Trouper Recliner Review
La-Z-Boy Southeast | January 19, 2023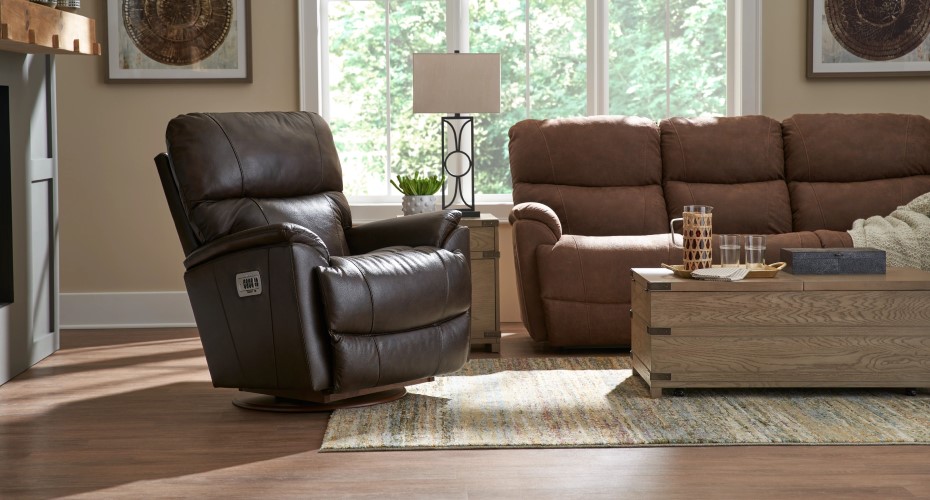 The La-Z-Boy Trouper Recliner brings you ultimate comfort with a simple, contemporary style. You may be considering the La-Z-Boy Trouper Recliner but want to know if its features, dimensions, and style fit your needs.
As the inventors of the recliner, La-Z-Boy has almost a century of developing and perfecting furniture to fit every lifestyle. At La-Z-Boy Home Furnishings & Décor, we've helped thousands find the perfect chair for their body type and unique needs.
In this article, you'll learn all about the details of the La-Z-Boy Trouper Recliner. You can then determine whether or not it's the right style for you.
La-Z-Boy Trouper Recliner Overview
An updated silhouette, complete with slightly flared arms and a sleek tall back gives Trouper a look that's fresh and contemporary. The Trouper's sculpted bucket seat cradles you in softness while the padded split back provides superb head and lumbar support.
When you're not reclining, it's a relaxing rocker with a smooth, graceful motion.
Dimensions & Features: La-Z-Boy Trouper Recliner 
The La-Z-Boy Trouper Recliner is typically a good fit for people 5'10" to 6'2″.
Body Dimensions:
Depth: 38″
Height: 42″
Width: 36"
Seat Dimensions:
Depth: 20.5″
Height: 20″
Width: 19.5″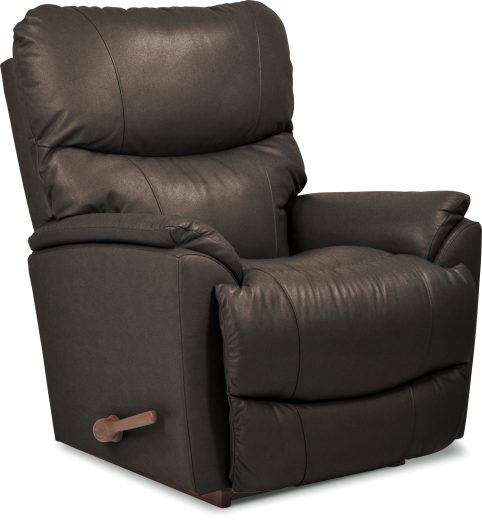 Top Features of the Trouper Recliner:
Casual, family-friendly style
Bucket chaise seat & legrest
Inset padded arms
Decorative top-stitching details
Double-picked blown fiber fill for improved cushion loft and shape retention
Premium grade fabrics and leathers tested to resist wear and fading
Customizable with your choice of fabrics and other available upgrades
This chair also has seven patented features you'll only find on a La-Z-Boy Recliner:
Lower Back Support
Recline & Rock at The Same Time
Three Locking Footrest Positions
Sixteen Locking Rocker Positions
Four-Sided Frame Construction
Dual Locking Footrest
Contour Cut Foam
La-Z-Boy Recliners are constantly researched and developed to create new features that will make them even more comfortable.
La-Z-Boy Recliners come in more than 900 different leathers and fabrics.
Plus, they offer the widest variety of custom upgrades in the recliner market.
Some of the options you can choose from:
Brushed Metal Handle
Swivel Base
Extended Handle
Heat & Massage
Left Side Handle
Hidden Battery Pack
Upgrading your La-Z-Boy Recliner will make it truly one-of-a-kind.
How Much Does the La-Z-Boy Trouper Recliner Cost?
The La-Z-Boy Trouper Recliner starts at $1,249 online then your final price is determined by the fabric, options, and upgrades you select.
The Trouper Recliner also comes with La-Z-Boy standard limited lifetime warranty. 
However, you may be able to find a lower starting price depending on the type of sale currently running at your store.
You can receive an exact quote by visiting your nearest location and customizing your sofa.
Keep in mind as you determine your budget for new furniture that financing offers are available. You can learn more about whether or not financing is right for you by reading this article.
Customer Feedback about the La-Z-Boy Trouper Recliner
At La-Z-Boy Home Furnishings & Décor, the Trouper Recliner is a best-selling recliner. Many customers find that the Trouper recliner looks great in suede or leather. However, there are over 900 different fabrics and leathers that you can choose from to customize this recliner.
The Trouper has a similar look and feel to another best-selling recliner, the La-Z-Boy James Recliner. Both feature slightly flared arms and sides that make you feel like you're receiving a comfortable hug.
As of January 2023, the Trouper has received an average 4.8 out of 5-star reviews. Here are a few recent customer reviews:
Isarel C: "A great comfortable rocking recliner that has great support for the lower back and is really simple to use! I have the manual push bar vs the electric one. 5 stars on in-store service, 5 stars on payment plans, 5 stars on REALLY quick delivery! They told me it's out of stock and it's an 8 – 11 week wait. They had it DELIVERED and INSTALLED within 3!! The driver and help were very friendly and courteous!
Linda M: "I Fell in love with the chair when I saw it in the store. Very comfortable, and everyone wants to sit in it. 
Charles B: "Quality, comfortable, and stylish rocker recliners! This is my go-to chair during my knee replacement recovery, several naps and to sleep overnight. We are very happy with these recliners and highly recommend them to anyone."
Is the La-Z-Boy Trouper Recliner the Right Fit for You?
The La-Z-Boy Trouper Recliner can be a great option for your next furniture selection. Whether you're designing for a whole room or looking to add seating to your space, this chair can meet the demands of your furniture needs.
At La-Z-Boy Home Furnishings & Décor, we carry a wide range of furniture in our showrooms. It's important to find a chair that meets both your comfort and style needs. If you're still deciding on the best-fitting chair for your needs, there are plenty of styles to browse from with La-Z-Boy. Check out our thorough reviews on other best-selling La-Z-Boy recliners.
Our design consultants are experts at finding the perfect furniture for you and working with you to customize exactly what you need.
We encourage you to stop into one of our locations in SC, NC, or GA to speak with a consultant or try the Trouper Recliner for yourself.