Should You Finance Furniture Purchases?
La-Z-Boy Southeast | July 25, 2022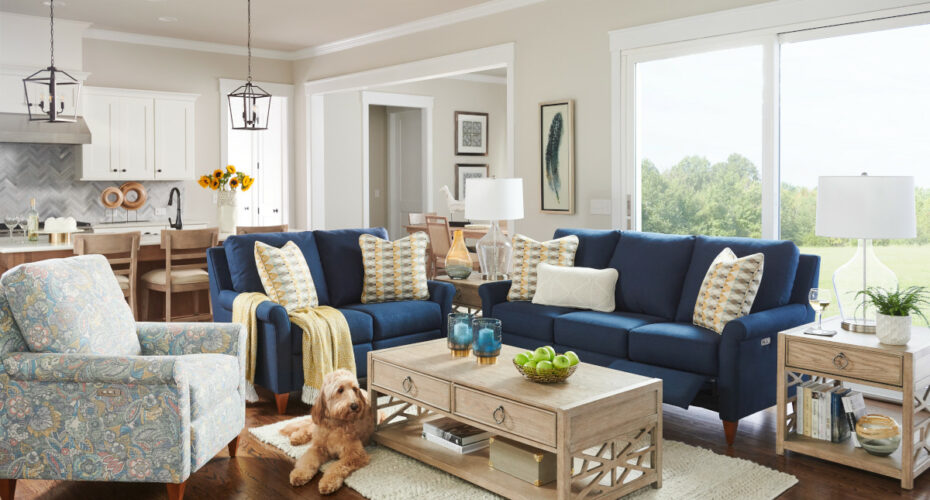 If you're trying to decide whether or not you should finance furniture, you're not alone.
You know you need new furniture and you've seen great offers that can help you make your furniture dreams a reality. But, are there any catches with furniture financing offers?
Financial advice can be confusing and leave you wondering if you're making a decision that will impact you negatively. At La-Z-Boy Home Furnishings & Décor, we believe in creating customers for life. A major part of that is making sure that customers understand whether or not financing is the right option so they can make an informed buying decision.
Like all major investments, it's important to decide if financing furniture is the right choice for you personally. In this article, we'll address what you should consider when you finance furniture and the most common advantages and disadvantages of financing. Equipped with this information, no matter where you make your furniture purchase, you'll be able to confidently decide the best option for you.  
Important Factors to Consider If You Finance Furniture
Ask About Interest-Free Financing
Interest-free financing means you'll be charged 0% interest on your purchase during the promotional period. However, if a balance remains after the promotional period, you'll be charged the regular APR interest rate on the remaining balance. Interest-free financing ensures that you will not pay more than the original cost of the product during your financing term.
Look for an Appropriate Furniture Financing Term
Many furniture companies offer interest-free financing as part of their promotional offerings. This promotional period can be anywhere from 6 to 72 months depending on your credit score. Make sure you can meet the monthly payments without delay or potential to miss, which can hurt your credit or cause additional fees. Also, consider the length of time you plan to keep your furniture and how long you'll be paying for it. You do not want to end up in a situation where you'll need to replace your furniture before it's fully paid off.
Timing Matters When Financing Your Furniture
Many customers are in the market for new furniture when purchasing a new home.
If you are buying a new home, it's important to note that you should wait until you've closed on your home before you fill out any financing applications. If you're in the midst of the home-buying process, any financing application you submit could cause your home loan to be denied.
Once you close on your home, it will also be important to move quickly on applying for furniture financing before your home loan impacts your overall credit score. Having a good credit score will give you better financing options for your furniture.
Advantages of Furniture Financing
Furniture Financing Allows for Easier Digestible Payments
The biggest feature of financing your furniture is the fact that you're not paying in full upfront for your furniture purchase. You defer a bulk payment by arranging smaller payments that will be equally allocated across a range of time. This period depends on the term of your financing agreement. Furniture can be a costly investment and financing allows you to pay off that investment over a period of time. Many financing options allow for you to include all costs associated with your sale including taxes, warranties, and delivery fees.
Even if you have the total amount of your furniture cost saved up, financing your furniture may still be worth considering. With interest-free financing, you can consider allocating what you would have spent up front into investment options that will compound earnings in the same amount of time.
With Financing You Can Fulfill All Furniture Needs at Once
Instead of building on furniture and décor over time, you can style your entire room at once. Enjoy the benefits of a fully furnished room while paying it off. Furnishing your room the way you want could save you money and time trying to get your space just the way you like it.
At La-Z-Boy Home Furnishings & Décor, one added benefit to styling your full room is to utilize our degreed interior designers at no additional cost. Interior Designers can help select furniture and designs that reflect your style.
Financing Ensures You'll Be Able to Get The Furniture You Want When You Want It
Have you ever thought to yourself when buying something: "I'll just wait until it goes on sale" Only to go back to the store and see the price has gone UP? Or worse, find out it's no longer available.
By waiting to make a furniture purchase, you run the risk of price increases due to inflation. Or due to demand, that product may no longer be available.
Investing in quality furniture can be a large investment and it could take a while to save up all the cash you would need to purchase the furniture you desire.
We can't predict the future, but financing can keep you from waiting and ultimately save you from heartbreak or added costs down the road.
Disadvantages of Financing Your Furniture
By Financing Your Furniture, You're Incurring Debt & Impacting Your Credit
With all financing, to qualify, you'll have to go through a credit check.
Overall, furniture is considered more of a "soft hit" on your credit. If you're not in a situation where you can stand to have your credit impacted, financing may not be the right option. For example, if you happen to be on the verge of applying for a home loan mortgage, it could negatively impact the interest rate on your larger loan.
On the other hand, paying off your furniture investment on time or before the end of your term can help improve your credit.
If You Aren't Investing in Quality Furniture, You Could Potentially Need New Furniture Before You've Paid Off Your Old Furniture
Furniture can be a costly investment. You want to know that you're getting your money's worth and will be able to enjoy it for years to come. It's important to invest in furniture that will meet your needs for a length of time.
When it comes to financing, some companies offer terms up to 6 years or more to minimize your monthly payment. This can lead to a slippery slope if you purchase furniture that isn't built to stand that length of time.
La-Z-Boy furniture is known in the industry for quality-built furniture. Review this article or watch the video below to learn more about what to look for when investing in quality furniture.
Finance Interest Charges Can Cause You to Pay More for Your Furniture
If you have the option, interest-free financing is always the better choice. However, not everywhere offers interest-free financing or it may not be an option you qualify for. Interest charges can be upwards of 20% depending on the terms, causing you to pay more than you would upfront for your furniture.
This is a personal decision you'll have to make whether or not the advantages of financing outweigh potential interest charges.
Who Offers Furniture Financing?
Today, most furniture companies offer a variety of financing options. Depending on your credit, amount of purchase, and length of financing terms, many have interest-free financing options available.
You can start your process by checking online or asking an associate in-store what offers they have available.
At La-Z-Boy Home Furnishings & Décor, you'll find interest-free financing offers with terms ranging from 12 to 48 months. You can apply for financing at any of our locations in NC, SC, and GA. Or you can apply online at your convenience. Once you complete your application, you'll receive a response instantly.
If you aren't approved for financing, most furniture stores can discuss an alternative option that works for you.
Decide if Furniture Financing is Right for You
Deciding whether or not to finance furniture is a major step in your buying process. It's a step that can leave you feeling unsure if you're making the right choice.
Financing can be the step that brings your furniture dreams to reality. However, it's important to weigh whether or not the advantages work in your favor or if you should consider other alternatives.
At La-Z-Boy Home Furnishings & Décor, it's our mission to make sure every customer is satisfied with their purchase. One look at our store reviews and you'll see a common pattern of customers who received our individualized services.
In search of some additional furniture buying tips before you complete your purchase? Here are a few additional helpful articles:
Our consultants would be happy to help you make the right decision for your next furniture purchase at any of our locations in NC, SC, and GA.