Does Leather Furniture Make You Hot?
La-Z-Boy Southeast | June 15, 2022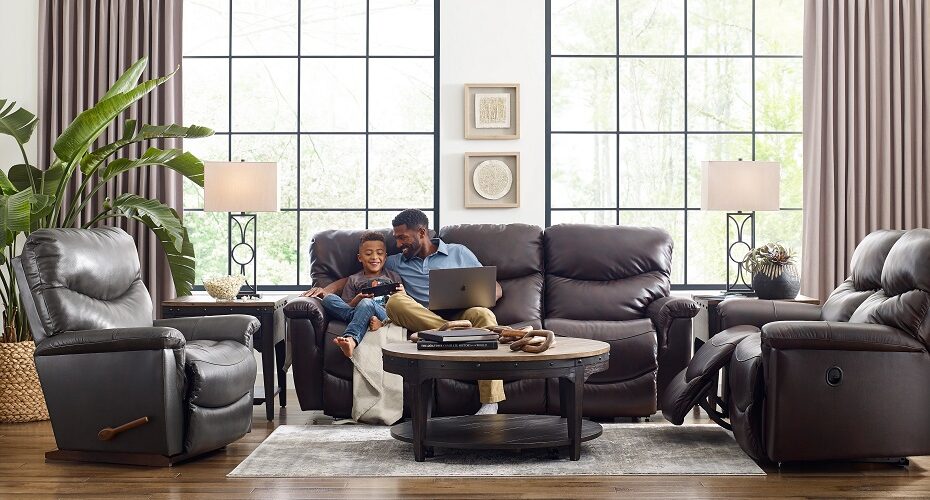 You're considering purchasing new furniture but you may be wondering, will leather furniture make you hot?
When it's blazing hot outside, the last thing you want to do is relax on a piece of furniture that feels sticky or causes you to sweat.
If you're thinking of purchasing leather furniture, especially during the summer, chances are this concern is top of mind. When the AC is working hard inside your home, you expect to have a cool and comfortable place to relax. Comfort is important for furniture and quality leather can be costly. You want to make sure it's comfortable throughout the year.
During the summer, a common question that we are asked at La-Z-Boy Home Furnishings and Décor is "does leather furniture make you hot."
Leather is often the desired option for furniture material due to its durability, comfort, and unique style. La-Z-Boy is one of the most well-known brands in the furniture industry and offers the highest quality leather options for furniture.
There are a lot of misconceptions about leather furniture that can cause you to question if it's the right choice for furniture. We have good news though. Quality leather furniture can be comfortable all year long. In this article, you'll learn how temperature affects leather and why it's one of the reasons so many people love leather furniture. If you've been weighing the options of buying leather, you'll be able to add this to your list of pros.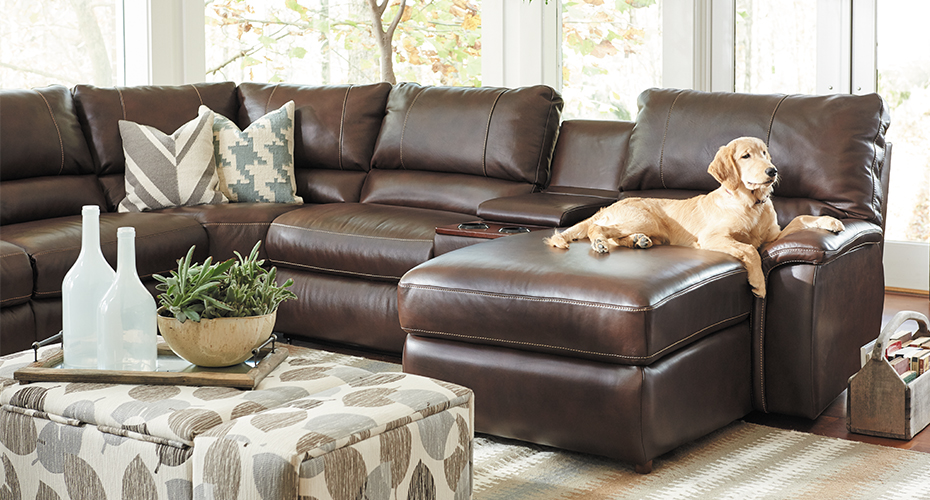 How Temperature Affects Leather
Leather furniture should not make you hot or cause unnecessary temperature discomfort in your home. Leather material is porous and breathable. It adapts to the temperature of its environment. If your home is kept at a comfortable temperature, you'll find that leather seating offers a refreshing place to sit for cooling off during those hot summer days. Adversely, during the winter months, your leather seating will provide you with a comfortable and cozy place to relax.
Common Myths About Heat & Leather
Leather is a reflection of its surroundings. If your furniture is placed where there is strong direct sunlight, your furniture will feel warmer when you sit down.
Leather material is durable and thicker than other materials so it will not quickly absorb sweat from your body like upholstered furniture will. If your body temperature is already elevated and you've started the process of sweating, you'll notice it a little more prominently on leather furniture. This is often where the misconception that leather causes you to sweat comes from.
Some people think leather gets hot or sticky because of their experience with leather car seats or faux leather furniture. The leather used in cars is often made with fake or bonded leather that doesn't breathe as well.
Type of Leather Matters
If you invest in leather furniture, it's important to understand the type and quality of leather you're getting. When you hear about the benefits of leather furniture, you'll enjoy them to the fullest extent with genuine leather material.
At La-Z-Boy, we consider genuine leather to be made out of 100% cowhide.
When genuine leather is processed at the factory, the cowhide is cut into two equal sections.
Top Half = Top Grain Leather
Bottom Half = Split Hide Leather
Top grain leather is buttery soft, highly durable, and breathable enough to keep your body from getting too hot or cold.
Split hide leather is slightly thicker and rougher to the touch. It looks great and is often used on the sides and backs of furniture.
Both of these types of leather are considered 100% genuine because they are made from the whole skin of the animal.
La-Z-Boy Furniture is built with top grain leather along with split hide leather. Everywhere your body touches is upholstered with buttery soft top grain leather. Then we will use split hide leather on the sides and back of your recliner.
Bonded leather is made with bits of genuine leather that fall off during processing. This type of leather isn't as durable as genuine cowhide. However, it can give you the look and feel of real leather at a fraction of the price.
Other Benefits of Leather Furniture
Aside from bringing you year-around comfort regardless of the temperature, leather offers many other benefits including:
Leather outlasts fabric. Leather furniture is 50% stronger than fabric and will typically last 15-20 years. Furniture upholstered with fabric will last up to 5 years before it needs to be replaced. This means the lifetime value of leather furniture is 4 times what you'll receive from fabric.
Leather is extremely durable. The natural oils on leather will prevent cracking, peeling, and tearing. Even along the seam lines.
Leather ages beautifully. As time passes, you'll notice your leather furniture will become a bit softer while still retaining its original shape, vibrance, and rich color.
Leather is easy to care for. Minimal cleaning and maintenance are required.
The colors stay vibrant. La-Z-Boy leathers are finished with special dyes to create a deep, rich color throughout the life of the leather.
Discover All the Benefits of Leather
Leather furniture is often misunderstood. Believing leather can make you hot, sweaty, or sticky could be a major drawback given the cost of quality leather. Temperature is a major factor for comfort, so why would you want to relax on something that doesn't regulate your temperature?
The truth is, during those hottest days, leather furniture can be your best friend. There's a lot to love about quality leather furniture, including its adaptability to the surrounding temperature. Quality leather furniture can provide you with lasting comfort all year round, no matter the temperature outside. Leather is a worthy investment with many lasting benefits.
Your leather furniture purchase should leave you feeling assured and excited that you have made the right choice. With so many leather options, we want to help choose what's right for you. Watch the video below on the top things you should know before buying leather furniture. Then stop in any of our La-Z-Boy Furniture Galleries and get a feel for the comfort that leather can bring you.
Next Read: How Much Does Leather Furniture Cost? (furnitureacademy.com)