What is Sustainable Furniture?
La-Z-Boy Southeast | January 27, 2023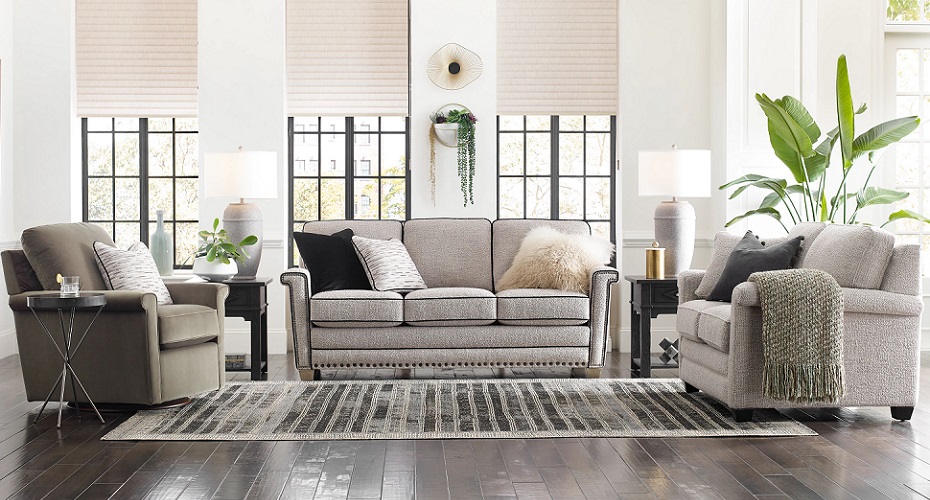 You may have heard of sustainable furniture but are unsure of what it is or if it matters to you.
According to the Environmental Protection Agency, the average American spends over 90% of their life indoors. If you are thinking of ways that to impact your carbon footprint, one area to look at is where you spend a large portion of your time. Your home furnishings make a huge impact on your comfort and quality of life. But you may be wondering about the impact they'll make on the environment in the long run.
At La-Z-Boy Home Furnishings & Décor, we help customers in all stages of life with their home décor needs. As a trusted brand in the furniture industry for almost a century, La-Z-Boy is known for comfortable, quality-built furniture. La-Z-Boy is also a recognized brand for manufacturing sustainable products.
In this article, we'll provide a better understanding of what sustainable furniture is. You'll know what to look for when buying furniture and how your home furnishings can impact your life and your environment.
What is Sustainable Furniture?
Sustainable furniture is furniture that is eco-friendly in how it is made or used. It is generally made with natural or recycled materials that help protect the planet.
Sustainable furniture manufacturing means that less waste & pollutants are emitted, and more recyclable materials are used in the production.
The durability and quality of furniture can also impact its sustainability. When high-quality materials are used, furniture is often used for a long time or recycled in the future. This means less of a likelihood for furniture to end up in landfills or polluting the earth.
How Furniture Trends Impact Sustainability
The term "fast furniture" has gained popularity in recent years in order to meet the demands of customers. Fast furniture is designed with materials that can be delivered, assembled, and used quickly. But this type of furniture isn't built to last longer than a few years. And it's ending up in landfills at a much higher rate.
In fact, the EPA reports that nearly 10 million tons of furniture ended up in U.S. landfills in 2018. This amount is part of a 450% increase in solid waste since the 1960s. Yet, in the same year, only 40,000 tons of furnishings were recycled.
Much like the fashion industry, fast furniture allows consumers to change their styles at a fast pace. As your lifestyle and preferences change, buying cheap furniture can seem like a major appeal. However, it's not as hard as it may seem to keep up with furniture trends while shopping for quality-built furniture that can last.
How to Shop for Sustainable Furniture
When shopping for furniture, it's important to understand who makes the furniture and how it's manufactured. This will help you get a better idea of the types of materials used to make it and the overall quality of the furniture.
Better quality furniture will last longer, which leads to less furniture waste in the long run.
Over 80% of the value in furniture is what you cannot see. If you're shopping in a retail store, ask a sales consultant to tell you about the brand that makes the furniture and what materials are used. At La-Z-Boy Home Furnishings & Décor, our trained consultants can show you how and where your furniture will be made.
Products made from solid wood or wood products are more likely to last longer since they're made with natural or sustainable materials.
Avoid furniture that contains heavy usage of plastic. Plastic is a cheap material and can take hundreds of years to decompose.
Some fabrics, like La-Z-Boy's line of Conserve Sustainable Fabrics, are made of recycled materials and are proven just as durable and comfortable as traditional-style fabrics.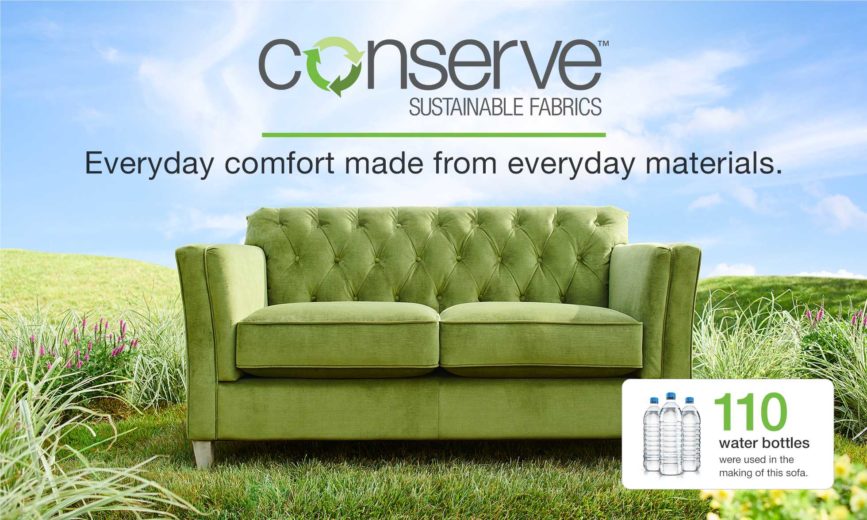 What Brands Make Sustainable Furniture?
Many furniture brands have begun to place an emphasis on creating sustainable furniture for consumers.
In this article, you can read about 10 sustainable furniture companies. You can also search for sustainable furniture companies through the Sustainable Furnishings Council website. The Sustainable Furnishings Council is a coalition of manufacturers, retailers, and designers dedicated to raising awareness and expanding the adoption of environmentally sustainable practices across the home furnishings industry.
La-Z-Boy is a member of the Sustainable Furnishings Council and has been nationally recognized for its environmentally friendly manufacturing processes.
La-Z-Boy's goal is to craft high-quality products while having the least environmental impact by focusing on reducing waste, increasing recycling and energy efficiency, and consuming fewer resources.
Should You Buy Sustainable Furniture?
When shopping for furniture, you have a lot to consider. You want something that's going to meet your needs and style preferences.
There are a lot of benefits to buying quality-built sustainable furniture. Sustainable furniture can have a long-lasting positive impact for both you and your environment.
Furniture trends come and go. However, buying sustainable furniture doesn't mean that you have to sacrifice your style preferences.
At La-Z-Boy Home Furnishings & Décor, we work with customers who may be in search of trendy furniture no matter their budget. Our stores offer resources that can help you understand your personal style and make selections that you'll be happy with for years to come.
And, because La-Z-Boy furniture is built to last, when you are ready to upgrade or change it, your old furniture will likely still have life in it for someone else. Through our annual Trade-In event, we collect old furniture to be donated to local non-profits while offering you a discount on your new furniture.
We'd be happy to show you our eco-friendly furniture in person at any of our locations in NC, SC, and GA.