3 Home Design and Furniture Trends to Look for in 2023
La-Z-Boy Southeast | October 28, 2022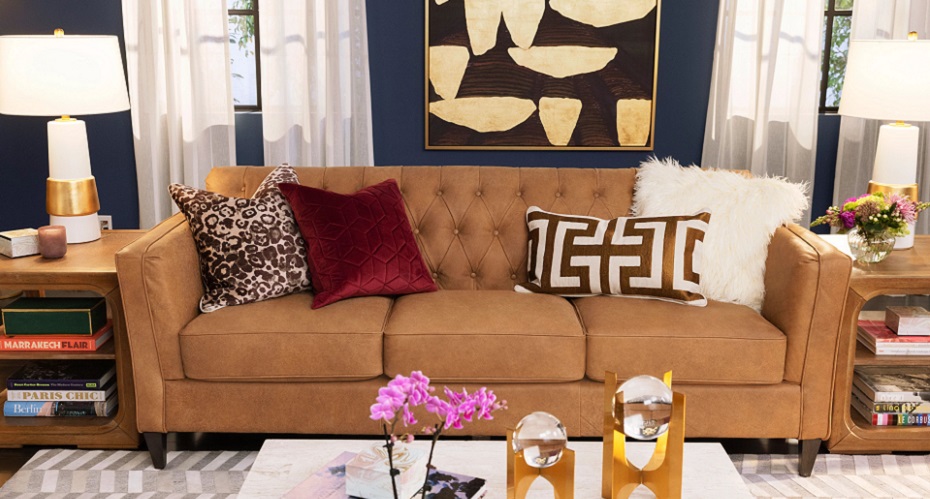 Your living space is an opportunity to reflect your unique style. If you're in the market for a refresh, you may be curious about what to expect with home design and furniture trends in 2023.
At La-Z-Boy Home Furnishings & Décor, our experienced team of consultants and degreed interior designers help customers every day transform their homes into spaces they love.
As a leader in the furniture industry for nearly a century, La-Z-Boy continues to pioneer the latest innovations in furniture design while assuring the utmost quality and comfort.
With La-Z-Boy and the other brands you'll find in our galleries, you can choose between classic and trendy pieces that reflect every type of style.
Twice a year, our designers at La-Z-Boy Southeast spend time previewing the latest trends and styles at the International Furniture Market in High Point, North Carolina.
In this article, we'll cover some of the top designs and styles showcased at the 2022 Fall Market. You'll have a first look at some of the latest styles and designs you can expect to see throughout 2023.
Home Design Trend #1: Color Changes
A common theme you'll see happening with home design and furniture is the re-emergence of colors.
Whether it's a statement piece or accessories like throw pillows, rugs, lamps, and artwork, bolder pops of colors can completely transform your living space.
We began seeing green as a trend throughout 2022, and it is expected to continue in 2023. Moss, sage, earthy tones, and even bolder hunter-greens will be found among many different fabrics and accessories.
With this color as part of your décor palate, you have a wide variety of options to incorporate it into your space. Go bold with art and accent furniture or even treat it as a neutral that pairs well with both warm and natural wood tones.
Blue has dominated as a color trend over the past 10 years and it isn't going anywhere. With soothing, refreshing, and simple qualities, blue instills a hopeful mindset. You can expect to continue seeing tranquil and restorative shades of blue as a popular option for fabrics and accessories in 2023.
With the neutral palate, gray has trended as a major neutral among home builders and designers over the last decade. You can expect to see that shift back towards warmer tones in 2023.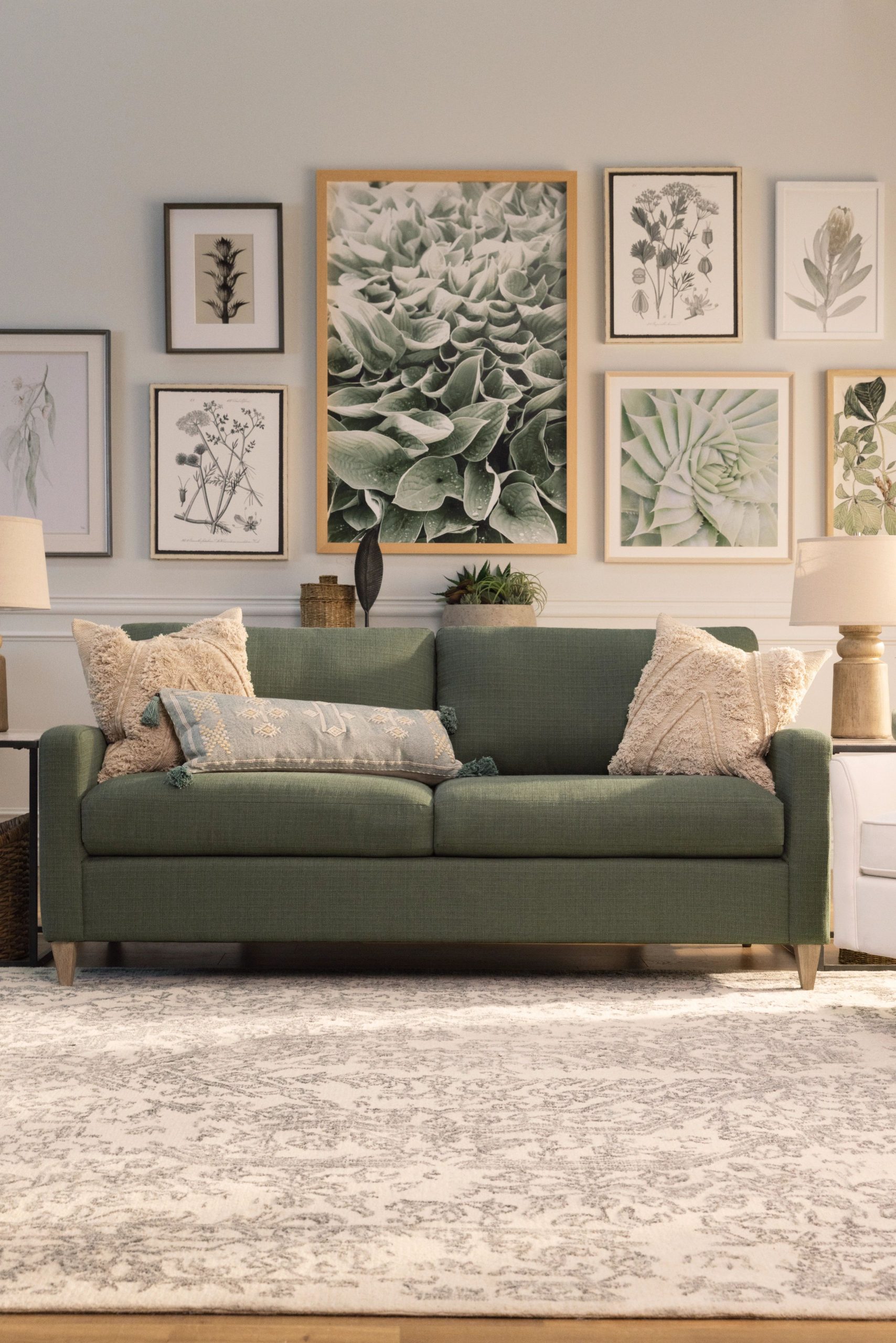 Home Design Trend #2: Focus on Restorative & Comfortable Living
Furniture design and home décor can not only reflect your style, but it has an opportunity to reflect your inner well-being. No matter your lifestyle, your living space can serve as your safe space. A place where you can focus on health and wellness.
As a leader in comfort, La-Z-Boy recognizes that products and experiences in your home can restore and rejuvenate you.
You'll see the trend of new products reflecting serene living.
Characteristics of these products will include plush textures, softer fabrics and leathers, and subtle earth tones mixed with cooling darker shades.
Trending accessories will be influenced by antique finishes and worldly looks. You'll also find many products created with more sustainable materials that can bring feel-good clarity to your space.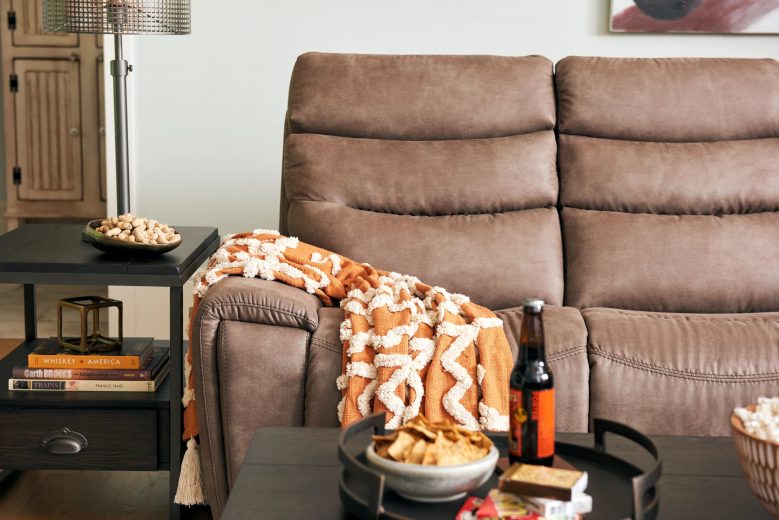 Home Design Trend #3: Versatile Pieces for Multi-Functional Spaces
The last few years have caused a major shift in how most people utilize their homes.
As people spent more time at home during the pandemic, homes served a bigger role in work and recreation. A renewed appreciation was placed on living spaces. And rooms were revamped to make space for home offices and additional entertainment space.
We'll see a continued focus on the trend of multi-functional spaces.
Whether it's the need for furniture that can play multiple roles or provide additional storage, you'll find new designs with this in mind.
As more time is spent on gathering on furniture, expect to see new textiles that focus on both comfort and resistance to heavy wear and tear. La-Z-Boy was a lead adapter in this area over the last few years with the introduction of performance-based fabrics including iclean & antimicrobial fabrics.
You can also expect to see more products like washable rugs or textiles that can be used both for indoor and outdoor seating.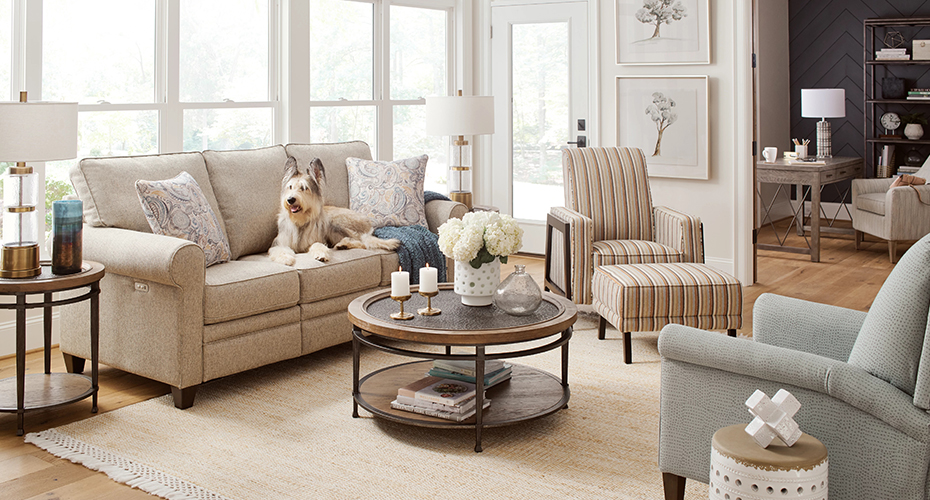 Determine Your Personal Style
There are so many furniture trends and options to choose from when it comes to designing your home. It's easy to get overwhelmed with the process.
Whether you're furnishing an entire space or incorporating new pieces into your home, it's important to understand your style preferences.
Is your style classic, modern, or sustainable? Do you like calm colors or are you more of a world traveler? Knowing your style preferences can guide your direction regarding the wood tones, colors, or even shapes of your furniture and accessories.
If you're unsure of your style preferences, there are resources that can help! You can start by taking this free 10-question quiz that will give you better insight and confidence in your style decisions.
Work with a Degreed Interior Designer
Another resource that you can utilize is enlisting the help of a degreed interior designer. Meeting with an interior designer makes the process of styling your home fun and easy.
At La-Z-Boy Home Furnishing & Décor, this service is free and includes the following benefits:
Design consultations for any and every stage of your project.
Your own interior design team that is dedicated to bringing your unique vision to life.
Personalized 3D room plans tailored to your life, style, and budget.
What to Expect When Shopping at La-Z-Boy Home Furnishings & Décor
A common misconception is that La-Z-Boy only makes recliners or other living room furniture when in fact, you can find everything you need to furnish your living room, dining room, and bedroom.
In our galleries, you can expect to see a wide variety of styles. Choose from popular design trends or timeless staples.
We'd be happy to help complete your living space at any of our locations in NC, SC, and GA.