La-Z-Boy Trouper Sofa Review
La-Z-Boy Southeast | June 11, 2021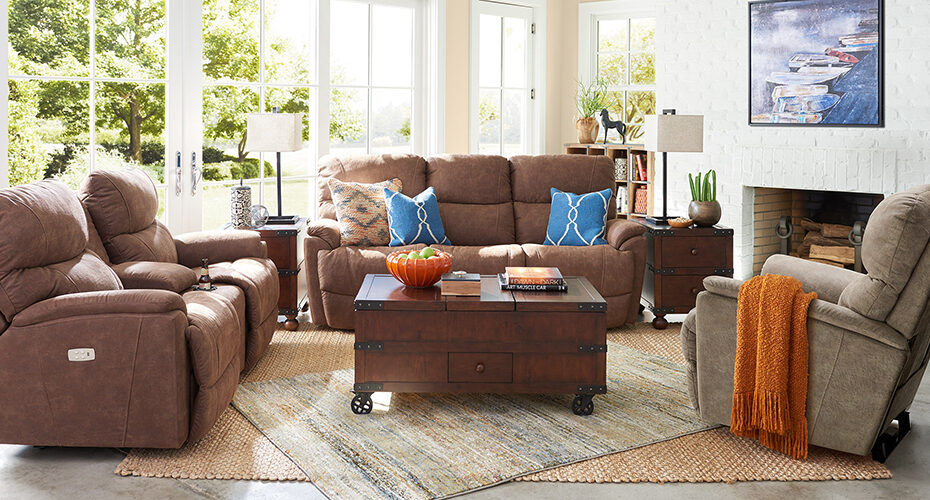 Are you looking for a La-Z-Boy Trouper Sofa review that highlights the features, dimensions, and upgrades available with this sofa?
At La-Z-Boy Home Furnishings & Décor, we've helped thousands of homeowners bring their dreams to life.
In this article and video, we'll help you narrow down the search to find the perfect sofa for your home and unique style.
Features & Dimensions: La-Z-Boy Trouper Sofa
The La-Z-Boy Trouper Sofa is able to turn casual evenings at home into cozy family nights.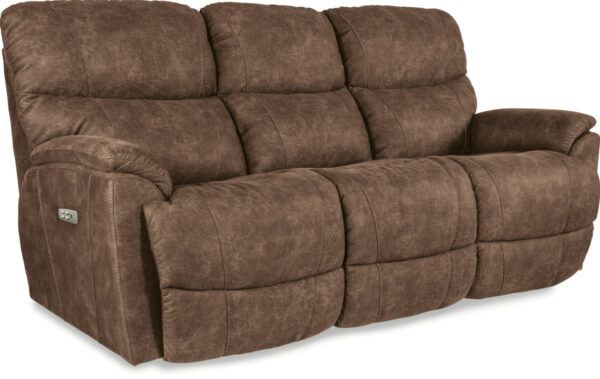 This reclining sofa is available in manual or power to fully recline both the right and left arm seats.
Trouper features three sculpted bucket seats and split-back cushions to support your head, neck, and lumbar.
This sofa also has a patented feature that let's you lean back without having to raise your legrest.
La-Z-Boy Trouper Sofa Dimensions:
Body Depth: 42″
Body Height: 41.5″
Body Width: 85″
Seat Depth: 20.5″
Seat Height: 20.5″
Seat Width: 67.5″
This sofa is available in more than 900 different fabrics with a wide variety of colors, patterns, and materials to choose from.
Trouper is also available in an extremely soft, durable, and sustainable fabric made out of recycled water bottles.
When you upholster your sofa with eco-friendly fabrics at La-Z-Boy, you're keeping 110 water bottles out of our landfills and oceans.
Product Upgrades: La-Z-Boy Trouper Sofa
La-Z-Boy Sofas are known for their world famous comfort and stylish design.
With the Trouper Sofa you can add a center console with cup holders or upgrade your cushions to AirForm for more support.
This sofa is available with a matching recliner and loveseat to help you complete the room.
La-Z-Boy Trouper Sofa Reviews (Verified Purchases)
"The best sofa, loveseat I've ever owned! Very comfortable. We had the two sofas and loveseat power with power headrest and stain resistance." – Paul & Liz P.
"Beautiful and Comfortable! Fits perfectly in the living room for us to watch TV and recline. Really love having the manual option without having to worry about any power issues." – Jean G.
"I love this solid, well built, comfortable sofa. I had to replace a 4 year old sofa from another company that was falling apart. The sofa had no abuse or children jumping in it. I could tell the difference between the La-Z-Boy Sofa and the other sofa the moment I sat on it. Casual, relaxing recliner. I highly recommend. Looks great (rugged and casual) too. Enjoy!!!" – Jill C.
How Much Does The La-Z-Boy Trouper Sofa Cost?
The La-Z-Boy Trouper Sofa starts at $1,869 then your final price will depend on the fabric and upgrades you select.
However, you may be able to find a lower starting price depending on the sale currently running at your store.
You can receive an exact quote by visiting your nearest location and customizing your sofa.
Check Out These Additional Resources
We hope this La-Z-Boy Trouper Sofa review has helped you narrow down your search for the perfect sofa.
At La-Z-Boy Home Furnishings & Décor, our degreed interior designers are available to answer all of your questions.
Here are some additional online resources you may like to check out:
We'd be happy to bring your dreams to life at any of our locations in NC, SC, and GA.