La-Z-Boy Soren Recliner Review
La-Z-Boy Southeast | September 9, 2022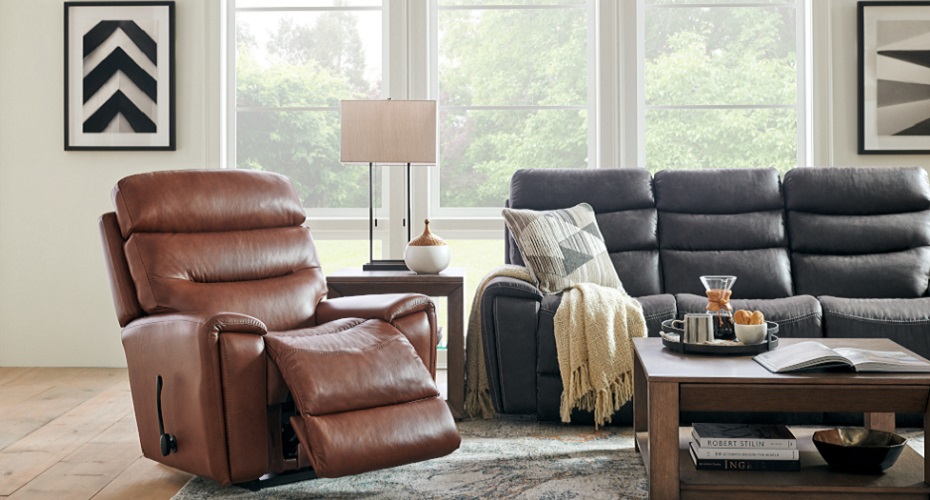 The La-Z-Boy Soren Recliner combines modern looks with classic La-Z-Boy recliner features. You may be considering the La-Z-Boy Soren recliner but you want to know if its features, dimensions, and style are the right fit for you.
As the inventors of the recliner, La-Z-Boy has almost a century of developing and perfecting recliners to fit every lifestyle. At La-Z-Boy Home Furnishings & Décor, we've helped thousands find the perfect recliner for their body type and unique needs.
In this article, you'll learn all about the details of the La-Z-Boy Soren Recliner. You can then determine whether or not it's the right style to fit your needs.
La-Z-Boy Soren Recliner Overview
In this newer modern style, the Soren Rocking Recliner combines contemporary style with both rocking and reclining comfort. The full, foam-backed bucket chaise seat is spacious yet cozy, while the recliner offers laid-back luxury.
Simply use the convenient handle on the outside arm to raise the legrest for reading, relaxing, or watching TV. When you're not reclining, it's a relaxing rocker with a smooth, graceful motion.
The look of the La-Z-Boy Soren Recliner can be described as a good mix of the La-Z-Boy Talladega and La-Z-Boy Joshua recliners. Both are among top selling La-Z-Boy styles. It looks great in leather and can compliment a wide range of other furniture within your living space.
Dimensions & Features: La-Z-Boy Soren Recliner
The La-Z-Boy Soren Recliner is typically a good fit for people 5'10" to 6'2″ due to its generously sized bucket seat and taller frame.
Body Dimensions:
Depth: 38″
Height: 42″
Width: 41.5″
Seat Dimensions:
Depth: 21″
Height: 20.5″
Width: 21″
The Soren collection is also available in a reclining sofa and love seat if you're in search of this look to complete your living room.
You can make sure you're picking furniture that fits your unique body type and needs by visiting one of our locations to get fitted.
Top Features of the Soren Recliner:
Generously sized sculpted bucket seat
Padded wrap-over arms
Heavy-gauge single-needle decorative topstitching
La-Z-Boy® Premier standard loose box seat cushions handsomely accented with welt trim
Option for manual or power feature with adjustable headrest and lumbar support
This chair also has seven patented features you'll only find on a La-Z-Boy Recliner:
Lower Back Support
Recline & Rock at The Same Time
Three Locking Footrest Positions
Sixteen Locking Rocker Positions
Four-Sided Frame Construction
Dual Locking Footrest
Contour Cut Foam
La-Z-Boy Recliners are constantly researched and developed to create new features that will make them even more comfortable.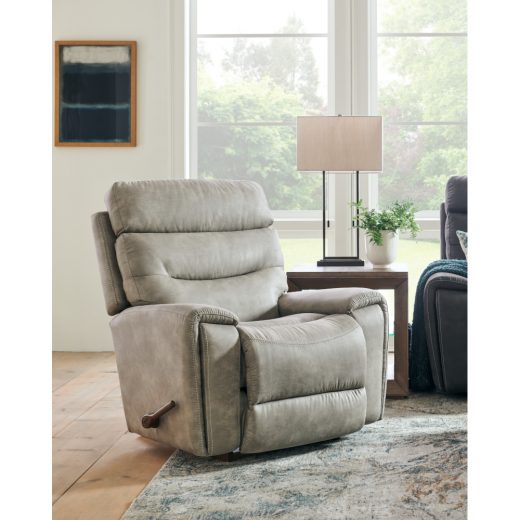 How Much Does the La-Z-Boy Soren Recliner Cost?
The La-Z-Boy Soren Rocking Recliner starts at $1,449 online then your final price is determined by the fabric, options, and upgrades you select.
The Soren Recliner also comes with La-Z-Boy standard limited lifetime warranty.
However, you may be able to find a lower starting price depending on the type of sale currently running at your store.
You can receive an exact quote by visiting your nearest location and customizing your sofa.
Keep in mind as you determine your budget for new furniture that financing offers are available. You can learn more about whether or not financing is right for you by reading this article.
Customer Feedback about the La-Z-Boy Soren Recliner
At La-Z-Boy Home Furnishings & Décor, the Soren Recliner has been a favorite for individuals who love clean contemporary look and a firm lumbar support. Taller individuals or those who have longer arms find this recliner extremely comfortable to fit their body.
One unique distinction found on the Soren Rocking Recliner is its flatter leveled arm support. This can be a desirable feature, but if you're in search of a more traditional recliner with rolled arms, this may not be the right fit. Many customers are surprised to find out just how varied arm cushioning can be in a recliner but something that should be considered when testing out your comfort preferences.
Since the Soren was released towards the end of 2021, it's a fairly new addition to the La-Z-Boy family of styles. As of August 2022, all reviews of this specific recliner have been 5 out of 5 stars. Here are a few recent customer reviews:
Lynn B: "Very comfortable chair. Nice quality leather. Quick delivery!"
Carol C: "Fits like a glove. The chair is very, very comfortable, fits me well and is exactly what I ordered. The lever for extending the footrest is extra long, but still a reach for a small woman. When releasing the footrest, the chair makes a "thunk" noise and jerk that seem like it isn't releasing the right way, but I have no idea how to change it. Overall, I highly recommend this chair."
Sue T: "Best chair we have ever owned. It looks great in our family room and we love the remote control and the USB port too!"
Is the Soren Recliner the Right Fit for You?
The Soren Recliner can be a great option for your next recliner. It's spacious yet cozy and available in a variety of colors, fabrics, and customizations.
At La-Z-Boy Home Furnishings & Décor, we carry a wide range of recliners in our showrooms including the Soren recliner. It's important to find a recliner that meets both your comfort and style needs. If you're still deciding on the best fitting recliner for your needs, there are plenty of styles to browse from with La-Z-Boy. Check out our thorough reviews on other best-selling La-Z-Boy recliners.
Our design consultants are experts at finding the perfect furniture for you and working with you to customize exactly what you need.
We encourage you to stop into one of our locations in SC, NC, or GA to speak with a consultant or try the Soren Recliner for yourself.