Where Is La-Z-Boy Furniture Made?
La-Z-Boy Southeast | May 1, 2017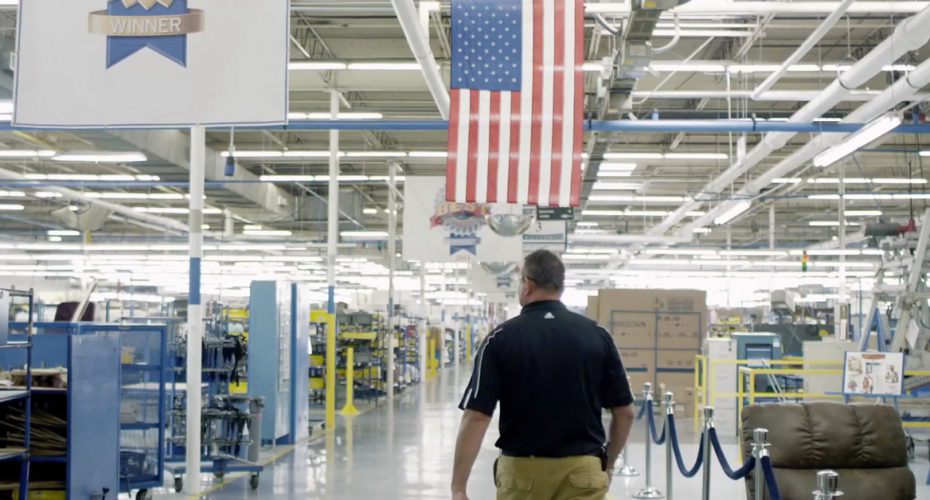 One of the most frequent questions we receive is, "Where is La-Z-Boy Furniture made?"
Buying products made in the USA creates jobs, supports the local community, and is better for the environment.
La-Z-Boy furniture is mostly made in America and brought to you by our corporate headquarters, three manufacturing plants, six distribution centers, and more than 100 retail stores located across the United States.
La-Z-Boy's American Manufacturing Plants
La-Z-Boy's manufacturing plants are leaders in quality and safety as well as proud supporters of their local communities. Our manufacturing plants produce an average of 8,000 pieces per day and employ more than 7,500 Americans in:
Dayton, TN
Siloam Springs, AR
Neosho, MO
Our manufacturing plants are zero-waste-to-landfill and have won many environmental excellence awards, including awards for Innovative Green Design and AHFA Environmental Leadership.
American Sourced Parts & Materials
The steel, springs, foam, and hardwood framing used in La-Z-Boy products are also sourced in America:
Steel: Tennessee & Alabama
Springs: Indiana & North Carolina
Foam: Mississippi
Hardwood Framing: Kentucky & Louisiana
These parts and materials are fashioned into La-Z-Boy Furniture at one of our five regional manufacturing plants.
Dayton, TN Supplies The Southeastern United States
The majority of La-Z-Boy Furniture purchased in the Southeastern United States comes from our manufacturing plant in Dayton, Tennessee.
This location opened in 1973 and currently occupies more than 1.2 million square feet.
As one of the largest employers in the community, this plant has nearly 1,300 associates and manufactures a full line of La-Z-Boy Sofas, Recliners, and more.
Our manufacturing plant in Dayton, TN was named one of the 10 Best Plants in North America by IndustryWeek magazine.
This award recognizes outstanding manufacturing facilities on the leading edge of efforts to:
Increase efficiencies.
Enhance customer satisfaction.
Create a stimulating & rewarding work environment.
American Made Comfort Delivered To Your Door
After our furniture leaves the manufacturing plant, it is sent to one of our La-Z-Boy Distribution Centers then to a La-Z-Boy location near you.
Each La-Z-Boy product is unboxed and given one final inspection before it is shipped to one of our +100 retail stores across the United States. Our distribution centers have incorporated significant eco-friendly packaging reuse programs. This has enabled the reuse of approximately 90 different materials.
At your local La-Z-Boy Home Furnishings & Décor, you can shop our selection of furniture and consult with a degreed interior designer for free. The La-Z-Boy In-Home Design program makes the experience of furnishing your home as comfortable as possible.
Eco-Friendly Corporate Headquarters
La-Z-Boy's World Headquarters is located in Monroe, Michigan. This is the same small town where our founders invented the La-Z-Boy Recliner.
Our headquarters is a zero-waste-to-landfill certified sustainable building and we maintain an oak savanna ecosystem on the premises. The La-Z-Boy building's cumulative energy savings avoids an estimated 3,893,691 pounds of CO2 emissions.
This is comparable to removing 372 vehicles off the roads for one year.
An American Success Story
In 1927, cousins Edward M. Knabusch and Edwin J. Shoemaker set out to design a chair for what they called "nature's way of relaxing" with a few orange crates to mock-up their idea. They invented a wood-slat porch chair with a reclining mechanism. It was a massive success.
A contest was held to name the chair, and a twelve-year-old girl observed, "You guys look like a bunch of lazy boys sitting in those chairs." La-Z-Boy was deemed the winner.
In 1961, the La-Z-Boy Recliner was updated to include a footrest. A few years later, La-Z-Boy expanded in to sofas, chairs, furniture, and more.
Today, La-Z-Boy is traded on the New York Stock Exchange under the ticker symbol LZB.
La-Z-Boy is constantly researching and developing new ways to improve all of our products. The same innovative spirit that began in 1927 is what drives us to continue finding new ways to live life comfortably.
Giving Back To The Community
When it comes to helping sick children and their families, providing comfort is the least we can do. That's why La-Z-Boy became the official furniture provider of Ronald McDonald House Charities.
Together with RMHC, we make sure that families have a comfortable "home away from home" while their children receive much needed medical care.
La-Z-Boy is proud to have provided thousands of sofas, chairs, sectionals and recliners to the Ronald McDonald Houses and Ronald McDonald Family Rooms across North America.
Carrying On The Tradition
For more than 90 years, La-Z-Boy has supported the local community by employing American workers, sourcing American made materials in our products, and giving back to local charities.
At La-Z-Boy Home Furnishings & Décor, we're proud to impact fellow Americans with comfortable and high-quality furniture every day.
Here are some additional online resources you may like to check out:
We'd be happy to show you our wide range of American-made furniture at any of our locations in NC, SC, and GA.