A Guide to Buying Furniture for People with Disabilities
La-Z-Boy Southeast | September 8, 2022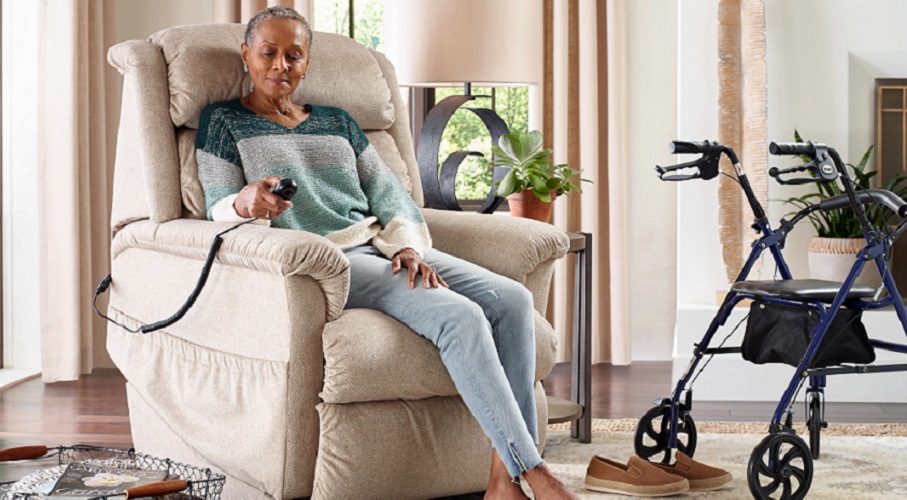 When shopping for adaptive furniture for people with disabilities, getting started with the shopping process can be overwhelming. With so many brands and styles to choose from, it's not uncommon to question what to look for or where to search for the right furniture.
At La-Z-Boy Home Furnishings & Décor, we help people all the time customize solutions that meet their everyday needs. The right selection of furniture and design choices can make a big difference in your home. It's important that your living space is both comfortable and accommodating.
If you're in search of a way to combine comfort, aesthetics, and accessibility, there are helpful solutions available. In this article, we'll provide tips on how to better prepare for shopping for furniture and accessories that can make your home feel inclusive and inviting. You'll have a better idea of the type of furniture to search for and know how to decide where you should begin your shopping process.
Know the Precise Measurements of Your Living Space
This may seem like an obvious point but it's important to know what measurements matter to your search process.
There's more to consider than making sure your furniture fits into your space.
You'll need to account for the traffic flow needed around your furniture. If room for a wheelchair or other medical equipment is needed, include those measurements in your planning so that you have adequate space for them. This will help determine the style of furniture and layout of your room. For example, if you need space around a wheelchair, some people find that stand-alone pieces are preferred over a sectional.
The height of furniture is another important factor. Furniture designed for seating that is lower to the ground will not be as easy to sit and rise from. Understanding height dimensions, when seated in the furniture, will also help you determine the proper height needed for accessory tables within reach. Consider the everyday use of these furniture combinations. If the heights don't align, you may not be able to reach for something as easily. An alternate solution to your side table could be a console in your sofa or loveseat. Consoles provide extra storage and flat surfaces that are much closer within reach.
If you need a rolling table, measure the size of the wheels to assure they properly fit up against or roll smoothly under the furniture to bring it closer to the person seated.
When considering storage or shelving that can be accessible for wheelchair height, you may need to account for wider shelving that's more accessible horizontally.
5 Furniture Customizations to Look For
Small adjustments can make big differences when buying furniture for people with disabilities.
We've taken a deep dive below into 5 customizations for you to consider when shopping for various types of furniture.
Furniture Customization #1: Power Lift Recliners
One of the biggest innovations in accessible furniture has been the lift recliner. Power Lift recliners offer many benefits for the health and lifestyle of family members and caregivers. They are designed to help those with limited mobility enjoy the same benefits of relaxing in a chair more independently. As the inventors of the recliner, La-Z-Boy incorporates the same patented features and benefits from traditional recliners into power lift recliners.
You can read this article to learn more about Best Selling La-Z-Boy Lift Recliners.
Furniture Customization # 2: Movement Preference
Chairs can come with various bases from rocking, to swivel gliding, to static bases. If you need a chair to brace yourself on when sitting or rising, one that moves will not provide as much stability. If the furniture is placed on hardwood flooring, check the base to ensure it cannot slide or move. Cheaply made or wobbly furniture can cause a fall risk while higher-quality furniture will save you from these types of accidents.
Furniture Customization # 3: Grasp Features
Certain pieces of furniture may require grasping. With grasping disabilities, you'll need to know what's involved in the functionality of your furniture. This may determine whether or not you consider storage or shelving with open shelves or drawers that have larger handles that are easier to open.
Reclining furniture generally comes with a manual handlebar. La-Z-Boy offers multiple options to customize your recliner feature preferences. Elongated handles can be added if you need help with reaching. Some customizations may also allow you to select which side of a chair you want the handle on. Most chairs come with handles on the right side, but this can be a helpful customization if you have more dominance on your left side. You can also consider power instead of manual. Control all the features and benefits through buttons or a wireless remote.
Furniture Customization # 4: Cushion & Lumbar Support
You want your furniture to be comfortable but also supportive. Some furniture may be plusher looking and feeling than others. You should consider whether or not it provides the support needed for sitting upright. Thinking through the level of support needed and the height of the back or armrests can guide what style of furniture you select.
By shopping in a store, you'll be able to test this directly or have a sales consultant help you find styles that match these needs. By getting fit for the furniture you're buying, you'll avoid the chance of experiencing unnecessary pain.
Furniture Customization #5: Furniture Fabric
Furniture can come in a wide array of fabric options, colors, patterns, and textures. If you need to be cognizant of sensory issues, look for a furniture retailer that allows you to customize your fabric or leather. Keep in mind that if you're browsing online, it may be hard to get a true feel for colors and textures. Look for an opportunity to request fabric samples that you can touch and see in person.
Certain types of fabrics and leathers are safer for keeping germs and bacteria under control. Antimicrobial Fabric is a great option for immune-compromised individuals. This durable fabric is designed to help fight the growth of mold, fungus, and other bacteria.
Consult with a Professional Interior Designer
Working with an interior designer can take the stress out of furniture buying and make the process of styling your home more enjoyable. When shopping for furniture for people with disabilities, you'll be making very complex decisions.
Interior Designers help assure your space is properly measured. They can also bring you customized solutions and take the research part off your hands.
Decide Where to Shop for Accessible Furniture for People with Disabilities
Furniture is a major investment with a lot to take into consideration. If you're investing in quality furniture, you want to make sure that it lasts for a long time and fulfills your needs for years to come.
So, where should you shop? Knowing what to look for in furniture will help you narrow down where to start your shopping process.
Many furniture brands will have options of accessible furniture for you to choose from to meet some of your needs. Retailers that can customize furniture or who have consultants available to discuss the products with you are a better option than outlet stores or retailers focused on moving furniture quickly from their showroom floor. Watch this video to learn helpful questions you can ask a furniture salesperson in-store.
A few retailers have marketed their products specifically for people with disabilities or elderly individuals with mobility issues. In July 2022, Pottery Barn launched a furniture collection from some of their existing best-selling styles that are focused on spotlighting their accessibility. Similarly, in 2019, Ikea launched its ThisAbles project with a line of products specialized for people with disabilities.
Shopping for individualized needs is always available at La-Z-Boy Home Furnishings & Décor. As a leader in the furniture industry, La-Z-Boy creates customizable furniture for a wide variety of comfort needs.
What to Expect at La-Z-Boy Home Furnishings & Décor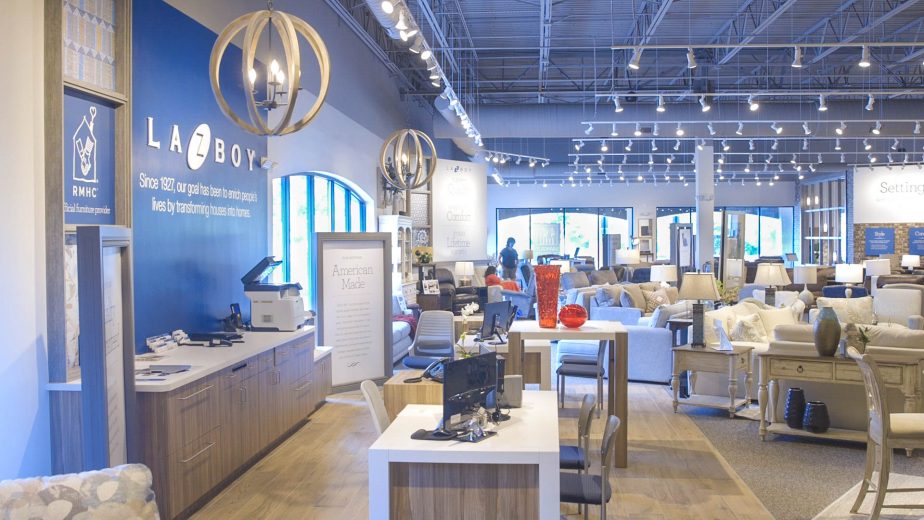 Our process starts with consultants that are trained four times the industry standard. This means they are adequately trained to help you identify exactly what you're looking for and how to accommodate you.
La-Z-Boy manufactures a diverse selection of furniture styles with patented features and benefits to meet our customers' various needs. As the inventors of the recliner, La-Z-Boy has almost a century of leading the furniture industry in quality-built, comfortable furniture.
At La-Z-Boy Home Furnishings & Décor, you can meet with a degreed interior designer for free. Our free design service includes:
Design consultations for any and every stage of your project.
Your own interior design team dedicated to bringing your unique vision to life.
Personalized 3D room plans tailored to your life, style, and budget.
La-Z-Boy Furniture Galleries are also designed for a pleasant shopping experience. You'll be able to get a direct look and feel for the furniture or home décor you desire. La-Z-Boy has over 900 leathers and fabrics with fabric on display in the design center. You can even arrange a time to visit with a consultant by calling ahead or booking an appointment online.
Shopping for quality-built accessible furniture takes some planning but it doesn't have to be stressful. With La-Z-Boy, you have various options available that can accommodate your needs. We'd be happy to help you bring your dreams to life at any of our locations in NC, SC, and GA.