La-Z-Boy Lennon Recliner Review
La-Z-Boy Southeast | July 27, 2023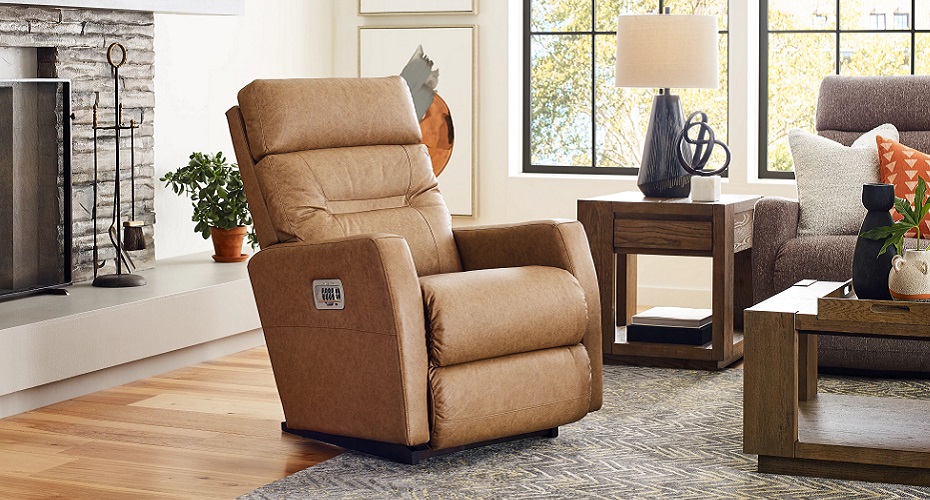 The La-Z-Boy Lennon Recliner is a sleek, contemporary recliner with streamlined style.
You may be considering the La-Z-Boy Lennon recliner but want to know if its features, dimensions, and style are the right fit for you.
As the inventors of the recliner, La-Z-Boy has almost a century of developing and perfecting recliners to fit every lifestyle. At La-Z-Boy Home Furnishings & Décor, we've helped thousands find the perfect recliner for their body type and unique needs.
In this article, you'll learn all about the details of the La-Z-Boy Lennon Recliner. You can then determine whether or not it's the right style to fit your needs.
La-Z-Boy Lennon Recliner Overview
The La-Z-Boy Lennon Recliner offers a clean, tailored look you'll love with the comfort and function you'll want.
Its size is scaled down but the style is cranked up with sleek track arms and topstitching detail.
This Recliner is a great fit for any living room design and style.
Dimensions & Features: La-Z-Boy Lennon Recliner 
The La-Z-Boy Lennon Recliner is typically a good fit for people 5'10" to 6'2″ due to its taller back.
Body Dimensions:
Depth: 39.5″
Height: 43″
Width: 32.5″
Seat Dimensions:
Depth: 21″
Height: 20″
Width: 21″
The Lennon collection is also available in a reclining sofa and love seat if you're in search of this look to complete your living room collection.
You can make sure you're picking furniture that fits your unique body type and needs by visiting one of our locations to get fitted.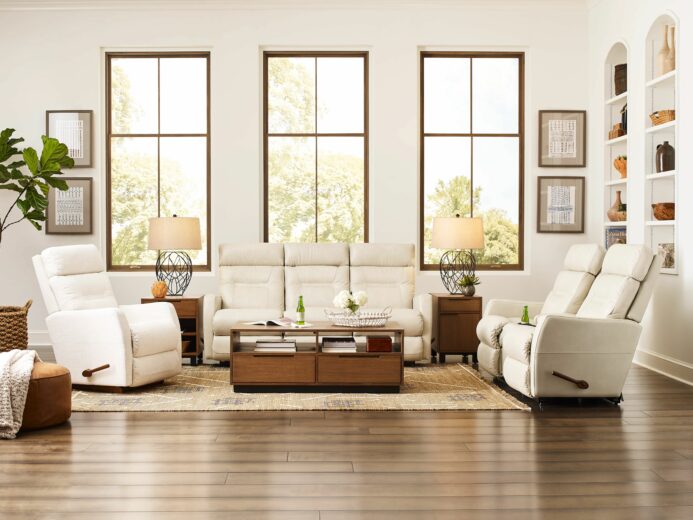 Top Features of the Lennon Recliner:
Scaled down size with maximum comfort
Tailored foam back
Clean, modern track arms
Back, chaise seat and footrest can be adjusted for complete relaxation
Double-picked blown fiber fill for improved cushion loft and shape retention
This chair also has seven patented features you'll only find on a La-Z-Boy Recliner:
Lower Back Support
Recline & Rock at The Same Time
Three Locking Footrest Positions
Sixteen Locking Rocker Positions
Four-Sided Frame Construction
Dual Locking Footrest
Contour Cut Foam
La-Z-Boy Recliners are constantly researched and developed to create new features that will make them even more comfortable.
How Much Does the La-Z-Boy Lennon Recliner Cost?
The La-Z-Boy Lennon Rocking Recliner starts at $1,299 online then your final price is determined by the fabric, options, and upgrades you select.
The Lennon Recliner also comes with La-Z-Boy standard limited lifetime warranty. 
However, you may be able to find a lower starting price depending on the type of sale currently running at your store.
You can receive an exact quote by visiting your nearest location and customizing your sofa.
Keep in mind as you determine your budget for new furniture that financing offers are available. You can learn more about whether or not financing is right for you by reading this article.
Customer Feedback about the La-Z-Boy Lennon Recliner
At La-Z-Boy Home Furnishings & Décor, the Lennon Recliner has been a favorite for individuals who love contemporary look and a tall, supportive back.
The look of the La-Z-Boy Lennon Recliner can be described as a good mix of the La-Z-Boy Finley and La-Z-Boy Liam recliners. It looks great in both fabric or leather, lending a perfect harmony between comfort and style.
As of July 2023, the Lennon Rocking Recliner has an average of 4.8 out of 5-star reviews. Here are a few recent reviews from verified purchasers:
Dan and Joyce T: Very nice chair. Fits me perfectly and feels great.
Joe & Billie S: Our recliners look great in our family room and are extremely comfortable. We are very happy with our purchase.
Julie S: We are enjoying our recliner. The style is more contemporary than most of their recliners which fits our style. We bought in gray. Came in about 4 weeks so we didn't have to wait long.
Is the Lennon Recliner the Right Fit for You?
The Lennon Recliner can be a great option for your next recliner. It's available in a variety of colors, fabrics, and customizations.
At La-Z-Boy Home Furnishings & Décor, we carry a wide range of recliners in our showrooms. It's important to find a recliner that meets both your comfort and style needs. If you're still deciding on the best fitting recliner for your needs, there are plenty of styles to browse from with La-Z-Boy. Check out our thorough reviews on other best-selling La-Z-Boy recliners.
Our design consultants are experts at finding the perfect furniture for you and working with you to customize exactly what you need.
We encourage you to stop into one of our locations in SC, NC, or GA to speak with a consultant or try out a new recliner for yourself.