La-Z-Boy Kirby Sofa Review
La-Z-Boy Southeast | November 11, 2023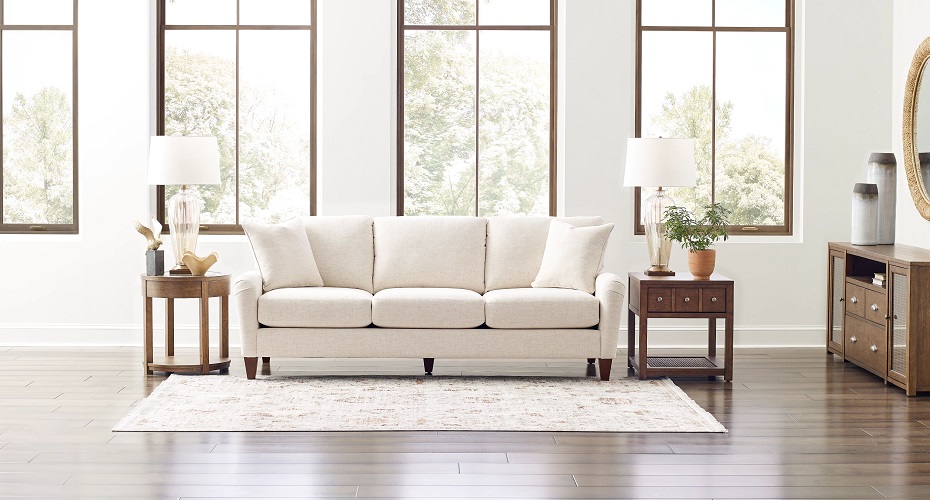 The La-Z-Boy Kirby sofa is a versatile sofa that can transform your living space into an area that's both plush and posh. This comfortable and sophisticated transitional style is sure to draw attention, but you may be wondering if it's the right fit for your comfort and style desires.
At La-Z-Boy Home Furnishings & Décor, we've helped thousands find the perfect furniture that fits their comfort and style preferences.
In this article, you'll learn all about the details of the Kirby Sofa. You can then determine whether or not it's the right fit for your home furniture needs.
La-Z-Boy Kirby Sofa Overview
The Kirby Sofa offers a blend of simple, understated chic, and laid-back allure.
With two sizes to choose from, you can opt for a smaller, apartment-sized, or extra-long. The extra-deep seats, plus the cozy semi-attached back cushions are all about easy-going comfort.
With crisp tailoring and refined arms, the Kirby sofa features English armrests to keep it both comfortable and classy.
Dimensions & Features: La-Z-Boy Kirby Sofa
The La-Z-Boy Kirby Extra Long Sofa is typically a good fit for taller people due to its deep seating scale.
Body Dimensions:
Depth: 41″
Height: 37″
Width: 92″
Seat Dimensions:
Depth: 26″
Height: 20.5″
Width: 26″
The Kirby style is also available in an apartment-sized sofa, chair and a half, and ottoman.
You can make sure you're picking furniture that fits your unique body type and needs by visiting one of our locations to get fitted.
Top Features of the Kirby Sofa:
Generous 26" deep seat cushions highlighted with clean, simple tailoring
Semi-attached, chambered back cushions for cozy, casual support.
Tapered English arms
Extra-long length for added seating and comfort.
Included (2) 20" accent pillows.
Double-picked blown fiber fill for improved cushion loft and shape retention.
Standard premier seat cushions for maintaining comfort and appearance.
How Much Does the La-Z-Boy Kirby Sofa Cost?
The La-Z-Boy Kirby Sofa starts at $1,699 online then your final price is determined by the fabric, options, and upgrades you select.
The Kirby sofa also comes with La-Z-Boy standard limited lifetime warranty.
However, you may be able to find a lower starting price depending on the type of sale currently running at your store.
You can receive an exact quote by visiting your nearest location and customizing your sofa.
Keep in mind as you determine your budget for new furniture that financing offers are available. You can learn more about whether or not financing is right for you by reading this article.
Customer Feedback about the La-Z-Boy Kirby Sofa
At La-Z-Boy Home Furnishings & Décor, the Kirby sofa is loved by many due to its aesthetically pleasing look.
Combined with other seating in this style and you can create an entire room with comfortable and classy seating.
The Kirby Sofa is new to the La-Z-Boy line-up but has instantly become a popular favorite with a perfect 5 out of 5 stars in online reviews.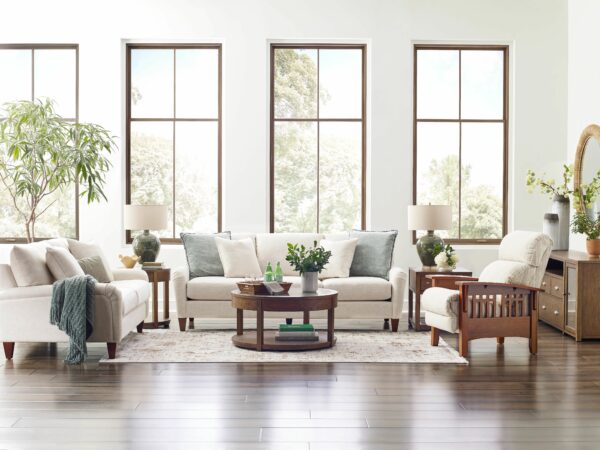 Is the Kirby Sofa the Right Fit for You?
The Kirby Sofa has a lot of unique features and benefits. With two sizes to choose from, it can be a great option for formal sitting areas of your home or even in your everyday living room.
At La-Z-Boy Home Furnishings & Décor, we carry a wide range of sofas including the Kirby.
It's important to find a sofa that meets both your comfort and style needs. If you're still deciding on the best fitting sofa for your everyday needs, there are plenty of styles to browse from with La-Z-Boy. You can start by reading through our thorough reviews on other best-selling La-Z-Boy sofas.
Our design consultants are experts at finding the perfect furniture for you and working with you to customize exactly what you need.
We encourage you to stop into one of our locations in SC, NC, or GA to speak with a consultant or try the Kirby collection for yourself.