La-Z-Boy Furniture for Small Spaces
La-Z-Boy Southeast | April 20, 2023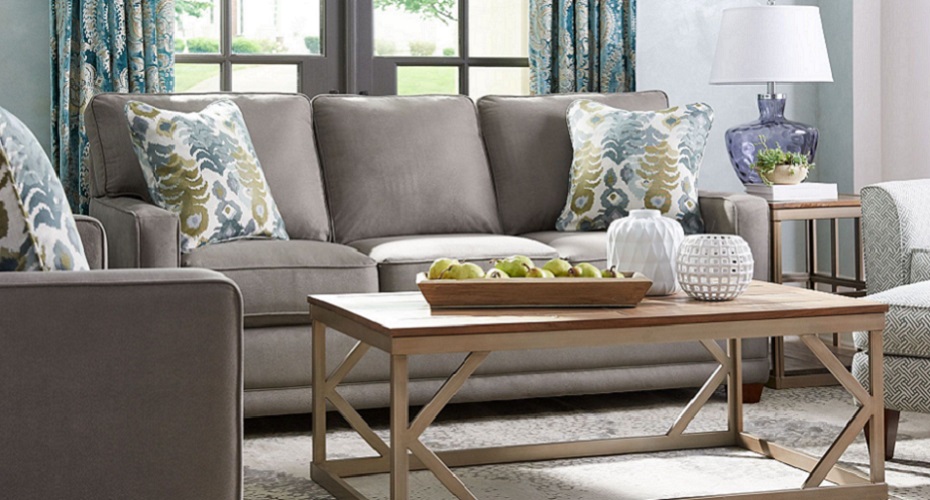 Selecting furniture for small spaces can be tough. With a small space, you need a big imagination.
Whether you're moving into an apartment of your own or downsizing for your next stage of life, comfort and functionality will be equally important factors in your furniture purchase.
At La-Z-Boy Home Furnishings and Décor, we often meet customers in need of multi-functional and comfortable furniture for small spaces.
In this article, we'll review La-Z-Boy furniture that works well in small spaces. No matter the size and layout of your apartment or home, you can plan to find comfortable and functional furniture to meet your needs.
Popular La-Z-Boy Furniture for Small Spaces
La-Z-Boy Kennedy Apartment-Sized Sofa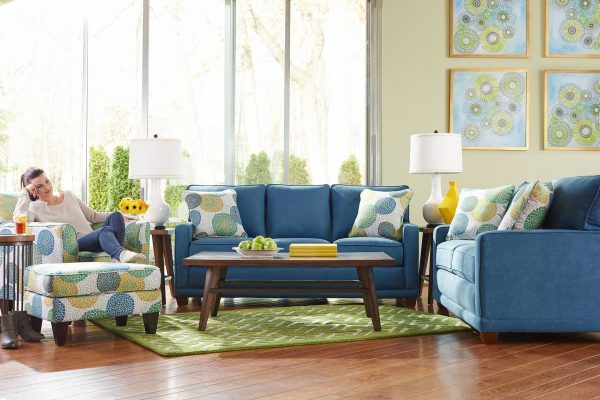 The La-Z-Boy Kennedy Apartment Size Sofa is a sleek and casual piece that fits any size space.
It features the same style and the same comfort as the standard-size Kennedy, but on a narrower scale.
A combination of clean lines, narrow track arms, welt trim and decorative wood legs give it a classic, understated style that blends easily with any decor.
Patented ComfortCore® cushions provide just the right amount of support for a long or short sit. Includes two 20" accent pillows.
La-Z-Boy Colby duo® Reclining Loveseat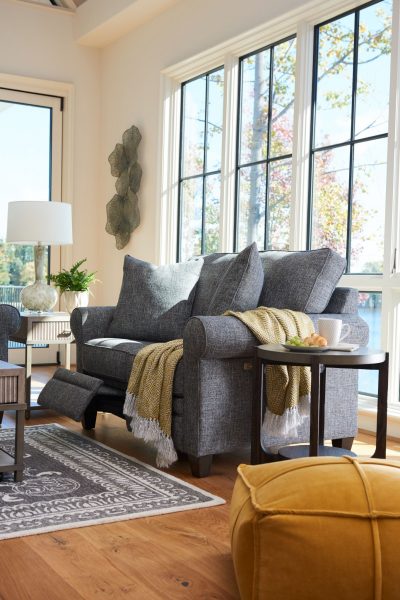 Take a close look at the Colby duo® Reclining Loveseat and you'll find this easygoing favorite has the unexpected power to recline. While designed as a loveseat in the duo® collection, when you're tight on space, the loveseat can serve as your main seating area.
Dual controllers on the outside arms let you recline and raise the legrests with ease, while built-in USB ports charge your devices.
La-Z-Boy Rowan Rocking Recliner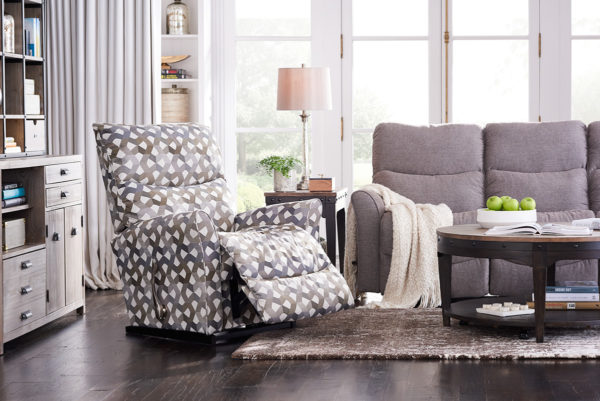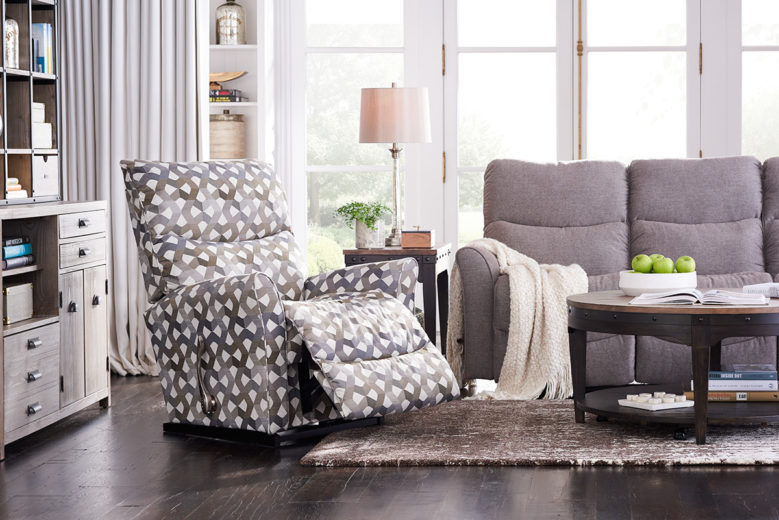 The Rowan Recliner brings an exquisite combination of style and comfort. 
It looks sleek, but the flared arms maximize the seating area.
Simply use the convenient handle on the outside arm to raise the legrest for reading, relaxing, or watching TV.
When you're not reclining, it's a relaxing rocker with a smooth, graceful motion.
Recliners make a great option for small spaces due to their many benefits.
La-Z-Boy Cleo Chaise Lounge with Storage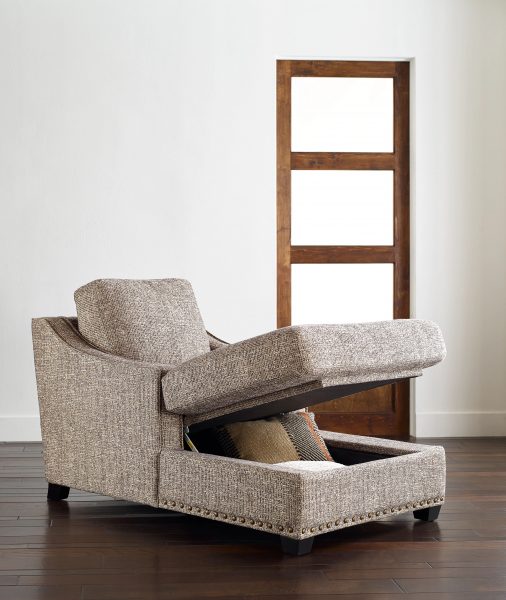 The cozy Cleo 2-Arm Chaise with Storage was designed for book readers, movie marathoners, dog cuddlers, afternoon nappers, scarf knitters, and more.
A top feature of the Cleo Chaise Lounge is the storage compartment. Keep blankets, books, and everything you need nearby and out of sight, making this a perfect multi-functional piece for your smaller space.
Leah Twin Sleep Chair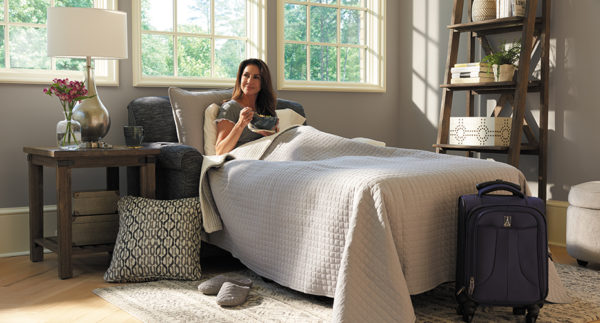 Turn any room into a stylish and functional guest room with the Leah Twin Sleep Chair.
Its sleek profile is perfect for smaller spaces, yet it opens up to become a super comfortable twin bed, complete with a Supreme ComfortTM quilted innerspring mattress measuring 5.5" thick.
By day, this sleeper is a true beauty too, with curving rolled arms, welt trim and a patented ComfortCore® cushion that provides optimum support for a long or short sit. Includes one 18" accent pillow.
Leo Storage Ottoman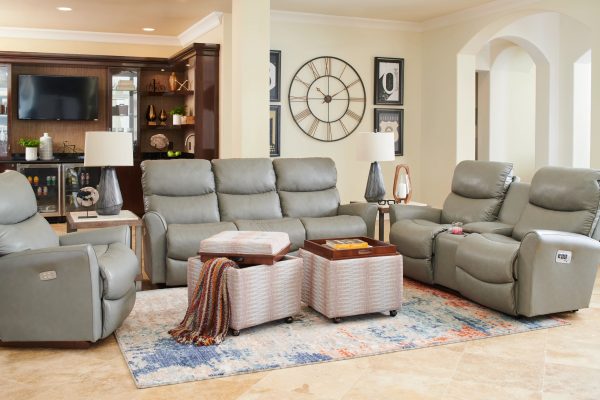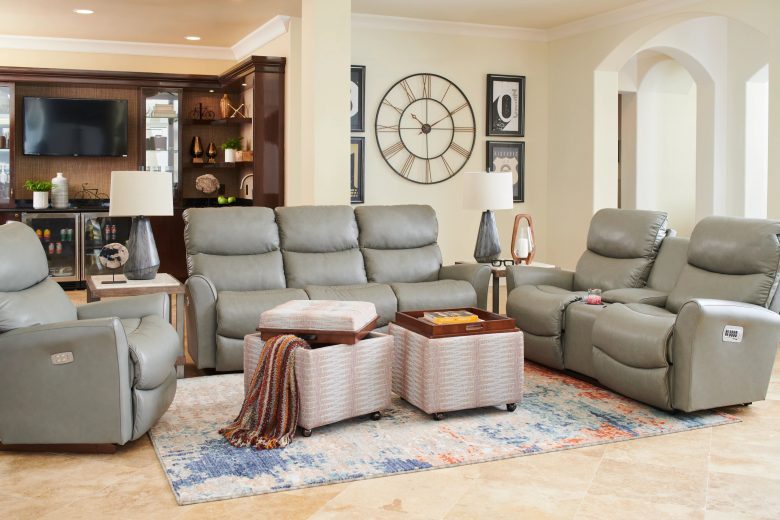 Looking for comfort, function, and style? This multi-purpose ottoman offers the perfect trifecta furniture for small spaces.
The La-Z-Boy Leo Ottoman has ample storage with a reversible top – one side with tufted fabric provides additional seating, while the other side converts to a wooden cocktail table.
With wooden feet or casters, Leo is perfect alone or in a pair.
Hammary Bowfront Chairside Table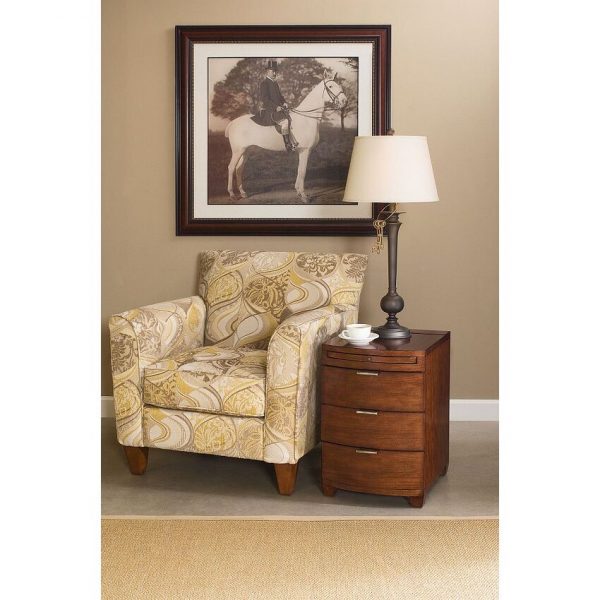 The Hammary Bowfront Chairside Table is the perfect practical end table for any room.
Featuring both a pull-out shelf and a USB power bar under a hidden lift-top storage space, this chairside table is a perfect piece to have beside your favorite reading or lounging spot.
At only 16" in width, this table can easily fit snugly between pieces of furniture or up against the wall.
Hammary Wedge Chairside Table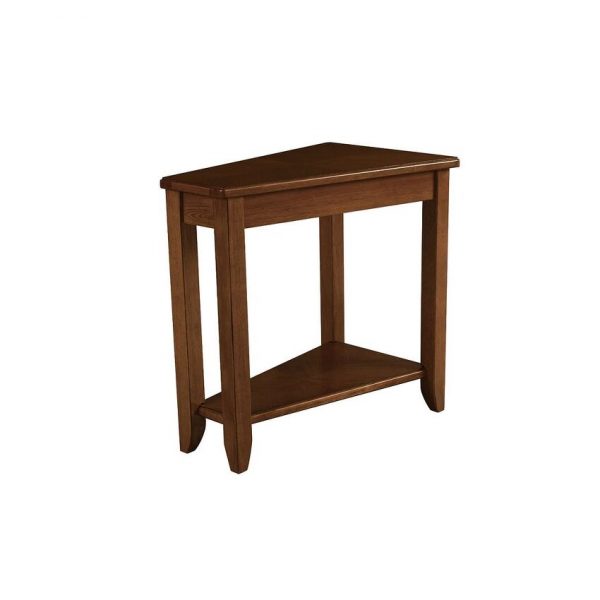 The Hammary Wedge Chairside table is narrow on one end and larger on the other.
This practical table is truly perfect for tight spaces or corners where you need functionality.
Simplistic styling with shelf storage in an oak finish makes this piece a classic compliment to any room.
Hammary Halsey Lift Top Coffee Table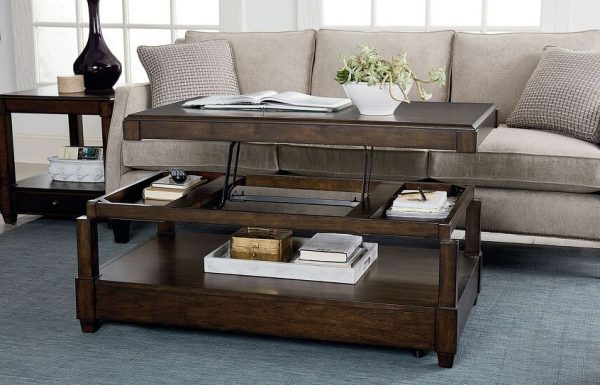 The Hammary Halsey Lift Top Coffee Table is a popular living room favorite with endless features to love.
If you're looking a multi-functional piece of furniture for your smaller space while keeping the look of a classic living room, this coffee table can meet all your needs.
Choose from storage including two drawers with soft close guides, open shelving, or internal storage.
The lift top offers you the ability to enjoy your favorite drinks and snacks while never moving from the comfort of your sofa.
Canadel Core Collection Drop Leaf Table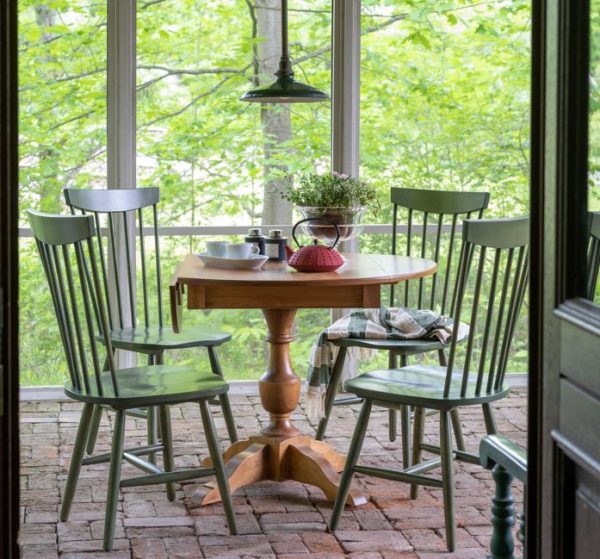 Canadel offers fully customizable high-quality dining room furniture. When it comes to furniture for small spaces, if you still want the functionality of a dining space, the Canadel Drop Leaf Table is a great option.  
Without the leaf, this table measures only 26" in width, but add the leaves, and you now have a table 42 inches long.
If your dining area and living area are combined, Canadel offers the option to mix and match custom chairs that can help bring your room aesthetic together seamlessly.
5 Things to Consider Before You Buy Furniture
When purchasing furniture, you want it to be functional and to meet your specific needs.
Before you buy furniture, it's important to consider what may impact your furniture choices.
Here is a list of questions to ask yourself before you walk into your local furniture store.
How will you use your furniture?
How long will you keep your furniture?
Are you interested in leather or fabric?
Have you considered your budget?
Keeping these five things in mind before investing in new furniture will help you find the perfect items for your living space, no matter the size.
Decide Where to Shop for Furniture
When shopping for furniture for small spaces, there's a lot to take into consideration. You'll need a big imagination.
When evaluating the best options for quality, comfort, and functionality, it can be hard to determine what furniture is right for your needs.
At La-Z-Boy Home Furnishings & Décor, we work with customers every day to find comfortable, quality furniture within their budget that meets their needs.
No matter where you choose to shop, you can start your process by downloading our free furniture buying guide.
This guide will teach you:
The best time to buy furniture.
How much furniture costs.
How much an interior designer costs.
Furniture stores with free design services.
How to apply for furniture financing.
Which stores have a price match guarantee.
Why furniture delivery is so expensive.