La-Z-Boy Dora Chair Review
La-Z-Boy Southeast | November 29, 2022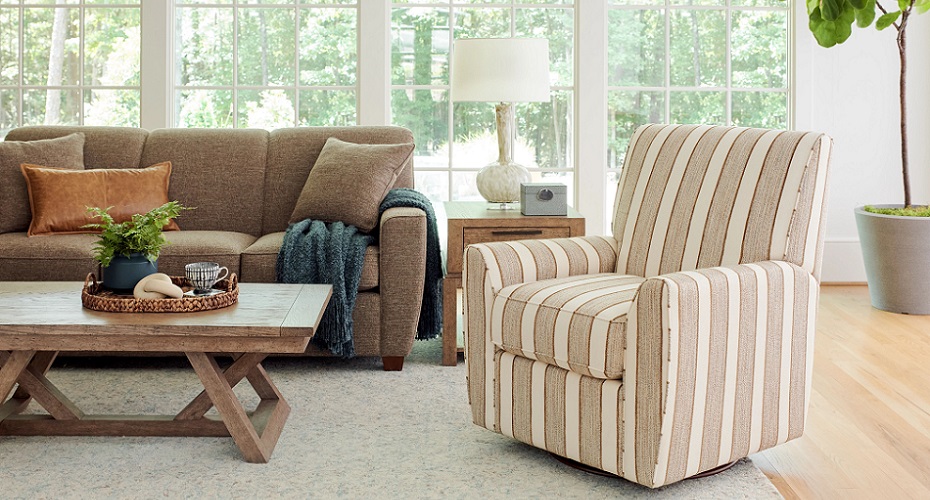 The La-Z-Boy Dora Chair is a great addition to any room due to its versatility in style and function.  You may be considering the La-Z-Boy Dora Chair, but you want to know if its features, dimensions, and style are the right fit for you. 
As the inventors of the recliner, La-Z-Boy has almost a century of developing and perfecting furniture to fit every lifestyle. At La-Z-Boy Home Furnishings & Décor, we've helped thousands find the perfect chair for their body type and unique needs.
In this article, you'll learn all about the details of the La-Z-Boy Dora Chair. You can then determine whether or not it's the right style to fit your needs.
La-Z-Boy Dora Chair Overview
Comfortable, casual style with an updated, slim silhouette makes the La-Z-Boy Dora Chair a versatile furniture piece that will complement just about any decor. It features an inviting box seat, chic, tapered wedge arms, and welt trim detail. A solid foam back and premier seat cushion provide comfort and support for a long or short sit. Alone or in a pair, the Dora Chair is a great addition to any room.
Dimensions & Features: La-Z-Boy Dora Chair
The La-Z-Boy Dora Chair is typically a good fit for people 5'10" to 6'2″.
Body Dimensions:
Depth: 37.5″
Height: 42″
Width: 34"
Seat Dimensions:
Depth: 22″
Height: 22″
Width: 22″
The Dora Chair can be customized to fit any layout. Add a swivel base to the stationary chair, and you have the perfect chair for an open floor plan.
The Dora Chair is available not only as a stationary chair with beautiful wooden legs, but it comes as a reclining chair as well.
It is also available with a swivel glider base. You can learn more about the differences between a glider and rocking chair in this article.
Top Features of the Dora Chair:
Comfortably casual style
Tapered wedge arms
Decorative Wood Legs
Foam, tight back with loose seat cushions
Padded outer arms and back
Premier standard seat cushions for superior comfort and support
Double-picked blown fiber-fill for improved cushion loft and shape retention
Premium grade fabrics and leathers tested to resist wear and fading
Customizable with your choice of fabrics and other available upgrades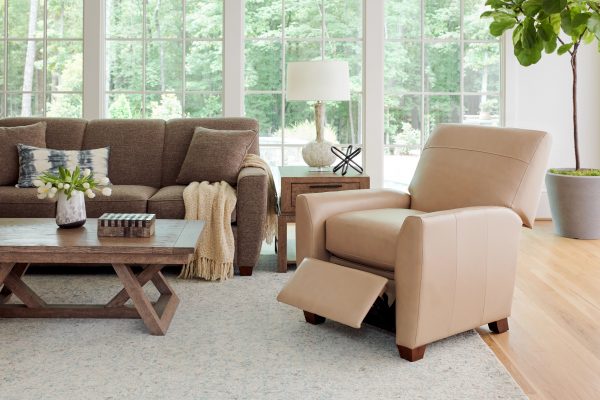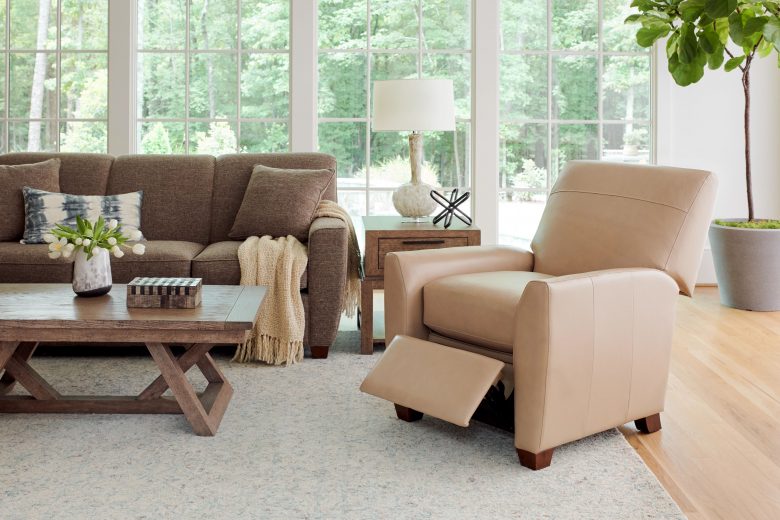 How Much Does the La-Z-Boy Dora Chair Cost?
The La-Z-Boy Dora Chair starts at $1,029 online then your final price is determined by the fabric, options, and upgrades you select.
The Dora Chair also comes with La-Z-Boy standard limited lifetime warranty.
However, you may be able to find a lower starting price depending on the type of sale currently running at your store.
You can receive an exact quote by visiting your nearest location and customizing your sofa.
Keep in mind as you determine your budget for new furniture that financing offers are available. You can learn more about whether or not financing is right for you by reading this article.
Customer Feedback about the La-Z-Boy Dora Chair
At La-Z-Boy Home Furnishings & Décor, the Dora Chair has quickly become a top favorite for its cute style and versatile options. Whether you need seating for your office, sitting room, or living room, the Dora Chair can match your unique style with lots of hidden comfort.
Many customers love adding a patterned fabric to bring color and accent to the room. However, the Dora also looks great in leather.
As of November 2022, the Dora Chair has received an average 4.6 out of 5-star reviews. Here are a few recent customer reviews:
Kathy L: "They look great in our family room and do not take up a lot of space. Nice and comfy too!"
Heather K: "Best chair. Would buy again!"
Jerilyn: "I love my chair. It is so comfortable and fits nicely with our furniture. We upgraded to the firmer foam. (Worth It!!!!) The chair is not too big or small. The color choice we had made looks great. My husband and I fight over who is going to sit in the chair but I always win out. Thanks La-Z-Boy"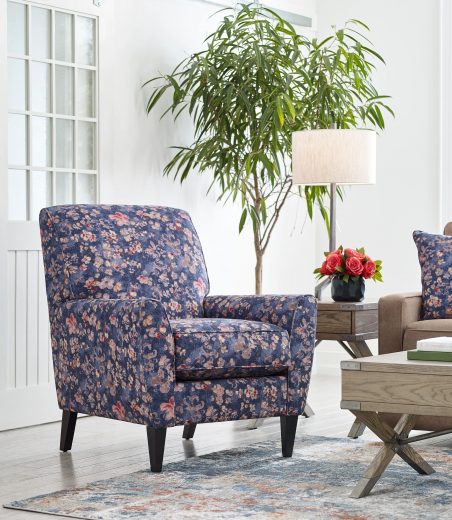 Is the La-Z-Boy Dora Chair the Right Fit for You?
The Dora Chair can be a great option for your next furniture selection. Whether you're designing for a whole room or looking to add seating to your space, this chair can meet the demands of your furniture needs.
At La-Z-Boy Home Furnishings & Décor, we carry a wide range of furniture in our showrooms. It's important to find a chair that meets both your comfort and style needs. If you're still deciding on the best-fitting chair for your needs, there are plenty of styles to browse from with La-Z-Boy. Check out our thorough reviews on other best-selling La-Z-Boy recliners.
Our design consultants are experts at finding the perfect furniture for you and working with you to customize exactly what you need.
We encourage you to stop into one of our locations in SC, NC, or GA to speak with a consultant or to try the Dora Chair for yourself.