La-Z-Boy Alexandria Sofa Review
La-Z-Boy Southeast | July 29, 2022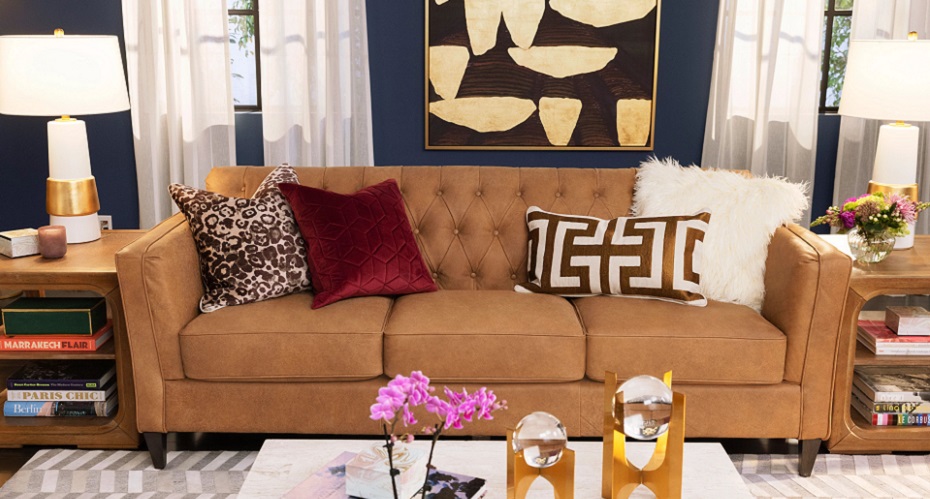 The La-Z-Boy Alexandria sofa is a beautiful mid-century modern style piece with unique and distinctive features. This comfortable and classic design is sure to draw attention, but you may be wondering if it's the right fit for your comfort and style desires.
At La-Z-Boy Home Furnishings & Décor, we've helped thousands find the perfect furniture that fits their comfort and style preferences.
In this article, you'll learn all about the details of the Alexandria Sofa. You can then determine whether or not to cast it as the star of your home design show or look for another statement piece that will fit your needs.
La-Z-Boy Alexandria Sofa Overview
An updated take on the classic La-Z-Boy Chesterfield design, the Alexandria sofa isn't afraid to make a statement. Its tight back boasts button tufting in a diamond pattern that's both distinctive and unique. Extra cushioning softens Alexandria's sloped rolled arms while adding a modern twist.
Slender, tapered wood legs complete the stately silhouette.
Premier Construction ensures you'll enjoy the quality and comfort of this timeless piece for years to come.
Alexandria is also completely customizable and pairs seamlessly with other pieces from the La-Z-Boy Urban Attitudes® collection.
Dimensions & Features: La-Z-Boy Alexandria Sofa
The La-Z-Boy Alexandria sofa is typically a good fit for people between 5'4″ to 5'9″ due to its small seating scale.
Body Dimensions:
Depth: 34″
Height: 34″
Width: 86.5″
Seat Dimensions:
Depth: 22″
Height: 20″
Width: 71.5″
The Alexandria is also available in a love seat if you're in search of this look at a smaller scale.
You can make sure you're picking furniture that fits your unique body type and needs by visiting one of our locations to get fitted.
Top Features of the Alexandria Sofa:
Comfortable and supportive foam tight back with distinctive diamond-patterned button-tufting detail
La-Z-Boy® Premier standard loose box seat cushions handsomely accented with welt trim
Trim sloped arms enhanced with extra cushioning
Elegantly tapered wood legs
Double-picked blown fiber fill for improved shape retention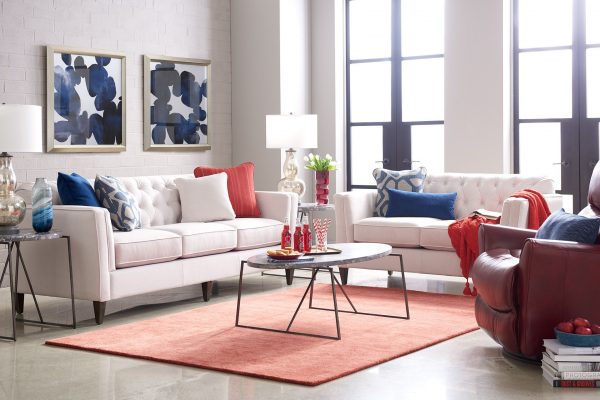 How Much Does the La-Z-Boy Alexandria Sofa Cost?
The La-Z-Boy Alexandria Sofa starts at $2,499 online. Your final price is determined by the fabric, options, and upgrades you select.
The Alexandria sofa also comes with La-Z-Boy standard limited lifetime warranty.
However, you may be able to find a lower starting price depending on the type of sale currently running at your store.
You can receive an exact quote by visiting your nearest location and customizing your sofa.
Keep in mind as you determine your budget for new furniture that financing offers are available. You can learn more about whether or not financing is right for you by reading this article.
Customer Feedback about the La-Z-Boy Alexandria Sofa
The Alexandria sofa is loved by many due to its aesthetically pleasing look.
Customers who opt for this sofa choose it as a statement piece in their living room, formal den, home office, or sitting room.
With so many custom colors and fabric options available, the Alexandria is a piece that looks great in bold colors and patterns.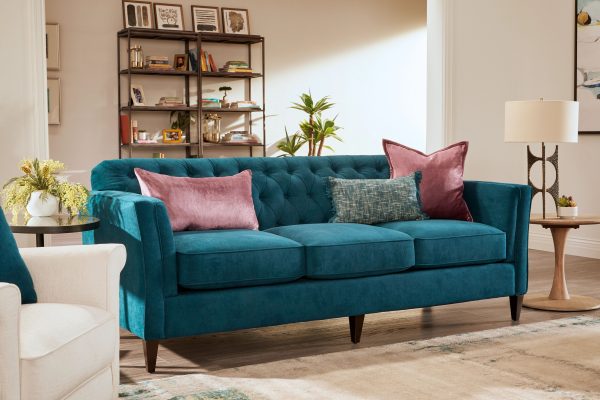 If you're in search of a deep-seated sofa with plush cushioning for lounging, the Alexandria Sofa may not be the right sofa for your needs. While all La-Z-Boy furniture is designed for comfort, comfort is customizable based on your body features and individual preferences. A popular alternative that provides both a tailored look and added comfort for lounging is the duo collection.
The Alexandria Sofa averages 4.9 out of 5 stars in online reviews. Here are a few recent customer reviews:
Ellen K: Beautiful piece and so comfortable. Everyone comments on how classy the design looks.
Judith D: Great Sofa. Very comfortable, good height, makes it easy for me to stand up. Good color, soft but sturdy texture.
Amelie M: Would buy again. Beauty and comfort aren't common companions, but with this sofa, they are like old friends.
Jayma G: Inviting Classic Style. We love our Alexandria Sofa. It has the look of a Chesterfield with a modern twist. I wanted a sofa my Roomba could get under and this fits the bill. We opted to upgrade the cushion and I feel this sofa will last us a long time.
Is the Alexandria Sofa the Right Fit for You?
The Alexandria Sofa has a lot of unique features and benefits. It can be a great option for formal sitting areas of your home or even in your everyday living room.
At La-Z-Boy Home Furnishings & Décor, we carry a wide range of sofas including the Alexandria. It's important to find a sofa that meets both your comfort and style needs. If you're still deciding on the best fitting sofa for your everyday needs, there are plenty of styles to browse from with La-Z-Boy. You can start by reading through our thorough reviews on other best-selling La-Z-Boy sofas. 
Our design consultants are experts at finding the perfect furniture for you and working with you to customize exactly what you need.
We encourage you to stop into one of our locations in SC, NC, or GA to speak with a consultant or try the Alexandria Sofa for yourself.