5 Features and Benefits of Duo by La-Z-Boy
La-Z-Boy Southeast | July 20, 2022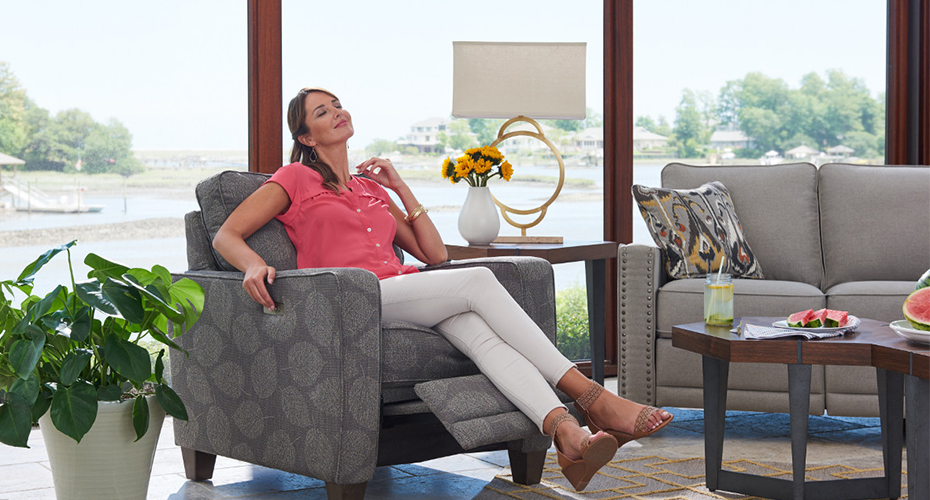 One of the biggest problems couples have when picking out furniture is deciding between style or comfort. Thankfully, with Duo by La-Z-Boy you no longer face that dilemma.
When couples walk into a furniture store, one will be looking for style and completing the look of the room. The other is usually more interested in putting their feet up and relaxing.
Now, you can pick out your home's furniture without having to flip a coin.
Duo by La-Z-Boy brings a revolutionary design with the power to recline and style you'd never expect. You can enjoy comfort without the compromise.
In this video and article, you'll learn about the unique features and benefits of the La-Z-Boy duo collection.
You can shop this furniture collection knowing that it's possible to combine modern style, design, and reclining comfort.
1) Duo by La-Z-Boy Has a Modern Look and Feel
Stationary (non-reclining) furniture has a distinct look and feel. This type of furniture usually has a more modern and stylish look. Much like the furniture inspired by television's Mad Men.
Duo by La-Z-Boy has the same modern look and feel of stationary furniture. However, if you take a closer look you'll notice two small electronic buttons that allow this furniture to recline.
These buttons are stylish, sleek, and silver-tone so they don't compromise the look of your furniture. And they give you the option to recline.
Why do I care? Duo is the first sofa, loveseat, chair, or sectional that gives you the modern look and feel of stationary furniture with the reclining comfort La-Z-Boy is known for.
2) Duo by La-Z-Boy Allows You to Recline with Comfort
On Duo by La-Z-Boy, each armrest has a two-button switch that extends the legrest and reclines the back/seat of your furniture.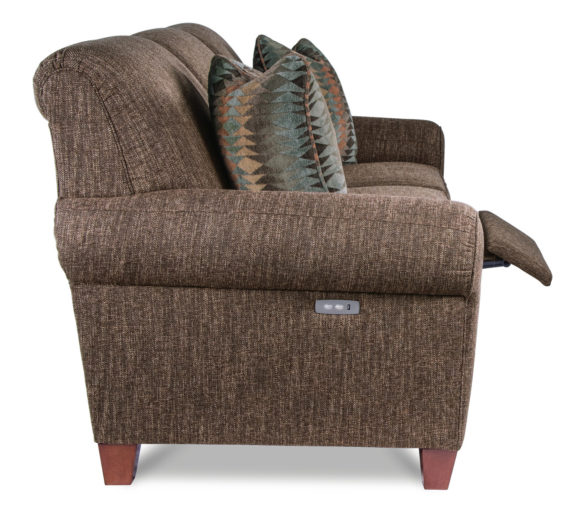 When the legrest is extended, you can continue pressing the button to recline the back and slightly tilt the seat. This puts you in the perfect position for reading, gaming, or lounging.
Why do I care? You can discreetly and comfortably recline without sacrificing the style of your furniture.
3) You Can Place Your Furniture Directly Against the Wall
When you recline in a Duo by La-Z-Boy, no additional space is required between the back of the furniture and the wall.
The back frame remains stationary with all of the movement coming from the legrest, seat, and lower back.
This means Duo furniture can be placed directly against the wall and recline without hitting it. Allowing you to put your furniture anywhere in the room.
Why do I care? Your stylish and reclining furniture can be placed against the wall.
4) Duo Furniture Comes with Cordless Power Supply
Duo furniture can receive power by being plugged in or a cordless power supply. This rechargeable battery pack allows you to float your furniture anywhere in the room.
The battery pack provides around five days of cordless operation when fully charged and cycled ten times per day. The power supply fits nicely underneath your furniture to keep the clean modern look.
Why do I care? You can operate your furniture electronically without having to plug it in.
5) Three Year Electronics Warranty
The electrical system on Duo is backed by a three-year warranty. And the reclining mechanism comes with a limited lifetime warranty.
This product has been through a massive amount of testing. La-Z-Boy tests their furniture at 2X the industry standard.
Duo is backed by over 90 years of quality engineering and manufacturing experience. And it's also proudly made in the USA.
Why do I care? You can rest assured knowing your furniture is backed by a warranty and has underwent a great deal of testing.
Combine Style with Comfort
If you're in search of furniture for your living space but you haven't met the right match of style and comfort, know that you don't have to sacrifice one for the other.
Duo by La-Z-Boy combines style and comfort while offering outstanding features and benefits.
La-Z-Boy offers many products that can match your custom needs. At La-Z-Boy Home Furnishings & Décor, we have interior designers available to help you complete your room while customizing to your style.
We'd be happy to help you bring your dreams to life at any of our locations in NC, SC, and GA.
Here are a few additional resources you may like to check out: