How to Style a Bookshelf Like a Pro (3 Easy Steps)
La-Z-Boy Southeast | December 29, 2020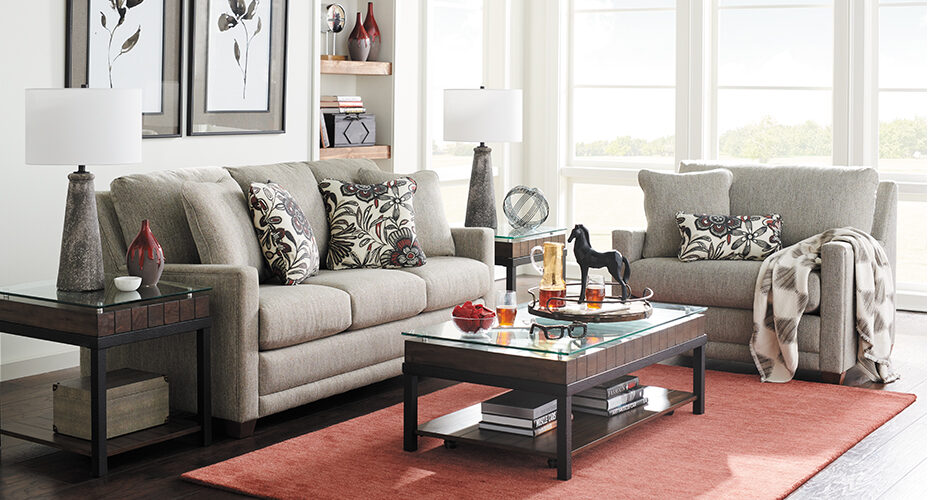 Are you interested in learning how to style a bookshelf like a professional interior designer?
At La-Z-Boy Home Furnishings & Décor, we believe a bookshelf is the perfect place to display all of the things you love.
In this article, we'll show you how to style your bookshelf like a pro in three easy steps.
1) Start with Big Pieces
You'll want to place your biggest items first because they will take up the most space.
Arranging your items in a layered triangular pattern will help you use as much of the bookshelf as possible.
Be sure to occasionally step away from the bookshelf to ensure you like the way it's looking.
Check to see if everything is in scale to each other and starting to come together.
Once all your big items are on your bookshelf, you'll have a better idea of how much space you have left for your smaller items.
2) Place Your Small Pieces
Always remember your bookshelf is a place to display the things you love like family heirlooms, collector items, and travel souvenirs.
Placing your smaller items around your big pieces will bring in different colors, styles, and textures.
If there are too many items with the same texture on one side of the bookshelf, move your pieces around to create balance.
While placing your small items, consider adding boxes or baskets for additional storage.
Pro Tip: Books can be stacked horizontally and vertically to create a layered effect.
3) Bring in Groups of Three
It's scientifically proven that grouping items in odd numbers is more appealing to the eye.
Bringing in groups of three will add a pleasing decorative look to your bookshelf.
We always want to add a touch of green to bring your bookshelf to life and pull in a living element.
Most people will choose to place a potted plant or succulent in an area that receives the most sunlight.
The final step is to place a framed picture of some sort on your bookshelf.
If your frame is too big to fit on the middle shelves, it can be placed on the very top to lean against the wall.
Check Out These Additional Resources
We hope this quick tutorial helped you learn how to style a bookshelf like a professional.
At La-Z-Boy Home Furnishings & Décor, our free design service make the process of styling your entire home fun and easy.
Here are some additional online resources you may like to check out:
We'd be happy to help you bring your dreams to life at any of our locations in NC, SC, and GA.