Why Is Furniture Delivery So Expensive?
La-Z-Boy Southeast | September 12, 2022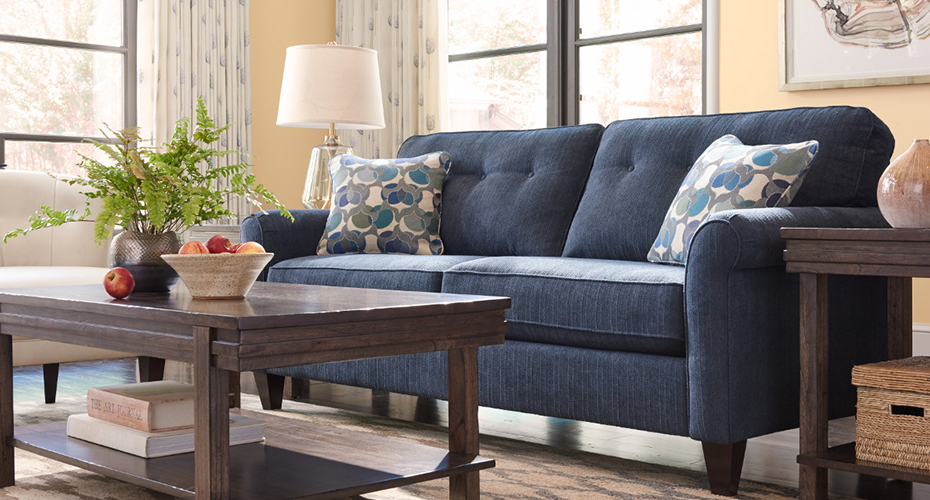 Have you ever wondered why furniture delivery is so expensive?
At La-Z-Boy Home Furnishings & Décor, we work with customers to select the perfect quality furniture for their homes. Our job isn't done until you're satisfied with the look of your room, so it's important to address your delivery or pickup options as part of your furniture buying experience.
In this article and video, we'll take a look at furniture delivery options and all of the costs associated with them. You'll have a better understanding of what factors influence delivery costs so that you don't have to worry whether or not you're going to be hit with any hidden surprises when making your next furniture purchase.
What Is Full-Service Furniture Delivery?
Full-service furniture delivery means a truck is scheduled to arrive at your house, the furniture is unloaded/unboxed/assembled by our crew, then placed in your room exactly where you want it.
This is the top-of-the-line experience when it comes to furniture delivery options.
At La-Z-Boy Home Furnishings & Décor, we offer full-service delivery with all of our furniture purchases. Our La-Z-Boy Certified Drivers will call you 1 hour before delivery, unload your furniture, and carry it to your room. Then they will assemble and move your furniture into place. Let us do the heavy lifting!
The reason this option costs extra is because the delivery costs are not included in the price of the furniture. When you pay for full-service delivery you'll know:
The exact time your furniture will be delivered. (Receive a call 1 hour before)
Your furniture will be unboxed, put together, and placed in your room by professionals.
Nothing will be left outside in the rain.
With free furniture delivery, all of these factors are up in the air.
The Trouble with Free Furniture Delivery
Companies like Amazon and Zappos have made free shipping very popular. These days, most people would balk at the idea of paying an extra $5 for shipping and handling.
Free furniture delivery is similar to buying a product off Amazon. When you opt for free shipping you'll:
Have an idea of the day your furniture will arrive. But not the exact time.
Likely have to unbox, assemble, and lift your furniture on your own.
Find your furniture in a box outside if you're not home when it arrives.
Free shipping is the cheapest furniture delivery option. But you're going to have to do some work putting it together, moving it to your room, and making sure you're home when it arrives.
If you're okay with doing all of this yourself, then free shipping can save you some money.
Common Complaints with Free Furniture Delivery
Wayfair is an example of a popular online furniture company that offers free shipping. When you look up Wayfair's consumer reviews, one of the most common complaint they receive is about their delivery service.
Brad wrote this review on July 5, 2022:
"Ordered a TV stand from Wayfair 6/29/2022. Was scheduled to be delivered 7/2/2022. Arrived 7/3/2022. Arrived damaged but installer was able to rig it to work. Did not arrive at my door as promised. Fed-Ex just dropped it on the first floor common area where anyone could steal it (thankfully they did not) but it was so heavy I could not bring it upstairs myself, and while that is Fed-Ex's mistake, Wayfair needs to ensure compliance with what they tell customers. Just an overall negative experience."
Common Complaints with Full-Service Delivery
At La-Z-Boy Southeast, the most common complaints our full-service delivery team receives have to do with the price of the service.
We understand paying for shipping and handling is becoming a thing of the past. Our management team has looked into providing free shipping on all furniture deliveries.
As of today, we can't offer the same high-quality delivery experience and keep our furniture prices competitive. This is why we continue to charge for full service delivery.
Recent La-Z-Boy Home Furnishings & Décor Reviews Related to Furniture Delivery:
Once our customers understand why they're asked to pay for full-service delivery, they usually have good things to say about their experience.
Susan wrote this review in July, 2022:
"It's early to be rating La-Z-Boy, really, because our furniture hasn't been delivered. Our experiences with the purchase and order process, with Taylor at the Asheville store, was exceptional, though. He was knowledgeable, accommodating, not pushy, and he had a good sense of humor. My husband and I enjoyed the transaction and believe good service will be continued, based on prompt contacts from their delivery service. THERE WAS AN EXCESSIVE CHARGE FOR DELIVERY, though, $500 for sofa, loveseat, and two recliners. Also, sales prices reportedly depended on immediacy (last only until the end of the day, etc), which we took to be part of the sales pitch. But, like I said, it was still a great experience."
Julie wrote this review in May, 2022:
"Decided to check out this place after the other furniture stores in town were either completely out of stock, backordered, or a company like "Jeff Lynch" where they promise you a product and then call you a month later to say they don't have it in stock and I need to either purchase the floor model at full price or cancel the order. *sigh* Needless to say we were on a timeline with a baby due and needed a comfortable rocker for our nursery room! We were immediately greeted with smiling faces and great customer service. I needed something not only readily available but also comfortable in leather with the electric option! This team made it happen in less than 6 weeks delivery timeframe. Delivery service was also on top of it, courteous of set time frames and on time. 10/10 would order my whole house from them next time!!"
Which Furniture Delivery Option is Best for You?
Furniture delivery is a topic that comes up often in our stores. Shipping a large sofa or sectional is much more different than a small package from Amazon.
With full-service delivery, you'll make sure your furniture arrives on-time, is fully assembled, and placed exactly where you want it inside your home.
At La-Z-Boy Home Furnishings & Décor, we'll explain your delivery options and make sure you pick the option that's best for you.
We would be happy to guide you through the process of furnishing your home at any of our locations in GA, NC, or SC.
As you're making your final furniture purchasing decisions, consider these helpful resources that can you save money on your investment: