When is the Best Time to Buy Furniture?
La-Z-Boy Southeast | August 12, 2022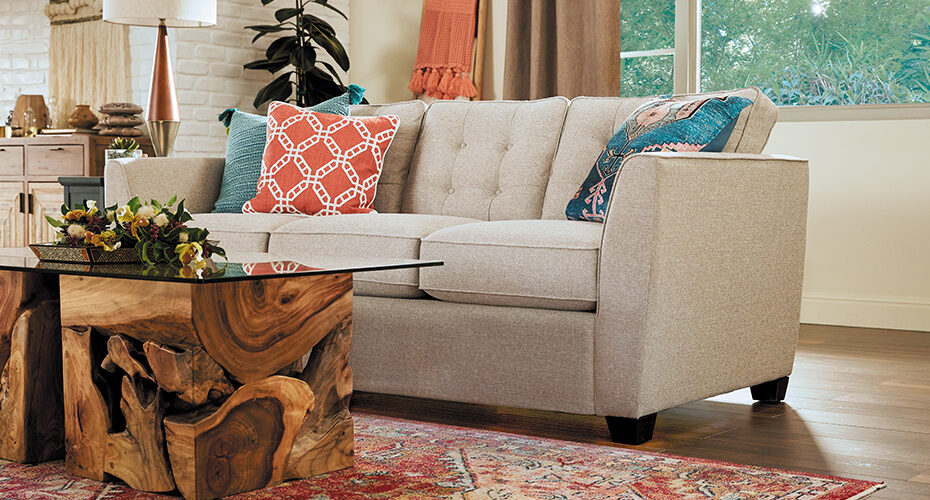 How can you tell when is the best time to buy furniture? And should you wait for those specific times of the year? Furniture can be a major investment and one you may need to save up for. So how can you find the best deals?
At La-Z-Boy Home Furnishings & Décor, we're often asked when the best time of year is to buy furniture. Having been a top brand in the furniture industry for almost a century, we love to provide insight to our customers that will help them meet their furniture needs.
In this article, we'll address the best time to buy furniture. You'll know how timing factors into your furniture buying process so you can decide when the right time will be for you to make your next furniture investment.
What Months Are the Best for Buying Furniture?
January and July have traditionally been the best months to buy furniture because retailers need to make space for new styles on the showroom floor.
Furniture stores will discount old stock during these months so they are able to bring the latest styles into their showrooms.
Manufacturers will release their new products during the High Point Furniture Market typically held in October and April.
Then, retailers will place their orders and start thinking about which items they need to mark on clearance to make room.
Due to industry delays in manufacturing and supply issues the last few years, there have been fewer discounts and clearance items available during these months.
When is the Best Day of the Week to Shop for Furniture?
Furniture shopping while you have the store to yourself gives you the opportunity to take your time and see everything.
At La-Z-Boy Home Furnishings & Décor, our most popular time to shop is 1PM on Saturday. This is usually as busy as it gets.
Shopping when the store opens at 10AM on Monday through Friday is the best time to visit.
You will have plenty of time to browse all of the furniture before the lunch rush hits.
Plus, you might be able to meet with one of our degreed interior designers before they leave for their appointments.
When Do Furniture Stores Have Sales?
Most furniture brands run year-round promotions to encourage customers to visit their stores.
Holidays are big sales days for retailers and the same holds true for the furniture industry.
Most furniture retailers will promote major sales centered around the holidays. Some of the biggest holidays that furniture stores promote sales around include Black Friday, President's Day, Memorial Day, 4th of July, and Labor Day.
You will notice most of the advertisements for big promotions will run around the holidays.
If you're not able to buy furniture in January or July, on weekends, or holidays, does that mean you're missing out on great opportunities? Absolutely not.
Even outside of major holidays, many furniture stores will have a promotion running even if it isn't advertised.
These promotions will often feature discounts up to a certain percentage along with special financing options.
This means you can get a great deal every day of the year by taking advantage of these promotions.
Retailers in general are expanding their holiday events to the weeks before and after the actual holiday. This means you don't have to spend time shopping on a holiday to get a good price on living room furniture.
You can shop on the days leading up to and after the holiday to get the same special pricing.
At La-Z-Boy Home Furnishings & Décor, we even have a low-price guarantee that ensures holiday pricing which means you don't have to wait until a holiday to shop. If an item you purchase goes on sale or gets discounted 30 days after you purchase, you can receive a price match.
Here are some other benefits of shopping before the holidays:
Stores are less crowded.
You'll receive better customer service.
Delivery schedules have more availability.
5 Things to Consider Before You Buy Furniture
Before you buy furniture, it's important to consider a few things unique to your individual wants and needs.
Here is a list of questions to ask yourself before you walk into your local furniture store.
How will you use your furniture?
How long will you keep your furniture?
Are you interested in leather or fabric?
Have you considered your budget?
Keeping these five things in mind before investing in new furniture will help you find the perfect items for your home.
Decide When to Buy Furniture
Buying furniture can be a major investment. While quality furniture can last you for many years, it's always helpful when you can save money. And if your timing is right, you may save even more.
Traditionally, January and July have been the best time of the year to buy furniture. But there are many other opportunities you can help your wallet.
At La-Z-Boy Home Furnishings & Décor, we strive to make everyday a great day to buy furniture. When shopping at any of our locations in NC, SC, or GA, our consultants are available to help. We can provide you with information on sale opportunities, financing, or help you with other ways to maximize your budget.
In search of other Furniture Buying Tips? Check out these helpful resources: