Features & Benefits of La-Z-Boy Sleeper Sofas
La-Z-Boy Southeast | March 15, 2023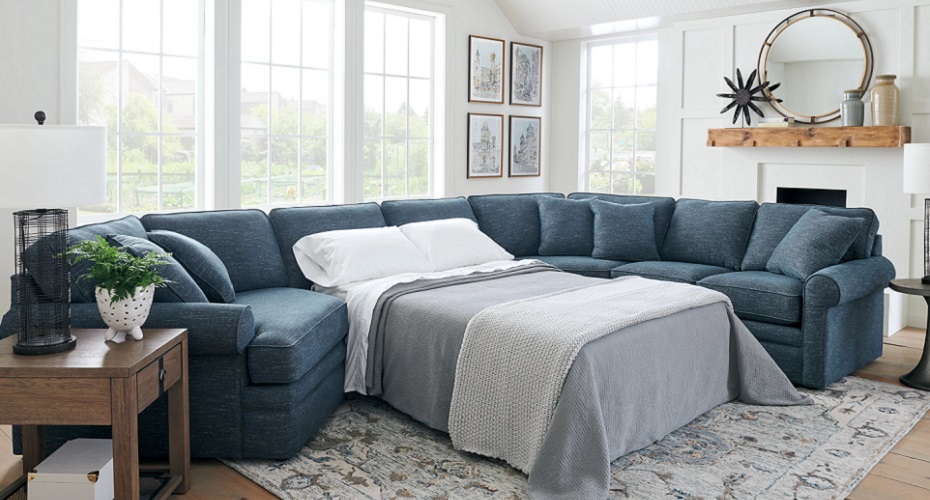 Sleeper sofas are versatile pieces of furniture that offer a wide range of benefits.
La-Z-Boy sleeper sofas are a popular option for people looking to take advantage of these benefits.
If you're considering adding sleeper furniture to your home, there are many options to choose from.
Sleepers can come at a higher price tag than traditional sofas, so while you want them to serve a dual purpose, you don't want to sacrifice comfort or durability to meet these needs.
That's where a known brand like La-Z-Boy can meet all the needs you desire in a sleeper.
In this article, you'll learn about the unique benefits and features of La-Z-Boy sleeper sofas and what sets them apart compared to other brands.
Exclusive Features & Benefits of La-Z-Boy Sleeper Sofas
Most sleeper sofas can offer a wide range of benefits including convenience, comfort, and versatility for your space. Sleepers are a convenient solution to having a combined space for relaxing and extra space for sleeping.
When looking at different options to fit your needs, you'll find quite a few unique benefits of La-Z-Boy sleepers:
Tubular Steel Construction – Unlike some competitors that use cheaper materials, La-Z-Boy sleeper frames are made from metal tubing which provides greater stability and durability.
One-Piece Tubular Steel Legs – These legs increase side-to-side stability and safely support more weight than most competitors' blade leg designs.
Dual Upper and Lower Crosswire – This sleep support system improves comfort and prevents the rollover effect typical of most other sleep sofa designs. A recessed middle support also eliminates the uncomfortable cross-bar effect inherent in other sleep sofas.
Helically Suspended Synthetic Mattress Deck – This design allows it to conform to the body and provide the finest sleeping comfort in addition to a long, useful life.
Double Locking Head Rest – This allows you to tilt your head up with secures in places on both sides. This feature allows for additional stability and support while reading or watching television.
Balanced Low-Profile Linkage – Designed to open and close with little effort or strength.
Low Profile Steel Frames – Sides of the pull-out are recessed well below the mattress surface. This allows for a much safer (no pinch points) and more comfortable night's sleep.
Mattress Retainers – These hold the mattress in place for a more secure and comfortable rest.
Tilt Forward Position – This feature includes two lift springs to lift the sofa up for an easy "tilt forward position" for cleaning and vacuuming.
Types of La-Z-Boy Sleeper Mattresses
When shopping for La-Z-Boy Sleepers, there are both standard and upgrade options available when it comes to the type of mattress. Depending on your specific preferences and use of the sleeper, you can choose from the following types of mattresses:
Supreme Comfort Mattress: This mattress comes as the standard option for all sleepers. It is a 5.5" thick coil mattress made with allergy, odor, and mildew-free material. This mattress comes with a 5-year mattress warranty.
Slumber Air Mattress (Optional Upgrade): This mattress is 10" thick with a 4" innerspring coil base on the bottom and 6 inches of air mattress on top. It comes with a 5-year mattress warranty and a 1-year electric pump warranty.
Tempur Response Memory Foam (Optional Upgrade): This mattress includes a quilted top layer with 2" Tempur Response Memory Foam on top of a 3" high-density form for complete body support. The Tempur Response Memory Foam mattress comes with a 3-year mattress warranty.
Styles of La-Z-Boy Sleepers
Whether you prefer a more classic style of furniture or live for the latest trends, La-Z-Boy has a wide variety of sleepers that can fit your needs.
La-Z-Boy offers sleeper options in many popular styles of sofas, sectionals, sectional pieces, and chairs.
The sleepers range from twin-size all the way to queen-size mattresses.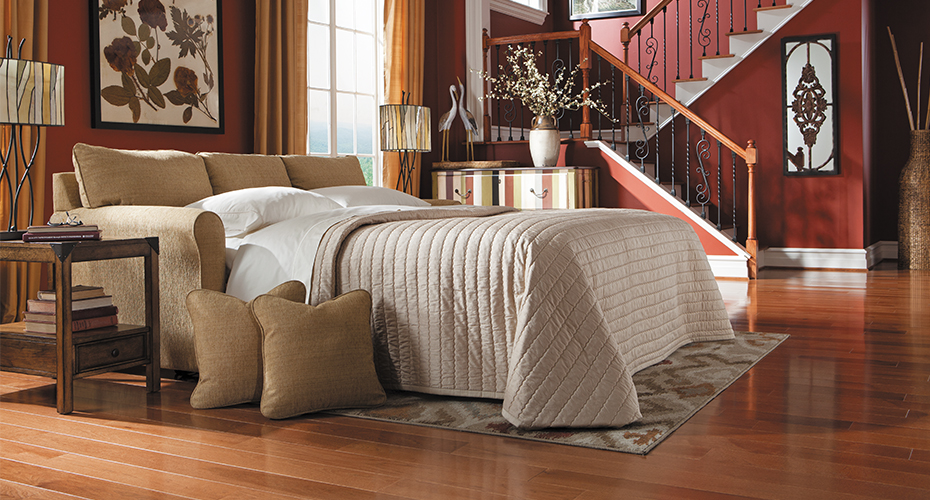 Related: Best Selling La-Z-Boy Sleeper Sofas in 2023
How Much Does a La-Z-Boy Sleeper Sofa Cost?
La-Z-Boy Sleeper Sofas start at $1,749 online then your final price is determined by the style, fabric, mattress options, and upgrades you select.
However, you may be able to find a lower starting price depending on the type of sale currently running in the store.
Sleeper sofas also come with La-Z-Boy's standard limited lifetime warranty on the sofa as well as warranties on the mattress.
You can receive an exact quote by visiting your nearest location and customizing your sleeper sofa.
Keep in mind as you determine your budget for new furniture that financing offers are available. You can learn more about whether or not financing is right for you by reading this article.
Where to Find La-Z-Boy Sleeper Sofas
Sleeper sofas offer an excellent combination of functionality, convenience, and comfort, making them a popular choice for many households.
At La-Z-Boy Home Furnishings & Décor, our interior designers are available to answer all of your questions.
Plus, our free design service makes the process of styling your home fun and easy.
Here are some additional online resources you may like to check out:
We'd love to help you find your perfect sleeper sofa at any of our locations in NC, SC, and GA.