Advantages & Disadvantages of Shopping at a Discount Furniture Store
La-Z-Boy Southeast | October 12, 2022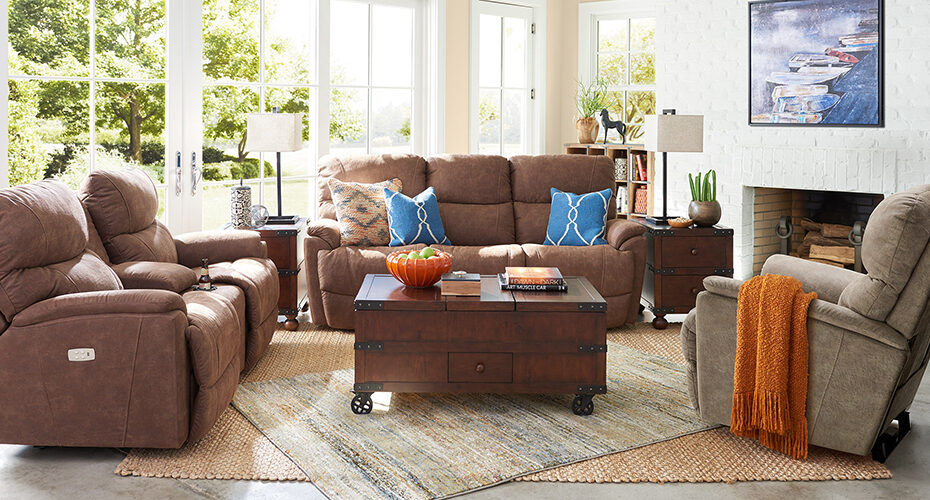 When you think of shopping at a discount furniture store or outlet, chances are you immediately think of major cost savings. Furniture is a costly investment so scoring savings can be a huge appeal. However, you may be wondering what types and the quality of furniture you'll find at discount stores.
At La-Z-Boy Home Furnishings & Décor, we work with customers every day to find the right furniture for their needs. As a leading brand in the industry, La-Z-Boy furniture is designed with quality and comfort in mind.
When customers are in search of cost savings opportunities, it's not uncommon to compare the differences between retail furniture stores and bargain outlets.
This article will address the major advantages and disadvantages of shopping at a discount furniture store or outlet. You'll be able to weigh whether or not it makes sense for you to look at this type of store during your furniture shopping process.
Advantages of Shopping at a Discount Furniture Store
Advantage #1: Cost Savings
Cost savings are by far the biggest appeal of shopping at a discount furniture store. Often featuring the names "outlet," "bargain outlet," or "discount store," most imply that they'll offer deep discounts.
Some furniture outlets will even promote side-by-side comparisons of pricing to show how much you can save on a specific type or style of furniture.
It's important to understand why these prices are lower. Oftentimes, you'll find that the discounted pricing is due to the fact that it's a discontinued or outdated style, that it was previously used as a model piece in a showroom, or that it needs to be self-assembled.
Advantage #2: Available Inventory
At discount furniture stores, most of the time, what you see is what you get. You'll have fewer customization options or variations in materials. However, this means that the inventory shown is likely in stock. This can be an advantage if you need furniture right away.
Advantage #3: You Can Browse Quickly
When entering a discount furniture store, you may have little to no interaction with a salesperson. The sales team you encounter may be handling multiple duties at once keeping them from walking around the store with you.
With fewer customized options to choose from, the inventory in the showroom will have signs that include pricing and dimensions. If you already know what you want and that the store has it available, then your process can go by quickly with limited interaction between you and the store employee.
Advantage #4: Quick Pickup & Delivery
It is common to have to wait a period of time for new furniture to be delivered, especially when shopping through retail furniture stores or through direct manufacturers. In fact, many furniture brands continue to experience longer delivery times due to manufacturing delays from covid.
Discount furniture stores tend to focus on selling the items they have in stock. While this means you don't always know what furniture will be available until you shop, it does mean that you can arrange for a fast pickup or delivery. Most allow you the option to take it home the same day if you have the means to transport it yourself.
Disadvantages of Shopping at a Discount Furniture Store
Disadvantage #1: Quality Assurance
When furniture is deeply discounted, it's important to understand why. Quality always comes at a price. While you may not be getting damaged furniture, if you're buying inventory that's been on display, it has already experienced some wear and tear.
Many collections of furniture found in discount furniture stores are from previous seasons or are discontinued styles. If the items are discontinued, the manufacturer may no longer offer warranty coverage should something happen to your furniture.
Disadvantage #2: Fewer Options for Delivery & Assembly
Many discount furniture stores offer delivery through a third-party company. This allows the stores to save on the costs of delivery trucks and employees. You can read this article to learn more about what goes into the cost of furniture delivery.
The type of delivery services offered will also impact what assembly services are available. If you are opting for self-assembly, you'll be taking on the risk of damaging your furniture.
Disadvantage #3: Customer Service isn't Guaranteed
If you want to purchase furniture that lasts a long time, you want to know that you won't regret the choices you make. This is where customer service can be a huge help.
When shopping at a discount furniture store, one way that costs are reduced is through staffing. You're less likely to receive one-on-one assistance from highly trained salespeople.
When shopping at La-Z-Boy Home Furnishings & Décor, every customer receives individualized attention. Having a well-trained sales consultant assisting you ensures that you'll make informed buying decisions.
Disadvantage #4: Fewer Customization Options
Your furniture should reflect your style and personal preferences. After all, it's an investment that you'll be looking at and using daily in your home for years. This is why customizing your furniture to match your unique needs is such an appeal. You can choose materials that match what you desire from a visual perspective as well as a comfort level.
Options at discount furniture stores, while varied, may not quite match your personal preferences.
5 Things to Consider Before You Buy Furniture
Before you buy furniture, it's important to consider a few things unique to your individual wants and needs.
Here is a list of questions to ask yourself before you walk into your local furniture store.
How will you use your furniture?
How long will you keep your furniture?
Are you interested in leather or fabric?
Have you considered your budget?
Keeping these five things in mind before investing in new furniture will help you find the perfect items for your home.
Decide Where to Shop for Furniture That's Right for You
If you're considering making your next furniture purchase from a discount furniture store, it's important to weigh whether or not it's the right fit for your needs. Discount furniture stores and outlets are known for offering lower pricing, but you should consider what you'll be receiving in exchange for that discount.
Most furniture brands understand that price can be a factor in your decision-making process. At La-Z-Boy Home Furnishings & Décor, we work with customers every day to find quality furniture within their budget that meets their needs.
If you choose to shop at a discount furniture store, understanding the advantages and disadvantages can help you stay on track with your process. Making an impulse decision based on the appeal of a price tag could cost you long-term.
No matter where you choose to shop, you can start your process by downloading our free furniture buying guide.
This guide will teach you:
The best time to buy furniture.
How much furniture costs.
How much an interior designer costs.
Furniture stores with free design services.
How to apply for furniture financing.
Which stores have a price match guarantee.
Why furniture delivery is so expensive.