La-Z-Boy Leah Twin Sleep Chair Review
La-Z-Boy Southeast | May 9, 2023
The Leah Twin Sleep Chair is the ultimate combination of comfort and versatility. Comfortable chair by day, twin sleeper by night, you have plenty of reasons to love this chair.
You may be considering the La-Z-Boy Leah Twin Sleep Chair but you want to know if its features, dimensions, and style are the right fit for you.
For almost a century, La-Z-Boy has been developing and perfecting comfortable furniture to fit every lifestyle. At La-Z-Boy Home Furnishings & Décor, we've helped thousands of customers find the perfect furniture that fits their comfort and style preferences.
In this article, you'll learn all about the details of the La-Z-Boy Twin Sleep Chair. You can then determine whether or not it's the right style to fit your needs.
La-Z-Boy Leah Twin Sleep Chair Overview
Turn any room into a stylish and functional guest room with the Leah Twin Sleep Chair. Its sleek profile is perfect for smaller spaces, yet it opens up to become a super comfortable twin bed, complete with a Supreme ComfortTM quilted innerspring mattress measuring 5.5" thick.
By day, this sleeper is a true beauty too, with curving rolled arms, welt trim and a patented ComfortCore® cushion that provides optimum support for a long or short sit. Includes one 18" accent pillow.
Dimensions & Features: Leah Twin Sleep Chair
The Leah Twin Sleep Chair is generally perfect for taller scale individuals ranging from 5'10" to 6'2" due to the height of the seating. However, the oversized build of this chair can fit a wide range of lounging needs.
Body Dimensions:
Depth: 38.5″
Height: 38″
Width: 54″
Seat Dimensions:
Depth: 20.5″
Height: 21″
Width: 40″
The Leah Twin Sleep Chair can be customized in a variety of fabrics and leathers. La-Z-Boy has over 900 different types of leather and fabrics to match your unique style preferences. You can start your process by requesting free fabric swatches to explore within your space.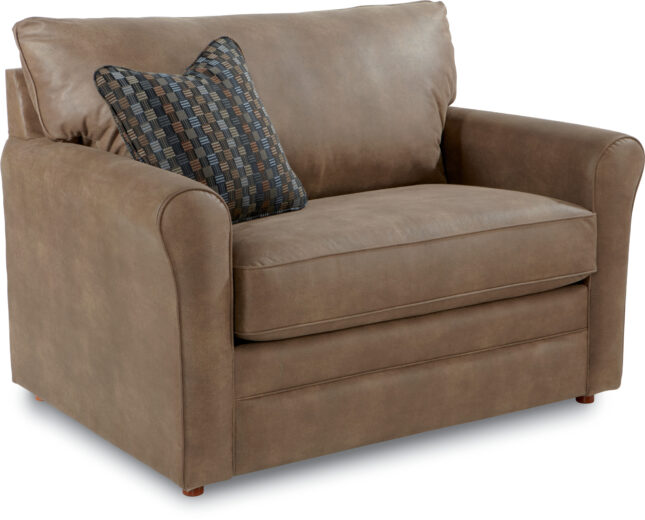 How Much Does the La-Z-Boy Leah Twin Sleep Chair Cost?
The La-Z-Boy Leah Twin Sleep Chair starts at $1,399 online then your final price is determined by the fabric, options, and upgrades you select.
The Leah Twin Sleep Chair also comes with La-Z-Boy's standard limited lifetime warranty.
However, you may be able to find a lower starting price depending on the type of sale currently running at your store.
You can receive an exact quote by visiting your nearest location and customizing your sofa.
Keep in mind as you determine your budget for new furniture that financing offers are available. You can learn more about whether or not financing is right for you by reading this article.
Customer Feedback about the La-Z-Boy Leah Twin Sleep Chair
At La-Z-Boy Home Furnishings & Décor, many parents love having this chair and a half as it makes a perfect spot for snuggling with your little one during story time.
Whether adding it to a family room or as extra seating in a bedroom, you'll have the option of a convertible guest bed when you need it.
Many customers find that pairing the Leah Twin Sleep Chair with the Cory Storage Ottoman makes for a perfect combination. The Cory Storage Ottoman provides you with a space to prop up your legs as well as storage for blankets, books, or everything you need nearby and out of sight.
As of May 2023, the Leah has a 4.9/5 Star average ranking online. Here are a few recent customer reviews:
Paul & Geri G: "Bought this as an extra guest sleeper. Loved being able to upgrade the cushions to extra firm and to upgrade the mattress as well. So many fabric choices. It is also very comfortable as simply a chair."
Leah T: "Love this sleep chair so much that I bought two of them. I got the first one nearly 10 years ago and have it at a vacation property. It's super comfortable, and the pullout sleeper is perfect for my nieces and nephews when they stay-they all say it is very comfortable. On both chairs, I got a chenille fabric that is very soft.
Is the Leah Twin Sleep Chair the Right Fit for You?
Whether you're searching for a chair in your living room, family room, office, or bedroom, Leah Twin Sleep Chair can serve that purpose while automatically adding a spare bed to your space. It's stylish yet comfortable and available in a variety of colors, fabrics, and customizations.
At La-Z-Boy Home Furnishings & Décor, we carry a wide range of furniture. Our galleries feature the Leah Twin Sleep Chair on display so that you not only see how beautiful it is in person, but you can test out the comfort and functionality for yourself.
We encourage you to stop into one of our locations in SC, NC, or GA to speak with a consultant or try the Leah for yourself. Our design consultants are experts at finding the perfect furniture for you and will work with you to customize exactly what you need for your living space.
In search of other styles of La-Z-Boy furniture? Check out our list of this year's best selling La-Z-Boy Furniture: