How to Prevent Furniture Stains: iClean Fabric (Features/Benefits)
La-Z-Boy Southeast | June 21, 2017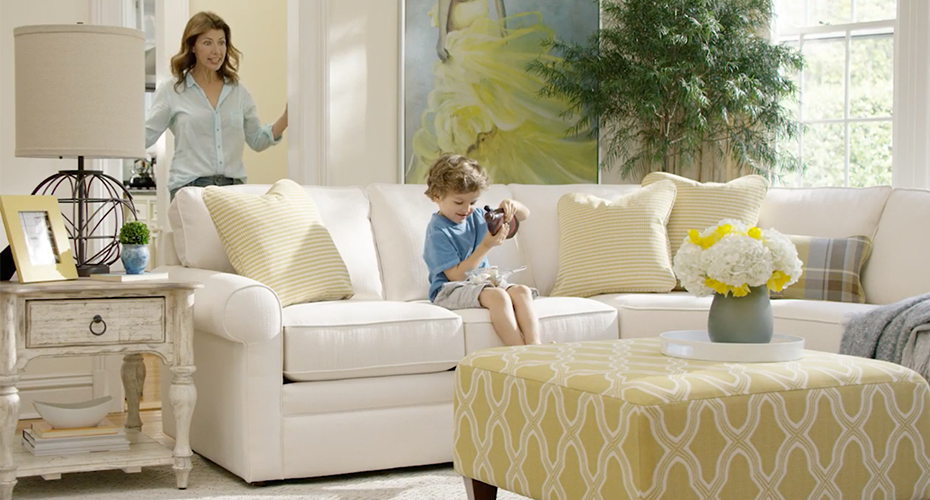 Are you searching for the best way to prevent furniture stains before they happen?
At La-Z-Boy Home Furnishings & Décor, we've noticed furniture stains are one of the biggest concerns our customers have.
In this article, we'll take a look at how La-Z-Boy iClean Fabric will take away
Keep Spills from Turning into Stains
Hovering over your children, covering your furniture in plastic, and worrying about spills and stains can drive you insane.
When you upholster your furniture with iClean Fabric at La-Z-Boy, an invisible barrier of protection will repel spills before they turn into stains.
Each fiber of iClean is coated with a stain-resistant formula that allows you to clean most spills with a paper towel.
iClean Fabric repels both liquid (soda, coffee, and wine) and non-liquid (dirt, ketchup, and magic marker) spills.
Not only does iClean Fabric keep your furniture clean. It also looks and feels good too.
Stylish, Soft-To-The-Touch, and Stain-Proof
When people hear the fabric on their furniture will be coated with a stain-resistant formula, they often think it will feel weird to sit on.
However, iClean Fabric is soft-to-the-touch and feels great to sit on. This special formula delivers the luxurious feel and exceptional comfort you expect out of La-Z-Boy.
It is available on a wide selection of colors and patterns, so your furniture will be stylish, soft-to-the-touch, and stain-proof.
102 Different Colors, Patterns, and Textures
As of June 2017, iClean Fabric comes in 102 different types of colors, textures, and patterns.
These styles can be applied to a wide variety of La-Z-Boy Furniture. Giving your furniture a custom look perfect for your home.
You can browse these fabric options online or visit your local La-Z-Boy store to start customizing your furniture.
How to Clean Spills on iClean Fabric
Most spills on iClean Fabric can be cleaned by blotting with a paper towel. However, tougher spills may require a mild soap and water mixture.
This chart shows the recommended cleaning instructions for various types of common household spills.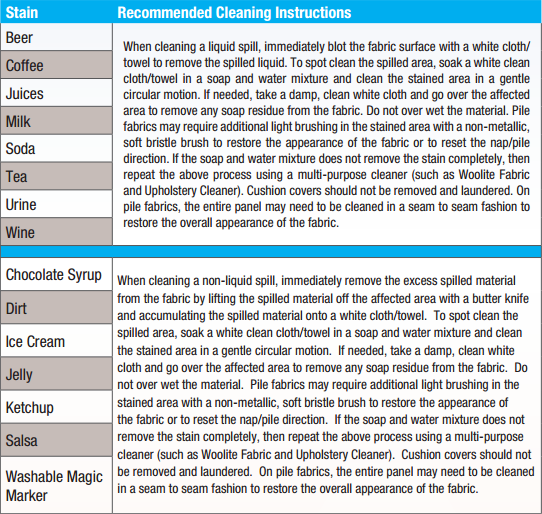 To make the soap and water mixture:
Take 1 teaspoon of liquid detergent such as Tide
Mix it with 16oz of water in a bowl or plastic container
Click here for more specific directions on care and cleaning.
3-Year Limited Warranty
iClean Fabrics are quality backed and look/feel great for years.
These fabrics come with a 3-year warranty for specific stains. And a 1-year warranty applies to nap loss, seam failure, and fabric separation.
Covered Stains:
Beer
Chocolate Syrup
Coffee
Washable Magic Marker
Dirt
Ice Cream
Jelly
Juices
Ketchup
Milk
Salsa
Soda
Tea
Urine
Wine
Stains That Are Not Covered:
Oil-Based Products (such as salad dressing and lotion)
Wax-Based Products (such as candle wax and crayons)
Ink Marks
Mustard
The reason oil-based, wax-based, ink marks, and mustard stains are not covered is because they are outside the easily removed category. It's not impossible to clean these stains. But professional help may be needed to remove them.
iClean Fabric In-Action
Watch iClean Fabric save the day from a variety of spills in the video below.
In this video, you see how iClean Fabric prevents stains from:
A wine spill during your daily unwind routine.
A loose dog with dirty paws.
A morning coffee spill.
A chocolate syrup incident.
A salsa celebration during the big game.
iClean Fabric allows you to enjoy the moment more, worry less, and live life comfortably.
The McClelland Family's Experience With iClean Fabric
With 5 kids, the McClelland's always had to be careful with what they brought into their home.
Spills and accidents seem to be a regular occurrence in their household. This is why they had an "eureka moment" when mom discovered iClean Fabric.
Here is an excerpt from the McClelland's story on momgenerations.com:
Talk about perfection for a mom of 5.
Talk about that where-have-you-been-my-whole-life feeling.
You can now create your dream space with iClean Fabric from La-Z-Boy. The beauty of iClean is that it helps prevent stains so your house stays beautiful. iClean's innovative technology surrounds each fiber, repelling spills BEFORE they turn into stains.
Yes, I said BEFORE.
The best part for me is that iClean fabrics are easy to maintain, each fiber is treated to create a barrier of protection. And believe me, when I say easy – I mean easy.
Furniture Made for Real Life
We know spills happen. But they don't have to control your life.
When La-Z-Boy launched iClean Fabric in 2016, our goal was to help reduce the fear of stains and get you back to living life comfortably.
Today, you no longer have to worry yourself to death to keep your furniture clean. You also don't have to sacrifice style and comfort by draping your furniture in plastic.
We'd be happy to tell you more about iClean Fabric at any of our locations in NC, SC, and GA.