5 Common Problems with Buying Furniture Online
La-Z-Boy Southeast | December 16, 2022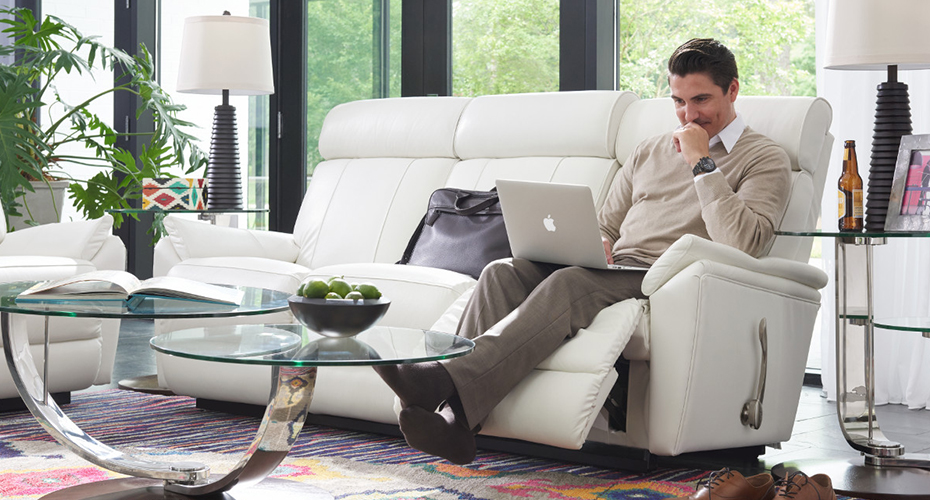 Buying furniture online can be appealing for a multitude of reasons.
It can seem like a fast, convenient, and easy option when you're busy. These days, you can purchase almost every type of product and service available online. With one click, you could have almost anything you want delivered to your doorstep without ever stepping foot in a store.
When it comes to buying furniture online, the same conveniences apply. But are there any negative sides to buying furniture online that you should be aware of?
At La-Z-Boy Home Furnishings & Décor, we work with customers every day to select the perfect furniture for their homes. It's important that every customer receives quality comfort and service with their furniture purchase, and that's oftentimes hard to achieve online.
In this article, we'll highlight five common problems we see with buying furniture online so that you can take these factors into consideration during your next furniture shopping experience
Buying Furniture Online Problem 1: Unable to "Try It Before You Buy It"
You know when you're in a clothing store and touch the fabric to see how it feels? The same thing happens at furniture stores.
Shopping in-store lets you feel the fabric and take a seat to test out the comfort level of the furniture.
Plus, you're able to see if your back, legs, and neck are supported while you sit.
You simply can't sit on or feel furniture before you buy it online.
This means you'll have to pay for it, wait for it to arrive, and return it if you don't like how it feels. Most companies will make you pay for return shipping too.
Buying Furniture Online Problem 2: Can't Deal with a Real Person
When you walk into a La-Z-Boy Southeast location, you'll be greeted by a friendly sales consultant who is happy and ready to help.
This person will be your point-of-contact for the store. And they'll likely give you a business card with their contact information.
If a problem arises and you need to change or fix something, you can contact the person you dealt with at the store. Give them a call or send them an email and they'll be able to handle your situation.
When you buy furniture online, you'll have to deal with the company's customer service department to resolve any issues with your purchase.
Most customer service departments have a phone number and email address you can contact. But both of these are usually hard to get in-touch with.
Online furniture companies are able to keep their prices low by saving money on customer service.
Buying Furniture Online Problem 3: Miss Out on Available Options
While shopping for furniture in-store, you'll be able to learn about all of the options you can add to your order. These options include stain-resistant fabric, heat/massage, and more.
It's easy to miss all of the available options when shopping online. You'll likely only see the most popular items because those are what's pushed to the front.
You can make sure you see the full selection of furniture and their available options by visiting the store.
Buying Furniture Online Problem 4: Lack of Design Inspiration
When you walk around a furniture store, you'll notice the furniture is set up as if it were in a small room. This gives you an idea of how the furniture will look in your home.
You'll also notice the furniture is stylishly accessorized. These displays will give you inspiration for styling your home.
Pro Tip: If you see an accessory or piece of art in one of our vignettes, it's usually for sale.
Most of the furniture pictures online show the piece by itself on a white background. So you can see exactly what you're buying.
Buying Furniture Online Problem 5: No Free Design Service
Furnishing your home can be an intimidating process. You'll have to make many different decisions regarding style, color, and function. And you may not know if what you're buying is the right fit for your room.
Consulting with an interior designer helps you plan out your home design based around your life, style, and budget. This makes sure you pick the items that meet your needs best.
At La-Z-Boy Home Furnishings & Décor, our free design service gives you access to a degreed interior designer at no extra cost.
Having an interior designer walk you through the process takes away a lot of stress. You'll be able to ask questions and feel comfortable with any purchases you make.
When you shop online, you're most likely on your own.
Check Out These Additional Resources
Buying furniture online may seem quick and easy, but it can come with its share of downsides. You don't have the opportunity to try your furniture or receive the guided help of trained experts. Furniture can be a costly investment, and one you'll be satisfied with for years to come.
At La-Z-Boy Home Furnishings & Décor, we will answer all of your questions and won't rest until you have had an exceptional experience.
Here are a few additional resources you may like to check out before you visit our store:
We'd be happy to guide you through the process of furnishing your home at any of our locations in NC, SC, or GA.