How to Dampen La-Z-Boy Recliner Noise
La-Z-Boy Southeast | September 16, 2022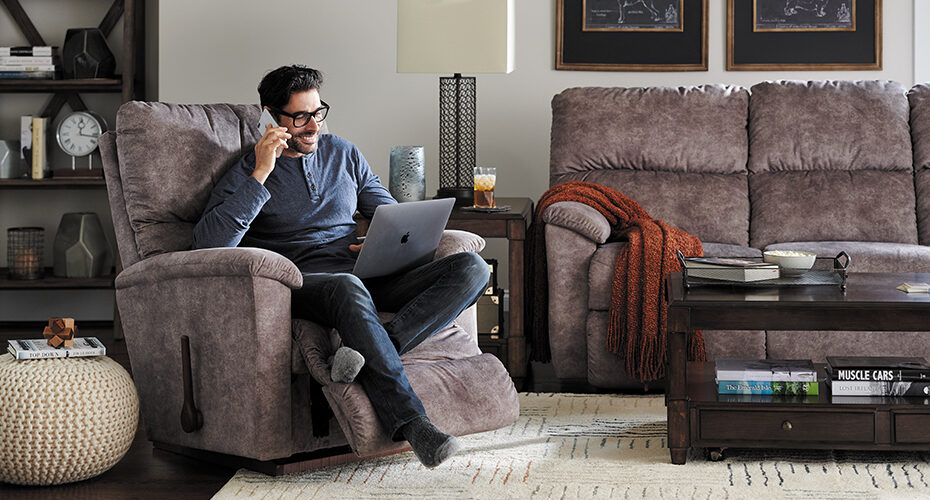 Are you interested in learning how to dampen La-Z-Boy Recliner noise? You love your La-Z-Boy recliner and the many benefits and features that it brings, but you may be wondering why your La-Z-Boy recliner makes certain noises and if there's anything you can do to lessen it.
At La-Z-Boy Home Furnishings & Décor, our service team is available to help you understand and fix common issues quickly and easily.
La-Z-Boy recliners are known for their durability and quality. Due to their patented mechanisms, La-Z-Boy recliners actually make certain noises for a reason. In this article, you'll learn that the noises your recliner makes are normal. We'll also provide you with a few tips on how to dampen your La-Z-Boy recliner noise so that you can relax comfortably and even a little more quietly.
Why Your La-Z-Boy Recliner Makes Noise
When other brands of recliners make noises, it could be a sign of a problem.
However, La-Z-Boy recliners make a few distinct noises that are different from any other recliner you'll find. While initially, these noises may be unfamiliar to you, we lovingly refer to them as the sound of comfort.
As the inventors of the recliner, La-Z-Boy has patented features you won't find on any other recliner. These features and benefits are in place to provide you with the utmost comfort.
La-Z-Boy Recliners are built with a pawl and rack system with 16 locking positions.
This mechanism is what allows you to sit at an angle while your footrest is in the up position.
As you lean back, you'll hear a clicking noise from the pawl and rack as it locks your perfect angle of comfort into place.
When pulling the lever to come down from a reclining position, you'll hear a noise as the pressure is released from the ledge.
How to Dampen La-Z-Boy Recliner Noise
The easiest and most immediate way to dampen the sound of your La-Z-Boy Recliner is to place a rug underneath.
Your rug will absorb the noise and keep it from echoing throughout the house. Especially in homes with hardwood floors.
Your body movements as you shift in the recliner can also help impact these sounds.
One way to do this is when moving from reclining position to an upright position, hang your leg to the side and slightly lift yourself up to take the pressure off the mechanism as you're releasing the lever.
Another way to impact the noise as you rise is to shift your weight back. When rising you're your chair, it's more common to lean forward as you are releasing the lock to lower the legrest. By keeping your weight towards the back while the legrest is lowered, you'll notice this helps reduce the noise.
Finally, quickly flipping your footrest up or down will cause the pawl and rack system to reverberate. You reduce the noise it makes by releasing the footrest more slowly.
Helpful Resources & Furniture Care Tips
We hope this quick and easy tutorial helped you dampen the noise from your La-Z-Boy Recliner.
If you're still having issues, please contact La-Z-Boy Customer Care at 1-800-375-6890.
Here are some additional online resources you may like to check out:
Our consultants are always available to answer your questions in-store and help you with future furniture purchase decisions at any of our locations in NC, SC, and GA.