3 Simple Tips to Incorporate Seasonal Décor into your Home
La-Z-Boy Southeast | November 10, 2022
As you plan your furniture and home décor, you may be looking for ways to incorporate seasonal décor into your home. Furniture is an investment. And not something you'll change often. But that doesn't mean you can't have a little fun with updates to your living space as the seasons change.
Whether you love to decorate for the holidays or just want to bring in more natural light during those sunny summer days, small changes can make big impacts to your space.
At La-Z-Boy Home Furnishings & Décor, we help customers every day furnish their homes. We also have degreed interior designers available to help your home match your unique style.
In this article, we'll provide tips to incorporate seasonal décor into your home all throughout the year. Whether you're shopping for new furniture or adding a Christmas tree to your living room, these tips will help you think through how to keep your living space enjoyable all year long.
Seasonal Décor Tip #1: Work with a Color Palette
When buying furniture, think about what may change in your room outside of your bigger pieces of furniture.
As you shop for furniture, you'll often find that larger furniture pieces will be shown in neutral colors. Having your main furniture in neutral styles can add to your intended longevity of the furniture, even if you decide you want to change the look of your room.
You can still work with a color palette and coordinate various accessories such as rugs, lamps, throw pillows, art, etc. This allows you to change accessories or less costly items in your living room throughout the seasons or as your style preference changes.
If your furniture does have patterns or specific colors, you can tailor your accessories and home décor to pull from coordinating colors throughout the year.
Utilizing the Collins Sectional, watch this video to learn how you can pull colors from your rug to transition your living room from Summer to Fall, or any season.
Seasonal Décor Tip #2: Plan Your Focal Points
When designing the layout of your living room, you'll be identifying the focal points in the room.
Whether it's a fireplace, TV, window, or some combination, your furniture will be arranged with these focal points in mind.
The same can apply to thinking through how you'll transition your seasonal décor. Do you want to make your Christmas tree a focal point during the holiday season? Christmas trees and holiday décor can take up large areas of your room, so think through if you'll need to move your furniture around to accommodate this addition.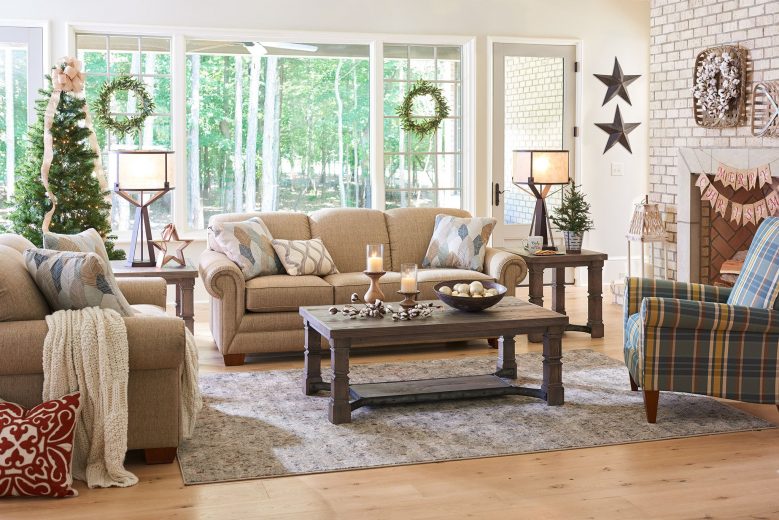 Seasonal Décor Tip #3: Use Nature as Your Inspiration
There are many ways you can use nature inspired elements to enhance your home décor throughout the year.
Plants and greenery can enhance the overall appearance of your room while making your room look and feel fresher.
In the spring and summer months, bright florals and colors combined with natural lighting can boost the mood of your space.
In the fall and winter months, there are multitudes of options from pumpkins to garland that tie into the holiday season. These natural elements can add a sense of warmth and coziness to your room.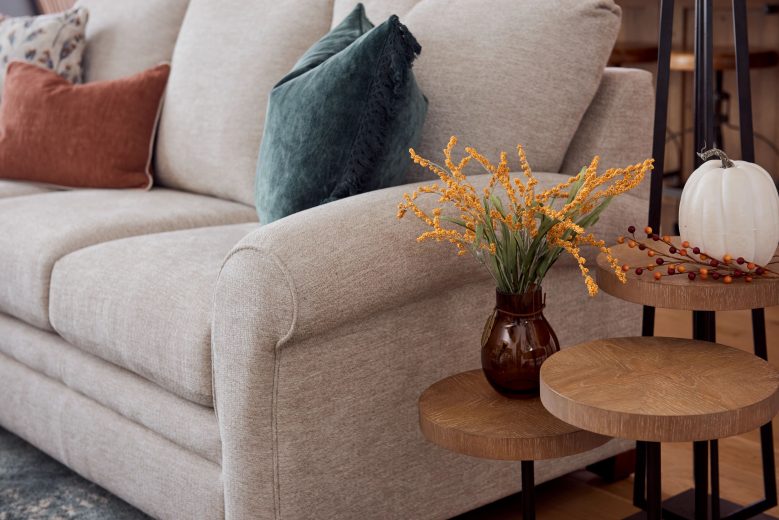 Meet with a Degreed Interior Designer for Free
Another tip that you can utilize is enlisting the help of a degreed interior designer. Meeting with an interior designer makes the process of styling your home fun and easy.
At La-Z-Boy Home Furnishing & Décor, this service is free and includes the following benefits:
Design consultations for any and every stage of your project.
Your own interior design team that is dedicated to bringing your unique vision to life.
Personalized 3D room plans tailored to your life, style, and budget.
Whether you're styling your home for an upcoming holiday season or just need a refresh to your living room, we'd be happy to help discuss your home décor options at any of our locations in NC, SC, and GA.
Curious about the benefits of working with a degreed interior designer? Check out these additional resources: